19 Apr 2022
10 things to do at LAMMA 2022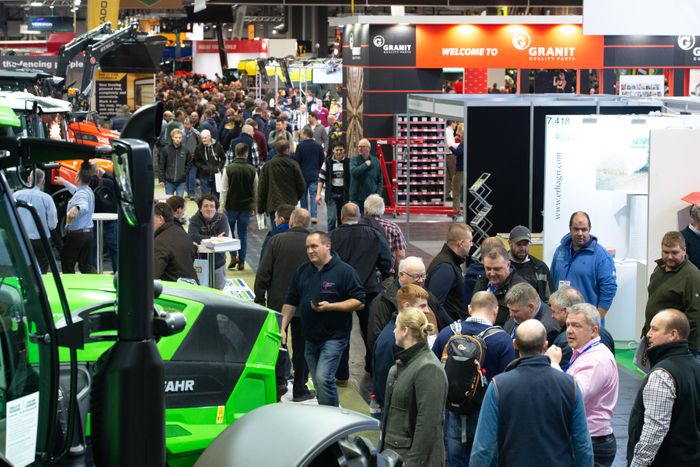 10 things to do at LAMMA 2022
19th April 2022
It's been more than two years since LAMMA has welcomed the industry into the halls of the NEC, but in that time, we have been busy planning one of our best events yet! From educational talks about international trade to getting your hands on the year's newest tech, there is something at LAMMA for everyone…
Get a sneak peek at what's coming next in agri-tech. The Farming 4.0 Trail showcases the very latest in data, robotics, autonomous machines and devices making our industry more resilient, efficient and sustainable. By taking part in the Trail, you'll get a first look at the machines and technology that will redefine farming and help us to re-imagine what's possible.
Reduce your risk of becoming a victim of rural crime. Farmers across the UK face rising costs of rural crimes like vehicle, fuel and equipment theft, not to mention the emotional toll taken on farming families and staff. NFU Mutual and the National Vehicle Crime Intelligence Service (NaVCIS) have come together as part of the new Fendt & Valtra Speaker Zone to address rural crimes and bring you expert advice. Speakers will offer their advice for crime prevention, discuss how they are protecting rural communities, and share support available to businesses.
Marvel at the machines of days gone by. There's just something about a classic tractor – the simple mechanics, frill-free design, solid steel construction – that makes even the most tech savvy farmers stop and stare. We're bringing a few of the classics back to our show, including a Marshall 804 from Classic Tractors Magazine that appeared at LAMMA 1983.
Look for your next bit of kit (and make the most of what you already have). You don't get many opportunities to browse through some of the industry's leading brands under one roof… Dealers of Fendt, Massey Ferguson, Valtra, John Deere, Zetor, Kawasaki, Honda, Suzuki, New Holland and more will showcase their new and second-hand equipment in the LAMMA365 Dealer & Speaker Zone – another exciting LAMMA first! Alongside the displays, industry experts will share their knowledge on a range of topics like servicing, maintenance, finance, farm safety, legislation and the hotly anticipated Red Diesel Panel Debate.
Delve into the world of international markets. In recent years, more farming businesses are looking beyond UK borders for opportunities for investment and revenue growth. Advisors from the Department of International Trade's Agri-Tech team will host our International Export Advice Centre, offering a series of presentations about a range of topics including trade support, global market trends and indicators, and the role of Agri-EPI Centres in R&D.
Take steps to improve safety on your farm. It's no secret that farming is a dangerous business, and Safety Revolution has once again brought together leading experts and inspiring speakers to offer practical advice and share real-life stories as part of the Farm Safety Zone.
See dozens of brand-new products in the flesh. Manufacturers, retailers and service providers across the industry will have their newest products on display at the NEC, giving visitors an early chance to see them in person and talk to the experts about what each piece offers. This year's 'LAMMA Launches' include front loaders, forage kit, weather trackers, seed drills, tyres, tractors, cultivation kit and so much more!
Find the perfect fit for your business. With more than 600 agricultural businesses under one roof, LAMMA is the perfect place to find technology, machinery, services and innovations that suit your needs. From combine harvesters to meat quality scanners, and safety boots to AI weed control, there really is something for everyone.
Connect with others in the industry. Every year, we welcome thousands of visitors from around the UK and Europe through the doors of the NEC - ready to make new contacts and re-connect with old friends. (What better way to do that than at our Early Bird Breakfast, chatting over a bacon roll and a hot cuppa?!)
Enhance your career and explore new opportunities. There are multiple options for those looking to develop their careers and professional qualifications at LAMMA. NRoSO, BASiS and DairyPro offer CPD points for attending and visiting approved exhibitor stands. And at the Fendt & Valtra Speaker Zone, visitors can learn about new career opportunities within the sector from speakers representing AGCO, Harper Adams University, and more.
For more information about LAMMA 2022 and to register for your FREE ticket, visit www.lammashow.com