10 Aug 2018
Visitor registration opens for LAMMA '19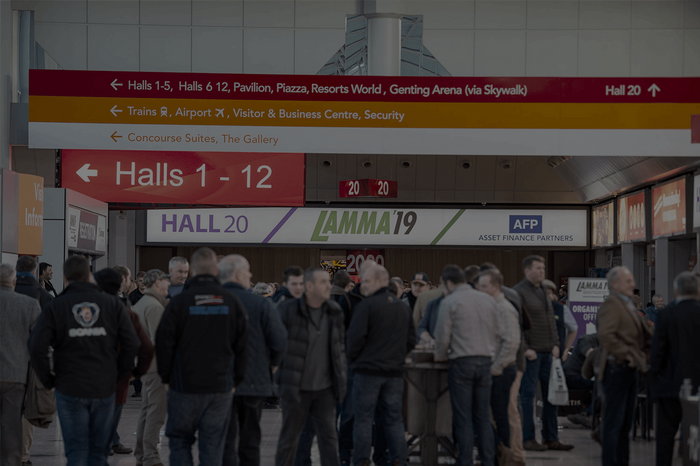 An exciting new era for the LAMMA show begins in January 2019 when it opens its doors for the first time at the NEC in Birmingham.
LAMMA will become the UK's leading indoor agricultural event and promises a whole new experience, with all stands being fully under cover for the first time in its history.
LAMMA '19, which continues to offer free entry and car parking, will build on the show's reputation as a key diary event for farmers, contractors and their staff.
To help make the most of their time at the event, visitors are being asked to register in advance. This simple four-step process is now open at www.lammashow.com.
Badges will be emailed automatically within a few minutes of completing the form, ensuring visitors can walk straight through to the show when doors open on Tuesday 8th and Wednesday 9th January.
As well as enjoying fast-track entry into the show, visitors will be able to use their badges to share details quickly and easily with exhibitors.
Advance registration is not compulsory – visitors can register at the entrance but may face a delay entering the event.
LAMMA '19 has attracted strong exhibitor interest, with over 500 companies having already booked more than 87% of the available stand space.
A vast array of the latest machinery, equipment and services will be on show in a professional, comfortable indoor venue that enjoys great links with the rest of the UK, making visiting LAMMA easier than ever.
The event will stay true to its roots, attracting not just large companies but also hosting smaller agricultural engineering and machinery firms from across the UK, ensuring a fantastic array of products to suit all sectors of the industry, whatever their budget.
Elisabeth Mork-Eidem, group events director at AgriBriefing, which owns LAMMA, said: "We are excited by the opportunities that this new venue creates for the LAMMA show.
Both visitor and exhibitor feedback has been incredibly supportive, with a lot of real excitement regarding this important development for the UK agricultural industry.
"By making LAMMA a register to attend event, we can continue to develop the show – the more we know about our visitors, the better we can tailor future shows to meet their needs."
The first LAMMA show at the NEC will take place on Tuesday 8th and Wednesday 9th January 2019.
Follow on Twitter (@lammashow) and Facebook for the latest updates.
Registration – key points
Simple four-step process to complete a short form
Badges will be emailed automatically after completion of form
Registration and attendance are free
Visitors can register online until the day of the show
Registering in advance provides fast-track entry into the show
Registration is required as the show is now all indoors – organisers need to track exact numbers
Additional registration information will help tailor future shows to visitor needs
Visitors can register on the day but may be delayed entering the event
All data is processed by AgriBriefing, the parent company of LAMMA Ltd. No data will be shared without prior consent. Provided they give permission, visitors can share details quickly with exhibitors.