21 Dec 2022
Understanding farmer perceptions of accessing support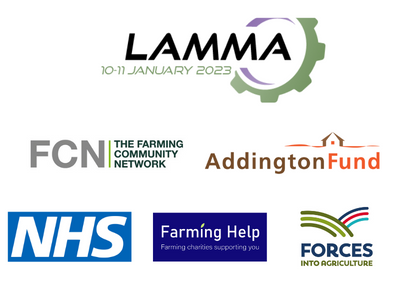 LAMMA 2023 charitable partners, the Farming Help charities, are exploring farmers' knowledge and perceptions of accessing support services via a special survey.
An online survey gathering farmers' opinions on accessing help and support has been launched by the Farming Help charities.
The group of three charities – Addington Fund, The Farming Community Network (FCN) and Forage Aid – wants to explore what farmers know about the support they offer and their attitudes towards accessing help.
Annie Winn, Marketing and Events Manager for Addington Fund said: "We are keen to hear what people know about our services and if they would contact us if they found themselves in need of help and if not, why not? What better way to create an understanding of people's needs than finding out their honest opinion and interacting with them at the show? We want to know what people on the ground are thinking and feeling so we can adapt and readapt to make sure the Farming Help charities are as efficient as possible at times when people need us."
The survey is being promoted via the LAMMA and Farming Help charities websites and social media platforms and closes on 3rd January 2023. Everyone who takes part in the survey will be entered into a prize draw to win a £50 Amazon voucher.
Alongside this, Farming Help is also coordinating the Health & Wellbeing Zone at LAMMA. As well as offering support and information, there will be two afternoon panels to encourage lively discussion.
The first is a session aimed at debunking myths surrounding farming prompted by a recent FCN and University of Exeter study which revealed how a lack of public understanding and appreciation for farming can contribute to mental ill-health. Chaired by Annie Winn from Addington Fund and FCN's Alex Phillimore they will be joined by sheep farmer and YouTuber Will Roobottom and Yorkshire free-range pig farmer Anna Longthorp.
The session on day two will focus on wellbeing support in the agricultural workplace. It will highlight factors to consider when looking after yourself and the health and wellbeing of family, friends and colleagues.
For more details about the Health & Wellbeing Zone and to take part in the survey visit www.lammashow.com