11 Jan 2019
Packed new-look LAMMA show "a great success"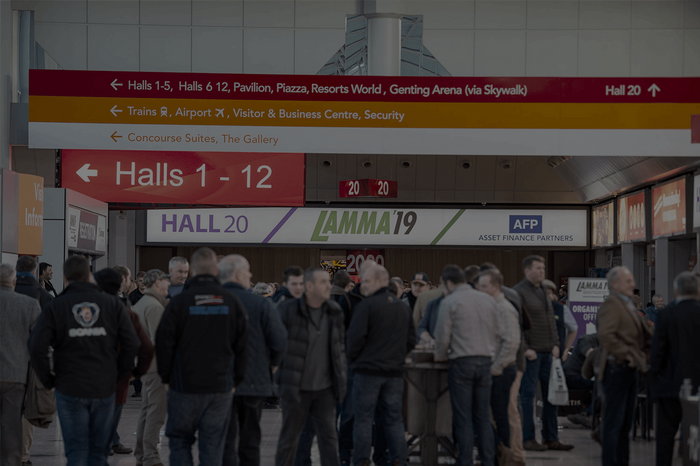 LAMMA's move to the NEC in Birmingham has been hailed as a great success by many of the thousands of visitors who thronged to the revamped event and the 650-plus exhibitors who packed the halls with the latest farming machinery, equipment and innovative technology.
The first all-indoor LAMMA show, which took place on 8th and 9th January, represented a new era for the UK's largest farm machinery and technology event.
The overriding message that emerged during the show was that the new indoor venue had proved ideal for a national event of this size and stature. It provided a comfortable environment in which to view and discuss the vast array of agricultural kit on show and to talk business, leading many exhibitors to comment on the high quality of conversations they had had with visitors.
The move also helped LAMMA build on its reputation as a launch pad for a host of machinery from the UK and across the globe, with many exhibitors using the new venue to unveil new tractors, combines, drills and cultivation equipment, feeder wagons and forage machinery, as well as a wide range of innovative technology.
LAMMA also stayed true to its roots, attracting not just large machinery manufacturers but also hundreds of smaller agricultural engineering and machinery firms from across the UK, hosting the widest range of innovative and established agricultural machinery and equipment under one roof anywhere in the UK.
LAMMA's commitment to innovation was reinforced in the Innovation Awards, which were relaunched at the NEC. The competition champions agricultural machinery, equipment and services innovations, and an Innovation Trail enabled visitors to find out more about the gold and silver medal-winning products showcased on exhibitors' stands.
Other sectors including agronomy, business and farm management advice also featured.
AgriBriefing group events director Elisabeth Mork-Eidem said: "We are absolutely delighted with the outcome of what has been a busy and exciting year planning for the show.
"We are thrilled with the incredibly positive feedback both from our exhibitors and visitors taking part over the past two days.
"Together we pulled together and provided the show UK agriculture deserves. Around 40,000 people attended the event, and there was a real sense of excitement and buzz throughout the 11 packed NEC halls.
"LAMMA would like to sincerely thank all our exhibitors and visitors who took this important move with us. UK agriculture finally has a show to rival its European counterparts and we cannot wait to start working on next year's show to make that even bigger and better."
Jon Hercman of LAMMA headline sponsor Asset Finance Partners (AFP) said: "AFP thoroughly enjoyed headlining LAMMA 2019.
"It was great to see so many people from the wider agriculture industry under one roof and the indoor format at the NEC created a real positive energy which reflected in the discussions we were having on our stand.
"It was a great start to what will no doubt be another exciting year in agriculture. AFP would like to thank everyone who joined us at our stand for a chat."
The buoyant mood was reflected by a raft of tweets from visitors and exhibitors (see @lammashow and #lamma19), and summed up by Essex farmer and NFU vice-president Guy Smith (essexpeasant) who wrote:
"Impressed @lammashow today. Lots of kit and farmers. I always felt when our industry lost Smithfield and The Royal we lost more than the events themselves. It was good to witness what felt like a statement of faith in the future of UK ag at the NEC."
Warwickshire farmer farmerangus1 backed up that sentiment with: "Well done @lammashow crying out for a venue like this for years, cracking atmosphere and felt a real buzz inside. No more negativity in agriculture – the future generation don't need it. "
Lincs farmers James Willox3 added:" Got to say #LAMMA19 at the NEC was by far the best LAMMA show I've been to. Hope it continues and goes from strength to strength.
Yorkshire farmer Jono Dixon (Sunkfarmer) said: "@lammashow fresh in our minds and been a huge success. #LAMMA19 in my opinion was excellent.
Fendt national sales manager Martin Hamer said: "We have been really, really busy. We firmly believe agriculture deserves a really good shop window and we very pleased to be at the NEC – it's been a really positive experience."
McConnel's Nicholas Hassell described LAMMA '19 as the best show ever. "It has been absolutely amazing – we couldn't see the stand carpet for visitors yesterday. We'll be looking to increase our stand space next year."
Krone's UK head of marketing James Duggleby said: "The LAMMA move to the NEC has been fantastic. We've seen what we think is record attendance, great positive mood, fantastic enquiry levels and everybody seems to have really embraced the move indoors. See you again in 2020!"
Kuhn's Kate Bennett described the event as brilliant. "It's a great improvement now we're indoors, end users and exhibitors have been really impressed. We've had a constant flow of people and great interest in the machines."
The NEC Group's managing director of conventions and exhibitions Karthryn James said: "It is great to witness a premier sector event such as LAMMA utilise what we have here in Birmingham, confidently transforming their event with our flexible space and the support of our dedicated and knowledgeable in-house team.
"It has been an absolute pleasure to join the LAMMA team on this journey. Visitor and exhibitor feedback received has been extremely positive, and we look forward to helping deliver an even better experience next year."
Some key launches at the event included:
• Armatrac 1254 Lux CRD4 tractor
• McCormick X7 series P6-drive tractors
• Manitou Pivot Steer 516-75H loader
• Claydon T6C compact drill
• Fendt Ideal Combine
• Deutz Fahr C9306 combine
• Weaving Machinery GD6001T drill
• Merlo high capacity telehandler
• Landquip CV3530 self-propelled sprayer
• Dewulf RCA3060 potato harvester
• Alpego Maratona cultivator
• Krone Big X 1180 self-propelled forage harvester
• Kuhn Maxima 3TD maize drill
• Grimme Pro Air precision planter
• Ovlac Xperience plough range
• Mzuri Xzact Pro-Til drill
• JCB CommandPlus Cab
• Zetor Crystal 170 HD tractor
• Deutz Fahr 5D tractors
• Landini 5 series tractors
• Dieci telehanldler range
• Avant E6 electric loader
• Redrock C300 bale shredder
• Abbey Machinery Feeder Plus mixer wagons
LAMMA '19, supported by headline sponsor AFP, took place on Tuesday 8th and Wednesday 9th January.
For further LAMMA information see www.lammashow.com
LAMMA '20 will take place at the NEC on Tuesday 7th and Wednesday 8th January 2020.