14 Dec 2018
New tractors, loaders and combines make their debut at LAMMA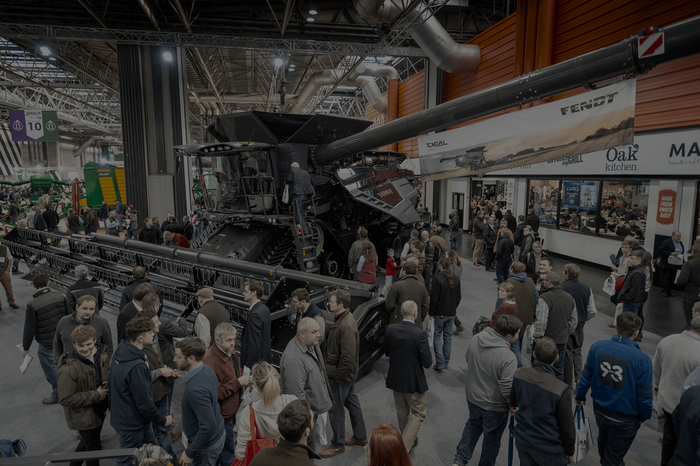 Several leading manufacturers have already announced which of their latest machines will take pride of place on their stands, and further announcements are expected in the next few weeks.
We also take a look at the latest tyres and accessories on offer to help keep older machines running efficiently.
Tractors, loaders and combines
Fendt has chosen LAMMA to provide the new Fendt Ideal combine with its first appearance at a UK agricultural show. The combine has been developed from scratch, developed alongside parent company AGCO's global centres of expertise to deliver a machine that gives perfect results under any harvesting conditions.
Special attention was paid to efficiency, grain and straw quality, absolute reliability, easy and logical user-friendliness, as well as a revolutionary sensor technology for optimal machine setting.
The Fendt Ideal 8 & 9 feature high-performance MAN engines, and the Ideal 7 features an AGCO power engine. This ensures maximum output together with efficient fuel consumption. All models offer the unique Helix threshing unit and separating system. The process requires much less power and significantly increases the output and machine efficiency with perfect straw and grain quality.
Showgoers will also find a comprehensive selection from the Fendt Vario wheeled tractor line-up, from the popular, multi-role 300 Series, (the Fendt 313 received a 'Tractor of the Year' award at the recent EIMA Show in Italy) right up to the range-topping 1000 Series.
A new range of 'stockman' tractors from Landini available with a comprehensive choice of transmission packages will make its UK debut.
The Landini 5 Series comprises three models with power outputs from 99hp to 113hp, a choice of synchro or power shuttle transmissions with creep and economy pto options, and mechanical or electronic operation of the 4750kg rear linkage.
A generous standard specification includes an air suspension driver's seat, cab air conditioning and a radio/media player with Bluetooth for hands-free phone use. Front and rear windscreen wash/wipe and a push-back hydraulic pick-up hitch are also included in the package. All are powered by Deutz engines.
A new range of McCormick four-cylinder tractors with a number of performance and driver comfort advances will be launched at LAMMA.
The McCormick X7.440 P6-Drive destined for the event will represent a three model line-up of higher-spec four-cylinder tractors with maximum power outputs from 141hp to 176hp with 'power boost' on all models and a new slick-shifting powershift transmission.
The new Tier 4 Final versions of the McCormick X7.4 tractors can handle a wide range of tasks on livestock, arable and mixed enterprise farms. There is a choice of simpler-spec Efficient and full-feature Premium semi-powershift models, and stepless transmission models to the Premium specification.
ArmaTrac will launch its latest model, the 1254 Lux CRD4 at LAMMA. This machine is powered by a 120hp Deutz engine linked to ZF transmission and is Tier 4 compliant.
Armatrac has been producing tractors since 2003 with a focus on designing and engineering for simplicity and efficiency. This latest higher horsepower machine has improved fuel efficiency coupled with high performance and durability, says the manufacturer.
Optional features for JCB Fastrac 4000 Series tractors that enable farmers and contractors to equip their machines for non-agricultural applications will be highlighted at the LAMMA show for the first time, alongside farm-spec versions of the 175-235hp 4000 Series and 306-348hp 8000 Series machines.
A Fastrac 4220 equipped with these 'utility' features will underscore the tractor's suitability for operating rear-mounted, front-mounted and deck-mounted equipment individually or in combination for applications such as snow clearance, salt spreading and roadside vegetation control.
The features include a DIN-standard mounting frame for highways snow ploughs, snow blowers and powered sweepers; a stability control system to keep the tractor level when operating heavy long-reach vegetation mowers; and a purpose-built rear deck frame for quick mounting and demounting of specialist spraying equipment and salt spreaders.
Schäffer returns to LAMMA with its latest generation of loaders, which employ the latest smart technologies for lower fuel consumption, reduced maintenance, increased comfort and eco-friendliness.
Latest functions and features include High Traction Force (HTF), which automatically regulates the thrust so the loader can supply the highest possible thrust even in a high gear.
HTF comes into its own when digging into aggregate material. If more thrust is required, the hydraulic motor adapts automatically, without the driver having to interfere manually, increasing driving comfort and speeding up work.
ATV/UTV
BRP (Bombardier Recreational Products) Can-Am Outlander 6x6 450 T will make its UK debut at the event.
The latest addition to the Can-Am portfolio is powered by a 38hp single-cylinder, liquid-cooled Rotax 450 engine and comes with industry-leading towing capacity (1,650lb/750 kg), front and rear racks with cargo extenders, and LinQ accessory attachment points.
Continuously Variable Transmission (CVT) delivers optimal torque output and the machine is fitted with Visco-Lok front differential system.
Quadzilla is exhibiting its new diesel UTV, which comes as comes road legal as standard and boasts many standard parts such as a winch, power steering and a fully enclosed cab. The company is also showing the rapidly growing high-quality and feature-packed CF Motor range of ATVs and UTVs.
Tyres and tracks
OBO Tyres, part of the Magna Tyres Group, is introducing its system of rubber track retreading to LAMMA, which is said to offer considerable cost savings.
The in-house track renewal machine equips old track bases, which are often in excellent condition with new blocks, which have a similar quality to new product. The company offers a wide choice of rubber quality, number and size of blocks and block position.
Bridgestone is showing its latest ultra-high-performance agricultural tyre, the VX-Tractor. Lugs are longer and wider to increase wear life, while extra body in the rubber increases strength. The premium six-layer tread belt also helps to protect against damage and potential punctures. According to Bridgestone, the VX-Tractor has considerably less slip than its competitors.
Continental Tyres will be exhibiting for the first time at LAMMA, unveiling its full agricultural tyre portfolio spearheaded by the latest additions TractorMaster and CombineMaster.
The TractorMaster, an advanced tractor tyre and CombineMaster for combine harvesters complement the existing agricultural tyre portfolio around the standard Tractor70 and Tractor85 tyres. Like their standard companions, the new tyres are equipped with N.flex technology and feature new lug technology d.fine with a 5% larger lug surface than standard tyres, for higher traction and reduced operating costs.
Cab comfort
Mobile climate control specialist Eberspächer is making its appearance at LAMMA. Products on the stand include two Duratronic roof-top air conditioners, with cooling outputs of 2 and 2.4kW suited for off-road applications and vehicles with or without a hatch opening in the roof.
Also on show are the new Airtronic diesel-fuelled cabin heaters. These 2 and 4kW models run independently of the engine's own heating system and can be activated by timer or app remote control for pre-heating.
Workshop
Sykes-Pickavant's Silbertool range offers is an advanced solution for reforming external threads on components such as axle studs, shafts and hydraulic threads without cutting. The tool uses non-cutting technology to repair the thread by shaping it back to its original geometry, rather than removing material that can weaken components.
Available in four sizes (M5 – M110), the tools are hand-operated with minimal effort, so no external energy source is required.
LAMMA '19, supported by headline sponsor AFP, takes place on Tuesday 8th January between 8.30am and 5.30pm and Wednesday 9th January between 8.30am and 4.30pm.
For further LAMMA visitor information go to www.lammashow.com