02 Dec 2019
New tractors, combines and loaders ready to launch at LAMMA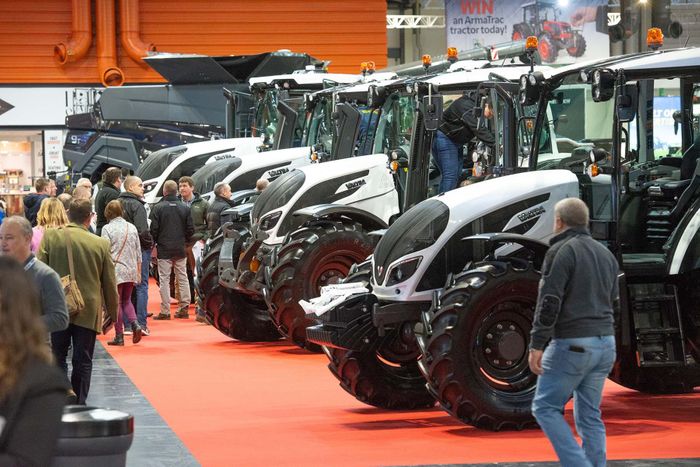 Some of the top names in tractor, combine and loader manufacturing will be exhibiting their kit at LAMMA. Several have revealed new and upgraded models that will take centre stage on their stands, with further announcements expected in the run up to the show.
We take a look at some of the innovative machines on offer so far, as well as some interesting workshop items that will help fitters keep equipment running smoothly.
Tractors
A new range of more powerful stepless transmission tractors will be represented by the top model in a line-up making its UK debut on the Argo Tractors stand at the LAMMA show.
The McCormick X7.624 VT-Drive with up to 230hp for draft work and 240hp for pto-driven implements and road transport is the most powerful model in the latest X7 Series, which also features lower running costs thanks to engine service intervals extended to 1200 hours, a more comprehensive 360deg LED lighting package set into a new cab roof panel, and new control features in the Premiere cab.
The range, which starts at 180hp, is powered by Betapower 6.7-litre engines by FPT. Power and torque are channelled through the new ZF Terramatic TMT20 transmission that provides seamless ground speed adjustment, with high levels of mechanical efficiency across the zero to 50kph envelope.
Zetor UK's "New Design" Proxima tractors make their UK debut at LAMMA. The range has many new features, including upgraded air-conditioning packages as well as transmission and engine cooling upgrades. It comes in three variants; the CL, GP and HS.
The CL is the entry level unit (80-110hp), ideally suited to yard work and general farm work. The GP is being reintroduced to the range and also weighs in at 80-110hp – straightforward work horse with a minimum of electronics. The HS delivers 80-120hp and features Power Shuttle transmission, 24 x 24 gear box and, like the full range, is powered by the Zetor engine.
Valtra will launch a new addition to its tractor series, on sale in the UK in early 2020. The F Series, a new vineyard and orchard tractor, comprises four models from 75 to 105hp. Models range from 1.3 to 1.5m wide with standard equipment such as heated and air-conditioned cab.
The F Series comes with a 24-speed transmission, available with either a mechanical or hydraulic forward-reverse shuttle and Powershift. The versatile hydraulics produce from 68 to almost 100 l/min of output depending on the model. The four-cylinder 3.4-litre common rail engine complies with Stage III B emissions regulations for narrow tractors.
A new design for Valtra's heads up display (HUD) SmartGlass will be on show. This enables the operator to see vital tractor information in the centre of the windscreen. Valtra SmartGlass is based on transparent display technology laminated between two glass surfaces, making it very robust.
The updated Valtra Guide automated steering system will also be on show. Settings now appear in the map screen and can be changed or checked without having to exit the screen. Selecting fields and creating waylines has also been made simpler.
Fendt's planned line-up for the NEC includes the latest models of proven favourites, including the new 942 tractor that produces well over 400hp from its MAN six-cylinder, 9-litre engine. It is fitted with TA300 vario transmission. Other models on display include 828, 718, 516, 312 and 200 models and the MT 943 tracked tractor.
Visitors will also be able to sample the new Fendt 700 Series cab, or "driving workstation", using Virtual Reality headsets. The cab is built around two new armrests. It will be available from July 2020.
Combines
Fendt is introducing its IDEAL 10 combine harvester to LAMMA, which features a MAN 16.2-litre, 790hp (max), Stage V emissions-compliant engine. The Ideal 10 features a new cleaning system, together with the Dual Helix separator, a combination said to deliver the highest grain quality and the least grain losses. It's the first combine, in Europe at least, that can be operated without a steering wheel.
Loaders
Manitou and sister company Gehl will display machines from their wide range of telehandlers, articulated loaders and tracked and wheeled skid-steer loaders, including the new Manitou MLT 420-60H on show for the first time at LAMMA.
This is the smallest machine in the range weighing in at just 4.19t, but can lift 2t to 4.35m or 0.9t to a maximum reach of 2.65m. It features hydrostatic four-wheel drive powered by a 56hp Kubota engine.
The larger MLT 630-105, a work-horse capable of lifting 3t to 6.1m will also be on show, as will the MLT 737-130PS+ that can lift 3.7t to 6.9m. This features a completely new cab offering easy access, optimal visibility, and operator convenience thanks to the JSM® (Joystick Switch and Move) mounted on the floating armrest.
Two wheeled skid-steer loaders will be on display. The compact Manitou 850R has a lift capacity of 386 kg, while the Gehl R165 has a 748 kg working capacity. The final machine on display will be a Manitou 1650 RT tracked skid-steer loader with over 1t operating capacity at 50% tipping load.
The Cargo T955 Telehandler is Fendt's first offering in the telehandler sector, raising the bar in terms of innovation, the company claims. It sets new sector standard with its unique lifting cab with vibration damping and durable build quality.
Avant launched its new biggest and strongest loader to date during 2019, but 2020 will be the year of the 800 series, says the company. The new machines offer more lift height, higher lift capacity, better reach and are more powerful and versatile while retaining Avant's compact and ergonomic design. The 800 series can be transported on a car trailer in Europe (combined weight of loader and trailer under 3500 kg).
The top-of-the-range TL43.80HF Agri telescopic loader will be shown for the first time on the Doosan Bobcat stand at LAMMA. This heavy-duty machine combines several new features, taking lift capacity (max 4.3t) and lifting height (almost 8m) and breakout force to unprecedented levels.
Bobcat will also show the TL30.60 model, which, with the TL43.80HF, is part of the newly expanded range of seven telescopic loaders for the farming market, covering maximum lifting capacities between 2.6 and 4.3t with lifting heights from 6 to 8m.
The stand will also feature tracked loaders from Bobcat, including the first appearance in the UK of the S70 quad-tracked concept machine, featuring quad-tracks bolted on to the frame of the loader. The company's smallest compact track loader, the T450, will also be on display.
Schäffer is launching its new electric loader at the event. The 23e is the world's first compact loader with lithium-ion technology and a top speed of 20kph. It delivers emission-free operation, a significant advantage when working indoors. Customers can choose between two lithium-ion battery packs – the standard battery system (6.7kWh) for most farm work, or the power battery system (13.4kWh) that doubles operating time to several hours.
Schäffer's 8620 T loader on display at LAMMA is fitted with the recently added option of 100kW/136hp engine. It three different motor options, two speeds and two heights and is aimed at larger farms, biogas plants and agricultural contractors. Also on show is the popular Schäffer 6680 T compact loader, now equipped with the SCV-Plus cabin.
Workshop
Majorlift, a major player the garage and truck and bus sectors, is making its first venture into the agricultural market at LAMMA.
The product range of assorted lifting products easily adapt to agricultural requirements, enabling them to be priced very competitively, says the company. It can also design and manufacture bespoke products.
Anti-puncture tyre sealant specialist OKO is also a first-time exhibitor and will be demonstrating sealing strength and talking tyre life, explaining how its products help avoid downtime, expensive tyre repairs and early tyre replacements.
Sykes-Pickavant's puller range has been extended with the new 17700000 Universal Internal / External Puller suitable for large span applications. It features a setting sleeve system to ensure accurate pulling.
Liftmaster Commercial is expanding its range of service equipment for the agricultural market. The AFJ2000, a twin-ram 20t capacity air-operated floor jacking beam can get under most agricultural vehicles, but with extensions can lift vehicles with jacking points or axles over 1m from the floor.
Liftmaster is also introducing Wireless Mobile Columns that can lift most tractors, leaving the wheels free. It uses two mobile lifting units positioned at the front and rear of the tractor, with a total lifting capacity of 15t. These rechargeable wireless operated lifts can be used on any load-supporting level floor, inside or outside.
Ehrle GmbH is introducing its latest German-made high-pressure cleaner, the HD923. This machine delivers 14 litres of hot water per minute, more than almost any other 240V volt machine available in the UK. This is particularly suitable for farm use, cleaning and flushing away heavy deposits. The washer can also produce steam.
Tyres
Continental has launched a new range of advanced agricultural tyres. The Continental TractorMaster VF Hybrid tyre has a tread pattern that maintains grip in the field and offers a quieter, more comfortable driving experience on the road.
It also includes pressure sensors to help the operator reduce soil compaction in the field and reduce wear on the road. The VF technology allows the tractor operator to carry the same load at a reduced pressure.
Seating
TEK Seating, is unveiling its Rancher LGV95/H152 AHD, a low back air seat ideal for the agricultural market. Featuring integrated controls and powered adjustment for weight and height settings, its cushions provide optimum comfort levels to enhance cab ergonomics.
LAMMA'20 will take place at the NEC on Tuesday 7th and Wednesday 8th January 2020. Parking and entry to the event are free.
For further LAMMA information see www.lammashow.com