17 Dec 2018
More launches announced for packed LAMMA show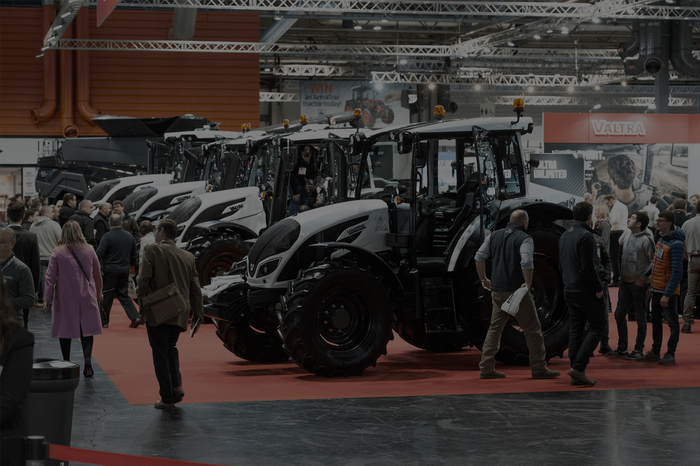 A flurry of announcements regarding further launches of machinery and equipment at the upcoming LAMMA show have been released in recent days, adding to the already impressive list of kit making its debut at the event*.
Drills/cultivators
Weaving will be unveiling its new 6m version of the no-till Weaving GD Drill. The GD6001T is a compact version of the GD8000T launched last summer and is designed to preserve soil structure and aids crop establishment. The drill is designed for zero-tillage systems but works within conventional cultivation systems.
Ukrainian manufacturer Lozova machinery is making its LAMMA debut, presenting the Ducat-6 disc harrow with working width of 6 m and cage roller. Depending on soil type and farming conditions harrows may be equipped with changeable rollers.
Loaders
Avant Tecno (UK) is introducing the E6 fully electric loaders to LAMMA. The E6 machines are the first lithium battery-powered 4WD articulated compact loaders and said to be ideal where zero emissions and low noise are required, such as working in confined areas, near to people, animals and plants.
Sprayers
Knight Farm Machinery is introducing a new model to its 1800 self-propelled range, which includes a number of equipment upgrades plus the option of a lower positioned cab, reducing the centre of gravity of the machine and allowing a greater range of booms with the machine.
Knight is also introducing a number of new features and designs in its Trailblazer II range of sprayers that will simplify the machine's plumbing and help operators achieve optimum spraying performance and compliance with environmental regulations.
Irrigation
Fully noise-insulated irrigation pump sets for water abstraction in locations where an exposed diesel engine running for hours on end is likely to cause a disturbance will be added to Bauer's comprehensive crop irrigation equipment range at the LAMMA show. The mobile pump set design offers a choice of engines and fuel tank sizes, and has an electronic control panel that can be linked to Bauer's SmartRain remote control system.
Forage and straw
Spread-a-Bale has added the Midi Lite to its portfolio, the first side-mounted self-loading straw spreading machine for rectangular bales weighing 500kgs maximum and appealing to livestock farmers with one tonne loaders. It spreads up to 14m using a single horizontal rotor.
Big Bale Co's new Transtacker 4100 is CTF-compatible with the addition of the bump bar which can be fitted to the front linkage of a tractor. The machine can pick up a variety of sizes of large square bales and tie them together, providing a safe and stable stack.
Potato equipment
Tong is unveiling the FieldLoad PRO, the first of a series of new and advanced machines that Tong is currently unveiling to the market. The compact and versatile machine receives and cleans crop at high capacities straight from the harvester, enabling soil and debris to be removed from crop in the field.
Scotts Precision Manufacturing will have details of its upgraded Trinity 22B Single Bed Haulm Topper, which has benefited from a boosted horsepower capacity of 50%. The machine features quick-change flails, a broad range of cutting heights, a replaceable steel inner liner hood protector and a large variation of flail lengths.
Tyres and tracks
Vredestein is launching new sizes in its VF Traxion Optimall series. This next-generation Very High Flexion (VF) tyre enables a low inflation pressure, making it ideal for high-horsepower tractors in field jobs where traction or soil compaction are critical. In addition, new sizes to the Traxion Versa and the Endurion ranges will be shown.
New entrant to the agricultural rubber track market, Global Track Warehouse (GTW) is at LAMMA. The company, which has more than 20 years' experience in the industrial market, uses premium rubber compounds that extend track life. The wide and deep tread lug design offers increased traction and better mud release while decreasing track cutting, ground disturbance and vibrations.
Grain drying and monitoring
BDC Systems will be launching the new Grain Cloud plant monitoring system into the UK market. Initially developed by Skandia Elevator, the simple-to-use app-based system offers a real time overview of all processes and machinery.
BDC is also showing a system that can automatically check moisture content of wet grain whilst it passes through a grain drying plant. Information can be remotely viewed on devices such as mobile phones. The system can be retro-fitted to any grain drying system, subject to a site survey.
Branscan will be launching portable systems for monitoring/measuring moisture, protein, gluten and oil in wheat, barley, oat, rye and also rapeseed (oil and protein). Weighing just 5kg with battery sufficient for five hours of continuous work, the system can be used in the field, in commodity storage areas and in drying areas.
Muckspreaders
Agri Market Insight & Access Ltd is introducing the Tubeline Manufacturing NITRO Rancher Series Muck Spreader, designed for smaller farm businesses.
Precision
Sencrop is launching a connected weather station that collects real-time, field-specific data such as air temperature, humidity, rainfall, and wind speed, enabling users to optimise field operations, irrigation and crop inputs. Information is transmitted directly to a smartphone, tablet or PC.
Herdwatch is introducing the Farm Medicine Scanner, which simplifies the recording of animal medicines and associated assurance paperwork. A smart Barcode scanner in the Herdwatch app recognises a barcode and identifies what medicine it belongs to, as well as the corresponding VMD.
Sweepers
A new line of powered sweepers and sweeper-collectors will be added to a growing implement range by Spaldings. The powered rotary brush sweepers with debris collection and dust suppression options are designed and engineered for cleaning tasks such as clearing mud and other debris from private and public roads while mounted on a loader or tractor three-point linkage.
Vehicles
Shropshire Quads will be exhibiting at the LAMMA show in 2019 for the first time with its Jimny Pickup conversions. The company uses a factory-manufactured kit designed by Suzuki to convert new and used Jimnys into lightweight and capable pickups as an alternative to a conventional UTV.
Components
Linde Hydraulics is revealing its cutting-edge Drive and Motion Technology for the agricultural sector, including CMF and CMV bent axis motor range and HMV105D-02 dual motor. These sturdy and reliable innovations are designed to help harvesting machines to work 24 hours a day in extreme UK conditions.
Forestry
The Truncator Tipper will be on display at LAMMA. This innovative new log-cutting trailer loading system developed to make on-site log production more energy efficient and cost effective, speeding the clearing of downed trees and timber heaps.
Drencher
A new drencher – the Trusti Tuber for lambs and kid goats - is being launched into the UK by Dairy Spares. Its design ensures feeding is easy, quick and kind, and that milk/colostrum is safely delivered into the animal's stomach.
LAMMA '19, supported by headline sponsor AFP, takes place on Tuesday 8th January and Wednesday 9th January 2019.
For more information on the LAMMA show go to www.lammashow.com
* For further information on previously announced LAMMA launches – tractors and loaders, arable and livestock kit – please go to https://www.lammashow.com/show-news-3aqv and scroll through Show News (top section of page) and Exhibitor News.