06 Dec 2019
Latest mowers, slurry kit and bale-handling equipment on show at LAMMA'20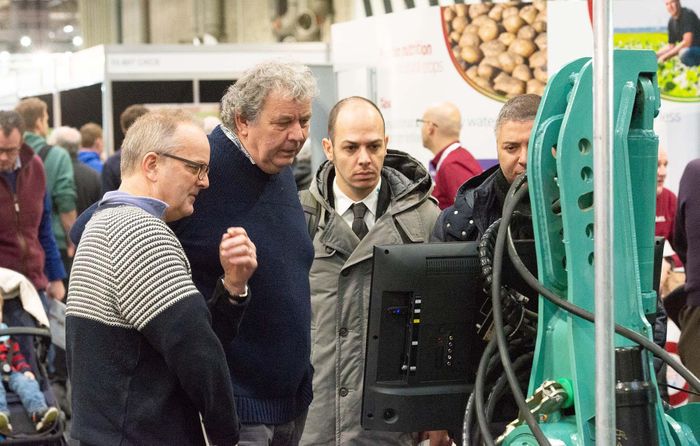 Livestock and arable farmers and contractors looking for new kit will have plenty to view at the upcoming LAMMA event when it opens its doors at the NEC Birmingham on 7th and 8th January 2020.
From large square balers to fencing units, many of the 700 exhibitors have chosen this key event in the agricultural calendar to launch new and updated equipment. Here's a taster of what's on offer…
Balers and bale handling
Kuhn Farm Machinery will launch a new range of large square balers at LAMMA 2020, exhibiting the SB series with increased capacity and higher density baling.
Machines include the SB 890 (80 x 90cm bale size), the SB 1270X (120 x 70cm), the SB 1290 (120 x 90cm) and the extreme density SB 1290iD (120 x 90cm).
A new crop guard design, combined with increased torque on the rotor and feeder fork driveline, gives these models up to 15% higher intake capacity and greater endurance.
The machine uses an innovative Twinpact double plunger system, eliminating the need for an oversized driveline, flywheel or mainframe. All SB balers are fully ISOBUS compatible with an intuitive user interface.
Tanco Autowrap will show its new Q-Series linkage mounted square and round bale wrapper at LAMMA, a limited number of which will be available in the UK for 2020. They feature 200mm longer rollers to accommodate longer bales than the 1540-EH, telescopic cut and start, direct gear drive of the satellite arms and are fully automatic (auto load, auto start, auto bale level and auto unload). The machines are available with two or three wrap arms.
Bale Baron UK will launch its 5250 series at LAMMA, helping to take the expense out of handling small bales. The 5250T and 5250P feature a range of upgrades on original models to improve productivity and serviceability. These include in-cab ISOBUS connectivity, greaseless nitrided pins and composite bushings, lower bale pickup and rollers, redesigned cushion cylinders, swing-out twine cabinet and gas shock mounted access panels and shields.
Big Bale's new Transtacker 4100 features several improvements. It is fully CTF compatible with the addition of the bump bar which can be fitted to the front linkage of a tractor. It can pick up a variety of sizes of large square bales and 'tie' them together, providing a more stable stack.
The machine can also re-pick existing stacks for easy movement and lift part loads, removing the need for a telehandler to pick up stray bales. The new machine is fully automatic, and is fitted with air brakes, flotation tires and a hydraulically height adjustable draw bar.
Arcusin will unveil the Multipack D14 at LAMMA, the result of several significant changes from its conventional bale packing machine. The D14's bale pickup has been moved to the right hand side, as with other machines in the Arcusin range, allowing operators to more easily site the control box on the right hand side in the tractor cab, a more natural location that improves ergonomics.
The new pickup uses a soft entry chain collection system to manage bales that are out of line or lying at an awkward angle to the pickup. Machine road transport is also improved.
Mowers, foraging harvesting
Europe's leading producer of rotary mowers, Spearhead has launched an upgraded gearbox for its new Multicut 470 and 630 rotary mower models among a raft of other upgrades to enhance performance, ease of maintenance and longevity.
The rotor gearbox horsepower rating climbs from 111 to 165HP. Oversized shafts and gears are also increased in stature by up to 30%, adding to the capability of the gearbox, even in the toughest of applications. Other improvements include toughened rear axles and enhanced baffling to ensure an even spread.
Pottinger staff will be on hand to discuss the new Novocat Alpha Motion Pro models, which includes the Novacat 261, 301 and 351 Alpha Motion Pro disc mowers, and the Eurocat 311 Alpha Motion Pro and Alpha Motion Plus Pro drum-type mowers.
The disc mowers can be used without conditioner with swath doors, or in combination with an ED tine conditioner or RCB roller conditioner. The Plus versions of the drum mowers are available with ED tine conditioners. The Alpha Motion headstock allows the entire carrier frame to adapts to ground contours, even operating at high speeds over wet ground.
Razorback is launching a new range of flail mowers at the event. The line-up includes lightweight machines for compact tractors through to heavy-duty options for the agricultural and amenity user.
The RK DS Series, is fitted with a front -and rear-mountable headstock, double-skin chassis and an anti-shock rotor. Available in widths up to 3.2m, these are heavy-duty, high-output machines for dense overgrown vegetation and grassland.
With a cutting width of five metres, the Razorback RT 500 mower features solid construction and efficient rotary blade action for the most demanding agricultural and amenity operations. It is fitted with the high-spec Bondioli & Pavesi gearboxes and drivelines. The 250HP driveline assembly provides ample power to the wing mower's three triple-blade rotors.
Horning's Fibertech Chevron roller, the latest in its roller designs to improve feed material and forager harvester performance, will be introduced on the Harvesting Solutions stand.
The Chevron rollers can be fitted to any self-propelled forage harvester, in two variations, for maize or wholecrop/small grains. The wholecrop model has specifically designed teeth and spiral cutting on the rollers which break down grains more efficiently whilst optimising power usage, shredding the straw/plant material to create a greater surface area for enhanced feed material.
SIP is introducing its flagship Star rotary rake line-up, the 1250|50 T. Hydro-pneumatic suspended rotors set on the triple SIP-patented walking tandem axles provides ground following even at the high speeds. Continuously adjustable working width allows swaths from 1.3 to 22m widths.
Operators can increase productivity with a SIP pick-up rake combination using the AIR 300 F and new AIR 500 T and avoid driving over swaths in the process. AIR Swath technology enables collection of forage crops while off the ground, greatly reducing the chance of stones, soil and residual manures contaminating the grass.
Slurry and muck management
SlurryKat's Duo (Dual Purpose) Dribblebar range will make its UK debut at LAMMA. The 10m and 12m vertical folding dribblebar can be tanker-mounted or used on an umbilical system. Both versions feature a lower frame height to maximise visibility to the rear when operating the system on an umbilical set up.
The heavy-duty frame can accommodate the redesigned Bak Pak Reeler system that can now carry up to 1200m of 5in umbilical hose. The new models feature the Vogelsang macerator with stone trap, with a twin macerator option available on the 12m to ensure even spread on slopes.
Joskin will exhibit the new Tornado 3, with the T5513/14Vrepresenting the range. This 13t/14m³ capacity machine has a 5.5m long body, 150 single axle with 420x180 brake shoes and two vertical beaters.
The 'folding' process has been reviewed to bring the manure to these beaters. The leaf suspension on the TORNADO3 is now replaced by a hydropneumatic drawbar with closed circuit to absorb shocks better and produce a more precise spread. The moving floor slats and the transmission shaft have been beefed up.
Joskin will also show machines built to its recently introduced "Advantage" concept, using shared assembly lines to produce identical series of machines, reducing costs and delivering a high-tech product at the price of a standard one.
Advantage machines include three tankers – the 11m³ single-axle Modulo2 & 7.5m Pendislide BASIC trailing shoe; the 12m³ twin-axle Modulo2 and the 16.5m³ twin axle Volumetra), as well as a twin-axle 18t grain trailer and two grass harrows – 6m and 9.6m with seeder unit.
Tramspread will exhibit the latest remote controlled, contractor trailer pump unit with compressor, 2000m of hose capacity and 900-litre fuel tank . The Bauer SX2000 slurry pump is powered by a 170hp diesel engine and controlled via a high specification SIL Vision IV remote control.
The 140 cu ft/min compressor and divert valve are also remote controlled, with information shown via large colour display. Flow and pressure can be monitored with the addition of flowmeter and pressure gauge.
Vredo Dodewaard has made the VT4556 series self-propelled slurry vehicles suitable for attaching 24 meter wide dribble bar/trailing shoe implements. Booms fold next to the tank, keeping transport width below 3.5m.
The 50/50 weight distribution of the self-propelled tanker and the reload docking arm mounted at the front means it is possible to mount 24m dribble bar / trailing shoe implements. The tanker can still be driven in crab steer, meaning only one wheel in each track that helps achieve very low ground pressure. Implements can be equipped with section control, manual or in combination with a GPS steering system.
Brothers Noel and Ger Hickey from Co. Waterford in Ireland have created a drive system for vacuum-type slurry tankers The retro-fit drive system, SafeShaft, replaces the tanker's original mechanical drive (PTO) with a hydraulic drive system and mounting assembly.
Livestock feeding
Albutt's range of Shear Buckets features new smaller capacity models for tractor loaders and telehandlers. The design is based on the company's range of high-capacity shear grabs and allows the cutting of silage and handing of feed materials, eliminating the need to swap between bucket and shear grab.
Market demand has led to the development of a hydraulic push/eject system for the range of Shear King shear grabs. This releases a cut silage block while retaining its shape, preserving feed quality for later use. The system can be retro fitted to existing shear grabs or specified on new build machines.
Livestock weighing
The new S3 Bluetooth enabled Weigh Scale Indicator from Tru-Test and available through Datamars features Bluetooth connectivity, so the operator can record animal weights and configure settings using the MiHub Data Link app or email.
The complete S3 Weigh System can include two mobile (MP) or permanent (HD) Load Bars of differing widths, suitable for weigh scales upgrades or as a new management tool. The S3 can be installed under cattle crushes, platforms, sheep combi clamps and the like. It features a high visibility LED backlit screen.
Electric fencing
The new Speedrite A15Xi energiser is the most powerful EU compliant mains energizer on the market, according to distributor Datamars, capable of powering 150km of fence line, equivalent to approximately 100ha of grassland.
With a maximum of 15joules Joule (J) output energy, the A15Xi delivers the same, or higher power output than a compliant 36 J energizer when increased load requirement is applied to a fence line, such as vegetation growth touching the cables or the addition of temporary 'hotwires' for strip or rotational grazing of paddocks. The A15Xi can also 'step down' when less power is required such as in dry conditions.
Speedrite is also launching the S1000 Portable Solar Energizer into the UK market via Datamars It can power up to 10km of fence or typically a 6ha field with 0.5 joules of maximum output energy.
LAMMA'20 will take place at the NEC on Tuesday 7th and Wednesday 8th January 2020. Parking and entry to the event are free.