15 Jan 2020
LAMMA's sell-out show a commercial and professional success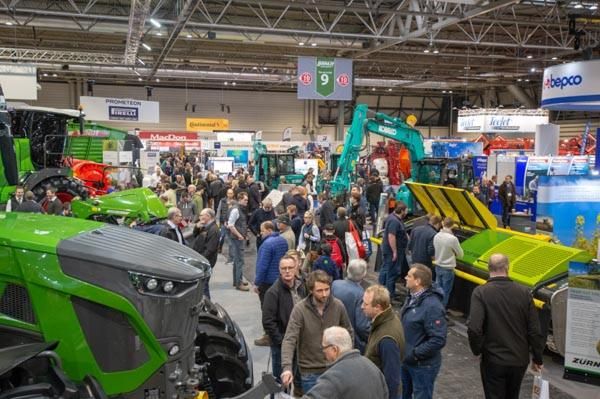 LAMMA's return to the NEC in Birmingham at the beginning of January produced an even bigger and better show than the year before, resulting in an upbeat two days that have been widely praised by exhibitors and visitors alike.
Fears among some exhibitors that last year's runaway success had been partly fuelled by the novelty factor of an all-indoor event were quickly dispelled as visitors flooded through the gates on 7 and 8 January.
Overall, numbers ended slightly up on the year before, topping 40,000, drawn by more than 700 exhibitors showing the latest farming machinery, equipment and innovative technology that catered for all farming sectors and all depths of pockets.
LAMMA's event manager Kate Walsh said: "We are delighted to report that we sold all the exhibition space this year, with 40 additional companies coming on board. All told, the stands covered over 56000sq m, the equivalent of eight football pitches.
"The feedback we received from exhibitors and visitors suggested this LAMMA was the best they had attended and the most professional.
"Overall, the mood was surprisingly positive, considering the tough time the industry has had recently and the uncertain outlook that has prevailed over recent years. A number of exhibitors reported very positive conversations and leads with plenty of key on-farm decision makers.
"Many visitors were here to keep a close eye on the latest developments so they will be able to make the right decisions and make the most of more favourable times when they return. Others were looking to tweak systems to optimise margins and make their businesses more resilient in the face of economic, political and physical pressures.
"We were delighted to receive such positive support from exhibitors old and new, and from visitors across the two days. I would like to thank all of them for helping to make the event such an outstanding success, and we can't wait to take the event forward again next year."
Many exhibitors, large and small, used the event to launch new and updated tractors, combines, arable and grassland kit, and there was a wide range of products, services and tools on show.
Innovation was evident right across the event this year, not only in the latest machinery. LAMMA is gaining a reputation a place to exhibit cutting edge technology, including precision farming hardware and software, and agronomy and livestock management systems.
The event also hosted the well-established Innovation Awards, which recognises and rewards companies pushing new boundaries. This year also saw the launch of the well- attended Farming 4.0 zone, which hosted a wide range of companies involved in the development of key technological advances and their successful implementation and uptake.
Exhibitor and visitor feedback was overwhelmingly positive. Louise Hemmings from JCB said: "The show has been brilliant, superseding even last year. The stand has been heaving both days. There has been lots of interest in the machinery and we've taken lots of positive leads."
Martin Holden of grassland machinery specialist SIP said: "We doubled the stand space from last year. It's important to be here as we are flying the flag for a relative unknown in the machinery market. We've seen a lot of interest from dealers, and end users that didn't know the machines existed."
Andrew Bolan from loader specialist Weidemann UK, said: "It's been a really, really successful show for us and we've been seeing dedicated farmers and users – the right people. Farmers do like to see and touch things and talk to real people. Next LAMMA we'd hope to at least double the stand – it's onwards and upwards."
Graham Barnwell of SDF UK said: "We had a good positive couple of days given the aftermath of last year. LAMMA is a good place to kick things off for the new year. We've been talking to people who are looking to make decisions, do deals and buy equipment."
Grimme UK's Adam Johnson said: "We've had a great show this year – absolutely brilliant. We've probably been busier and had a really productive time talking to drivers and key decision makers as well."
Tim Lowden of New Holland said LAMMA provided a great opportunity to show the company's new implement range. "We had some really good feedback, some good quality conversations and some serious enquiries. It's been a good show and the mood has been generally positive."
Jeff Goulding from Hummingbird Technology said footfall was higher than last year. "Enquiries are up and we are really happy with how things are going. Good quality conversations with the right people are where you are going to drive business, and we've had those."
Warren Rivers-Scott from drill and cultivator manufacturer Bednar FMTsaid: "The show has been fantastic. LAMMA is our official UK launch and for a brand that is new to the UK. The support we've been given has been unreal. Good comments, good questions and a lot of valuable leads."
Colin McGregor who farms in the Scottish Borders said: "This is my first time at LAMMA since Newark. I head good reports about last year so thought I had to come. It's been good – we have six operators who have been down here for two days, and they are influencers – they've enjoyed it and found it worthwhile. It's good to meet some of the key people beyond the dealers too, such as manufacturer's representatives."
Steve Lowe, Buxton, Derbyshire was looking for information and dirty water and slurry handling kit, as well as parts and hydraulic equipment. "It's been very useful – I could do with two days really. It's a much better venue and comfortable – you can stay on sites a bit longer and have proper conversations."
Oliver Mackintosh who farms in Yorkshire was impressed with the show and the professional environment. "We get to Agritechnica every two years and LAMMA has become is a lot more like that – it's a lot better inside than outside."
Selwyn Rees, agronomist and farmer based in Warwickshire, said: "I'm looking at how we can reduce costs over the next 10 years with the change in subsidy regime, looking at drilling systems and ideas and how various machines might fit into that. LAMMA is a fantastic show – it's excellent it's indoors and excellent it's in January. You can talk to companies in the warm and dry and set up demos with them later on – I've found it very useful."
Launches and updates at the event included:
McCormick X7.624 VT drive tractor
JCB Fastrac 4000 and 8000 updates
Reesink's Farmtrac tractor range
Deutz-Fahr's 5115 four-wheel steer tractor
Basak's tractor range (50-130hp)
Kubota M7153 tractor
Valtra F series fruit tractors
Zetor Compax range (25-40hp)
Fendt Ideal 10 combine harvester
Manitou MLT420-60 telehandler
Merlo Multifarmer 40.9 CS telehandler
Dieci Agri T90 pivot-steer loader
Basak BTH 740 telehandler
Tru-Test S3 weigh scale indicator
Easyfix Evolve feed barrier
AG Duo bedding dispenser
xarvio Field Manager crop management software
Calibre GrainSense device
Syngenta Spray Assist app
Crop4Sight potato crop performance predictor app
Weaving Sabre 6000M drill
Sumo Vaxio cultivator
SamAgri Virkar direct drill
He-Va Stealth subsoiler
Hardi Alpha Evo II self-propelled sprayer
KRM L-line fertiliser spreaders
Bunning Farmstar 80 muckspreader
Kuhn SB high density baler
Fendt Katana 65 self-propelled forage harvester
Malone MP 3000 mower
Kuhn triple auger feed wagon
Krone Premos pellet harvester
New Holland grassland and tillage equipment.
For further information see www.lammashow.com
LAMMA '21 will take place at the NEC, Birmingham, on Tuesday 12 and Wednesday 13 January 2021.