Lamma Show Innovation Awards
Winners of Livestock innovation at LAMMA 2023 and won 2 awards in 2019 (innovation in the livestock sector and went on to win the overall LAMMA founders award for Innovation)
James Hudson – JF Hudson LTD –
Winners of Livestock innovation at LAMMA 2023 and won 2 awards in 2019 (innovation in the livestock sector and went on to win the overall LAMMA founders award for Innovation)
What happened after winning?
We got quite a bit of interest after winning, in terms of publicity. The LAMMA innovation awards are well-recognised awards to win in the industry. It is definitely worth entering as the chances of winning are good. We were lucky enough to win 2 awards in 2019 and 1 this year.
Still in the same role, designing effective solutions to solve the problems farmers face. We have two directors who developed the product together and we are both committed to innovation and improvements.
Why did you get involved in the awards?
To drive our publicity, we had exhibited at LAMMA before and know it is the largest agricultural machinery show in the UK.
What would you say to others who want to get involved?
He would encourage others to get involved and says it is definitely worth entering, as there is nothing to lose, and these are well recognised awards.
Will Dunn – Ag-drive
Digital innovation and LAMMA founders trophy 2023
What happened after winning?
After winning the digital innovation award we've had significant growth in new customers. We had lots of media attention especially being featured in the event programme, which helped introduce Ag-drive, to new customers. Our sales team has increased too of the back of new customers we've gained from the success at the LAMMA show.
Continuing to develop Ag-drive to help agricultural contractors streamline the process of recording and invoicing their jobs. Focusing on growing Ag-drive within the UK and Ireland whilst increasing our sales presence in Australasia and North America.
Why did you get involved in the awards?
After being nominated, I felt that it was a great way to introduce Ag-drive to the world. LAMMA is world renowned show, and getting recognition like this really does validate Ag-drive as a concept. It also helped us make new connections which we might not have been possible without publicity and validation from the show.
What would you say to others who want to get involved?
Honestly you have nothing to lose, its great way to launch a new product/service at the biggest machinery show in the UK!
Alex Macdonald-Smith – Drone Ag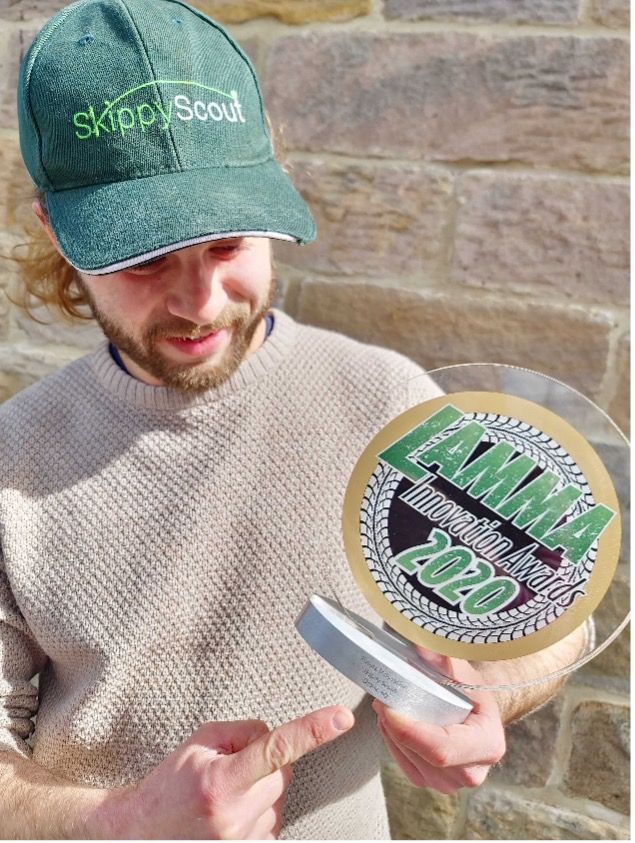 Future Innovation award winners 2020
What happened after winning? - So our win of the Gold Future Innovation award at LAMMA 2020, coincided with announcing the first commercial release version of Skippy Scout. In hindsight, the start of 2020 was not the best time to release something within the Agricultural market! However, the win at LAMMA served to promote the brand to a wider audience which helped to overcome the lack of demonstration, trade show and sales opportunities during the early stages of the pandemic. It's also important to mention that the morale boost from winning such an award, really helped to cement confidence in what we were doing at the time; we knew we were onto a good thing and we're even more confident of that today.
What are you doing now? - Since 2020 we have been hard at work improving and iterating upon the platform. With endless possibilities for innovation comes the challenge of correctly prioritising new features and expanding the team to steadily increase our reach and capabilities. It's a good problem to have and our hard work is paying off! Skippy is being actively used in 19 countries, and we now have contracts with several large agricultural firms. We are working on integrating with multiple platforms whilst simultaneously broadening our offering in terms of analysing different crops and developing new and innovative methods of crop monitoring.
Why did you get involved in the awards? - We saw the "Future Innovation" category as the perfect opportunity to showcase what we were working on! Our Skippy Scout platform fits the description for that category perfectly. We built a futuristic, innovative system that was set to (and now does) massively benefit farmers and agronomists whilst crop monitoring across the whole season, allowing them to make more timely decisions and alert them to any yield limiting pressures or unknown factors, that they would otherwise potentially miss and be unable to measure. The LAMMA Innovation Awards is highly prestigious and we knew that Skippy could win on our vision alone. Now we're delivering on that vision in spades, and it feels great!
What would you say to others who want to get involved? - I'd say take the plunge, put yourself out there and do it. It's crucial to be sincere about what you're doing, but also to focus on the things that make you passionate about your company/product/offering; that's what we did and we couldn't be happier with the result. Now we carry that badge with us wherever we go, and it reminds us that we're breaking new ground here on the cutting edge of agritech.