11 Mar 2021
JF Hudson prepare to go big at LAMMA2022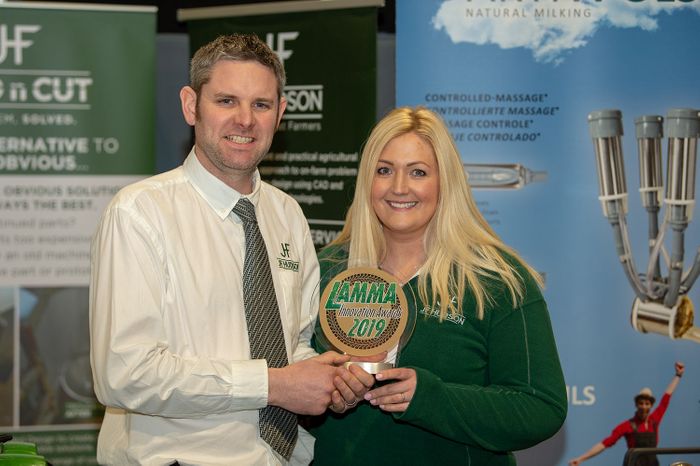 Having been a regular supporter of LAMMA for 4 years now, JF Hudson have built on their success every year. In 2017, they booked a 12m squared stand with the aim of showcasing their brand and products to as many attendees as possible. In 2019, they won a LAMMA Innovation award in the Livestock category and the overall award for innovation, the LAMMA founders award and gained great exposure for their brand with coverage across LAMMA and related brands. Looking ahead to 2022, the company has re-booked a stand that is nine times larger than their previous stand space.
We caught up with them to find out more about their experience with the LAMMA Show.
"JF Hudson offer farmers in the UK a diverse range of products and services to help build more sustainable and profitable businesses. Exhibiting at LAMMA has always been a worthwhile investment for our business – it's the only event that guarantees exposure to potential customers from throughout the UK.
Attending shows costs a lot of money, yet LAMMA is the key show we attend each year. Our reasoning behind this decision is if we are going to exhibit at a large show, then we make sure it is the main event. Getting in front of a wide range of potential customers is crucial to us, and with such a diverse range of products on offer, LAMMA provides us with the perfect opportunity to do this. Plus, as we have a strong focus on offering new technologies to help improve farm management, it is also a great place to launch new products too.
Although we may do a couple of straight sales on stand, we tend to take warm business leads that we can follow up after the event. LAMMA however offers us much wider ranging benefits than sales alone. For us it is unrivalled – there's nothing like reaching that many opportunities over two day at LAMMA. It is a unique environment in having chance to get face to face with new and existing customers to demonstrate our products and services. We get to showcase our business along with other quality exhibitors and gain great exposure and connections.
The large amount of people that our brand is exposed to, coupled with the benefits that come with the LAMMA brand association, means that customers take your company more seriously. We've got further, faster because of exhibiting at LAMMA - our business growth has been accelerated because of it. We find that many people down the track, when they are ready to buy, think of JF Hudson as they remember meeting us at the Show.
We're excited to take on a larger stand at the 2022 event and showcase a wide range of products and launch new products. We have a lot to plan, but as much hard work as the build up to the event is, we've always enjoyed being there. The organisers are committed to developing the show as a world-class event.
Agriculture can be a challenging industry for everyone involved, LAMMA being at the beginning of the year gives us a great start to the year and a fantastic injection of enthusiasm at a time of year when moral can be low.
Being able to exhibit again in a face-to-face environment holds huge value for our business. Visibility at events is especially important and although we've held a steady stream of customers throughout 2020 and into 2021, we're always looking for new ways to grow and keep focused on the future in order to support the business's continuing success. Exhibiting at LAMMA helps us in this objective.
We highly recommend to others to exhibit at LAMMA, as it is a great place to showcase your brand and product - you're bound to connect with your target market."