05 Dec 2018
Gleaming ranks of arable kit on show at LAMMA '19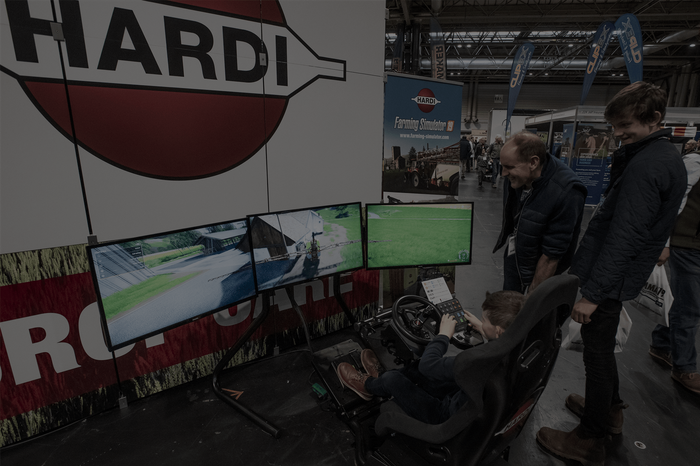 A machine suitable for just about any job on an arable unit will be represented in one form or another on hundreds of exhibitor stands.
Visitors will be able to consider their choices and make important decisions in warm and dry, thanks to the decision to move the show indoors from 2019 onwards.
We outline just some of the latest kit that will be on view, together with hundreds of tried and tested pieces of kit, all of which can be compared in real life in a single visit under one roof.
Drills
Kuhn's new Maxima 3 precision seed drill is available in 6 to 12-row versions and can drill crops with row spacings from 37.5 to 80cm. It comprises 12 models in a choice of configurations including telescopic, trailed, foldable and telescopic with adjustable spacing.
The drills use an improved seed selection and ejection system which enables accurate seed placement at working speeds of up to 10km/h. The electrically-driven seed metering system can be adjusted manually on the move or in accordance with a seeding map. The system also enables GPS or manually controlled row shut-off.
Claydon is launching its new compact 6m trailed drill at LAMMA. The T6c is the latest development of the Claydon OptiTill System. It is over 20% lighter and more compact than the existing T6, combining the high output of a 6m seeding platform with the manoeuvrability of the 4m T4 trailed drill, on which it is based.
Capable of drilling typically 45ha/day behind a 300hp tractor, the T6c features a fully-floating seeding chassis which follows field contours exactly, ensuring accurate seeding depth under all conditions. Hopper capacity is 3500 litres. The T6c will sow directly into stubble, min-till or ploughed/cultivated land, across a wide range of soils, conditions and crops.
Väderstad's Tempo L 18 precision drill for planting crops such as oilseed rape and sugar beet makes its debut at LAMMA 2019. It has 18 row units and is available with 500mm or 508mm row spacing.
Tempo L 18 can be adjusted down from 18 to 12 rows units and when in the 12-row configuration the spacing can be set between 700-800mm. This makes it ideal for crops such as maize, and sunflower.
JC Machinery will be showing the new generation of Vredo agricultural overseeders. These feature an array of improvements – the lid and rear of the seed hopper are rounded to ease seed flow to the cam wheel and the platform has been made easier to reach.
The Agri Air and Twin series calibration trays are now mounted on the inside of the lid, and platform on the Agri Twin has been enlarged and equipped with a foldable step for easy access.
Cultivation kit
Kuhn's Optimer XL 5000 independent disc stubble cultivator will be on display at LAMMA. The 5m trailed machine features two rows of independent discs followed by a roller bar which can be equipped with a variety of Kuhn press wheels.
Large diameter (620mm) notched discs made of 6mm thick steel are capable of working at depths from 5 to 15cm and can incorporate high volumes of trash and crop residue.
Väderstad's universal light tined cultivator Ferox is available with a working width of 5-9m and has a levelling CrossBoard to help create a seedbed in a range of farming conditions.
Its rigid vibrating tines can maintain a constant working depth and shatter cobbly soils. Wide tine spacing (11 or 12cm depending on axle number) assists with handling crop residues and weeds.
Maschio is launching the new Jane rotary cultivator, targeted at root crop, vegetable, fruit and flower growers to intensively till soils and form beds prior to establishment of the crop.
The Jane, available in working widths from 4.28m to 6.28m is based around Maschio's Panterra rotary cultivator and is designed for 200-380hp tractors in arduous conditions.
The display will feature two new options – a quick-fit blade system using one bolt to fit two blades at a time, and a new internal hood fitted with an anti-logging liner.
Further widening the versatility of its roller range, He-Va is introducing the option of straw tines for its Tip Rollers. Ideal for creating consolidated stale seedbeds ahead of drilling, the addition of two rows of 16mm sprung finger tines can also be used post combining to help spread and break up crop residues. The tines can be lifted out of work for conventional post-drilling seedbed consolidation work.
The Garford Robocrop Baby Leaf hoe is designed for delicate hoeing in baby leaf crops working at the narrowest of row spacings using inter row technology and disc steering to carefully weed between the rows, as narrow as sub 50mm.
The machine, which achieved Bronze at Sival 2018 in France, achieves maximum weed control of 5mm accuracy is achieved using unique shares for minimal soil disturbance. By using a low camera position, accuracy is maximised for precise weed control between the crop rows.
Agricast's newest replacement wearing parts will be shown at LAMMA. The High Strength Ring has a 24-inch diameter and features eight spokes rather than the traditional four spokes making it Agricast's most robust wheel.
Said to be stronger and cheaper than alternatives, this ring fits most leading machines, including Cousins, Dal-Bo, HE-VA, Twose and Simba/Great Plains.
Agricast's Double Disc Ring follows the expiry of the patent on the Simba product offering greater durability and enhanced poor weather performance at a much cheaper cost. The DDR is available 610mm and 710mm diameters.
The new BreakMix point from Väderstad combines the advantages of breaking compactions with a very intensive mixing. It can crack deep soil compaction down to 30cm, and provides intensive mixing of residues in the topsoil.
Intended for both primary and secondary cultivations, the BreakMix point is ideally suited to heavier soils where compaction can often be an issue.
Sprayers
Kuhn Farm Machinery has recently added four new models to its range of Oceanis trailed crop sprayers, the largest of which, the 7702, will be on display at LAMMA.
The machines have tank capacities of 5000 to 7700 litres respectively and are available with compact, all-aluminium booms in widths of 24 to 48 metres.
The fully ISOBUS-compatible sprayers are fitted with Kuhn's self-levelling boom system and the Multispray system which uses electric nozzle holders to enable in-cab nozzle selection, automatic nozzle selection to suit the forward working speed and to maximise the accuracy of variable rate applications.
Chafer Guardian and Sentry trailed sprayers feature a number of upgrades on show at LAMMA 2019. The boom suspension assembly offers improved contour following, allowing it to run closer to the ground (below 50cm) on even the largest diameter wheels.
The advanced ePlumbing system has been updated to use CANbus valves that offer operators real time information of the valve's status and position.
Other upgrades include variable tank agitation with automatic shut off at low tank volumes to eliminate foaming, controlled from the ePlumbing screen. The move to intelligent valves means fewer components in the system, reducing wash out time and washings that require disposal.
Trailers
Bailey Trailers will be displaying its new TB trailer at the event. Launched in 2018, the new range features wider and stronger top rails and larger, flared pillars with bevelled edges to prevent materials gathering on the structure and spilling onto the road or yard.
Designed for tough off-road conditions, these trailers are available in 12 capacities from 8.2 to 32.9 cu m. Models feature an 8 or 10 mm RHS chassis with heavy gauge sides, strengthening channels and heavy gauge floors, as well as heavy-duty commercial axles on tandem springs and a sprung drawbar
Grain drying and handling
This year Gibbons launched its Plug&Cool Barn System, an all-in-one solution that enables automatic wireless crop pile temperature control from a single panel. These bespoke-designed systems can handle multiple fans within crop stores of all sizes.
Visitors to the stand will be able to see all the latest products, including 0.13 – 2.2 kW aluminium pedestal fans and hotspot Airspear fans.
Irrigation
Drip irrigation specialist Howseman Agriculture will be showing a prototype six-row drip-tape layer that recently won the Lincolnshire Agricultural Society Silver Award for Innovation at the 2018 Lincolnshire Show.
The company, which won British Farming Awards' 2018 Contractor Innovator of the Year, will also show an informative video at LAMMA, which takes growers through the drip irrigation season, illustrating the practical operations and benefits.
Box tippler
Visitors to Haith's stand will be the first to hear about the company's new Rota-tip S Box Tippler aimed at farmers, growers and small to medium packers looking for a high quality, lower-cost streamlined machine.
The new Rota-tip S handles 15 boxes/hour. Featuring all-electric drive, the tippler rotates around a centre pivot, so the weight of the box is never lifted and the machine is not put under any pressure, eliminating fatigue or damage to the machine and the box.
LAMMA '19, supported by headline sponsor AFP, takes place on Tuesday 8th January between 8.30am and 5.30pm and Wednesday 9th January between 8.30am and 4.30pm.
For further LAMMA visitor information go to www.lammashow.com