10 Jan 2018
Farm safety seminars announced at LAMMA '18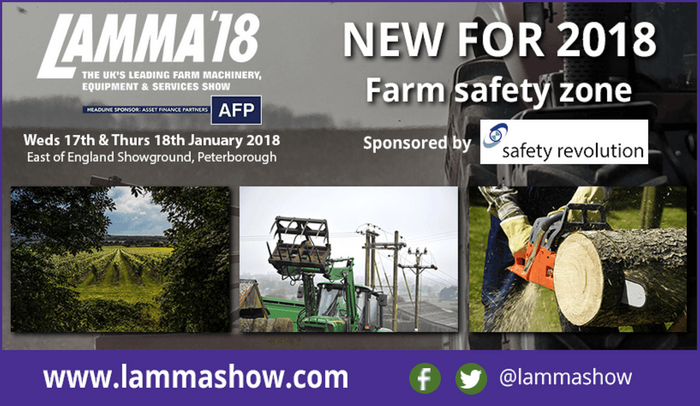 A new series of seminars on farm safety will take place at LAMMA '18, which returns to the East of England Showground, Peterborough on January 17 and 18, 2018.
The seminars will take place in the Farm Safety Zone, a new area dedicated to help reduce the high number of deaths and injuries on UK farms.
Specialists from leading health and safety consultancy Safety Revolution, which is sponsoring the zone, and contributors from other areas of the agricultural sector will deliver the seminars.
The talks are designed to stimulate detailed discussion, enabling visitors to access the most current health and safety information and specialist advice available in the UK agricultural industry
Keeping staff and contractors safe in a farming environment is an increasing challenge across the industry. Welfare of staff is paramount to the smooth running of farms, estates and agri-businesses increasing productivity and improving efficiency in rural businesses.
Safety Revolution's health and safety experts will also be on hand throughout the show to welcome visitors to the Farm Safety Zone, to help assess the health and safety provision for individual businesses, including information on CoSHH, advice on training or improving the attitude of staff towards health and safety.
Safety Revolution speakers
Wednesday 17 January
10am  Ben Underwood, director, CLA East
Estate or farm: Health and safety matters
11am  Sir Jim Paice, Camgrain/former farm minister
Co-operative working: Communities, business and government
1pm  Sue Draper, Nestle
Our safety culture: From farm to fork
2pm  Client board launch

Thursday 18 January
10am  Alan Plom, IoSH Rural Business vice-chair/ former HSE
Advice from the board: Safety within rural workforces
11am  Oliver Dale, Safety Revolution
In conversation with advisory board specialists
1pm  Olivia Midgley, Head of news, Farmers Guardian
Agricultural health and safety is good news!
2pm  James Chapman, Nuffield scholar
My research: Changing the culture in rural industries