18 Aug 2023
Buyers Guide: Power-harrow Combination Drills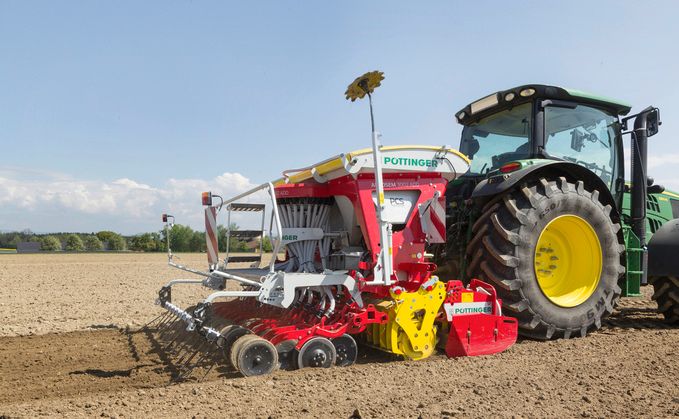 Still a popular choice of drill on many mixed farms, the power-harrow combination may not be the fastest drill on the market, but it will often work in conditions when others cannot.
Farmers Guardian's Head of Machinery, Toby Whatley
, reviews Power-harrow Combination Drills from LAMMA 2024 exhibitors.
Once a mainstream crop establishment process, the power-harrow combination has fallen out of favour on many farms as growers look towards a lower disturbance, kinder-to-soil establishment method which can offer a greater work rate and a lower diesel bill.
However, the design has endured with its capability to plant a consistent crop in nearly all weather conditions and soil types.
With the prospect of a wet drilling campaign on the horizon for some, we look at the current market options.
Italian-built Alpego offers the JET-X 300 drill in conjunction with its 200hp-rated RK power-harrow.
Seeds are supplied pneumatically through an all-stainless metering unit from the 1,500-litre hopper and controlled using a TopCon-sourced IsoBus-ready controller.
A total of 24 single-disc coulters spaced at 125mm are fitted to a seeding bar mounted on the packer frame of the harrow, with a parallel linkage used to control the working depth.
A maximum coulter pressure of 60kg/disc is possible, which Alpego says gives the flexibility to establish a uniform crop in harder conditions.
Removing the drill from the power-harrow is a split process, with a quick release system for the seeding bar and coulters and a second assembly to remove the hopper, which mounts on a pair of support stands.
For greater work rates, Alpego offers non-folding versions of the JET-X in working widths of 3.5m and 4m.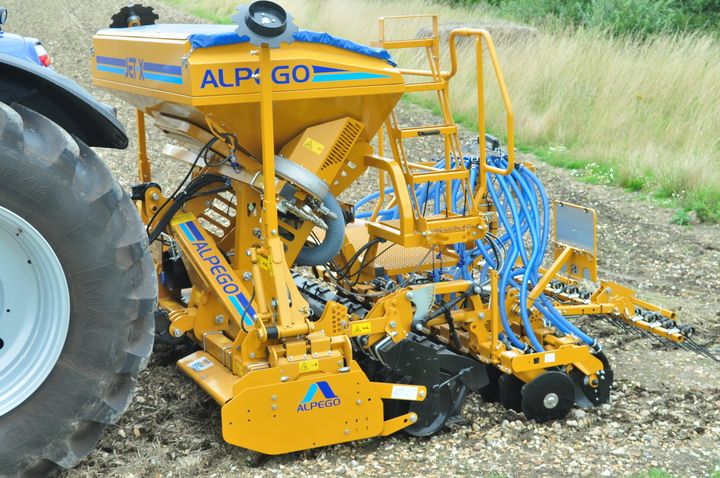 KRM's Sola Neu-P pneumatic combination drill can be specified with either a tine or double-disc coulter arrangement with seed delivered from the same 2,000-litre pressurised single hopper and IsoBus-enabled stainless steel metering system.
In its tine configuration, 24 units are positioned at 125mm centres, with each tine arm connected to a compressive spring to allow ground following across the machine.
Specified with double-disc coulters, row spacing is increased to 150mm and incorporates a rubber press wheel behind each unit.
Ground following is achieved with a parallel linkage on each coulter, with ground pressure adjusted using a tensioned spring mechanism. A twin following harrow is used on each design, with options on both models including pre-emergence markers, half-width shut-off and electric tram lining and variable rate applications.
KRM says the Neu-P can be mounted to a range of power-harrows and can be supplied fitted with one of its 12-rotor, 200hp-rated Katos units.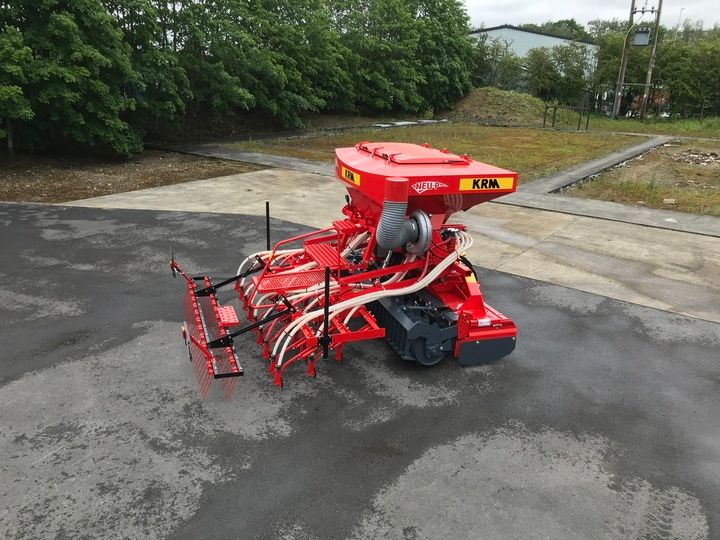 The range offered by Kverneland extends to three models of power-harrow mounted drills. The entry-level DA system uses a 750-litre hopper, mechanical metering and a pto-driven fan.
A total of 24 single-disc coulters are mounted at 125mm centres, followed by a single S-type harrow. The heavier duty s-drill uses a larger 1,050-litre hopper with a pto or hydraulically driven fan.
The disc coulter design uses a following press wheel to improve seed-to-soil contact and up to 50kg of coulter presser can be achieved using a mechanically pre-loaded spring or with an optional hydraulic system.
Metering is mechanically land-wheel-driven, with several control systems offered. The higher specification e-drill can be supplied as a compact model with a 1,600- or 2,000-litre single hopper or as the larger maxi version with a 2,100-litre split hopper in 60:40 or 70:30 divisions.
Electric metering systems are used with IsoBus-linked controllers. Double-disc coulters are fitted at 125mm or 150mm centres, with the option to apply the different hopper contents at varied depths.
Kverneland offers three different power-harrow models, which can be supplied in combination with any of its drill systems.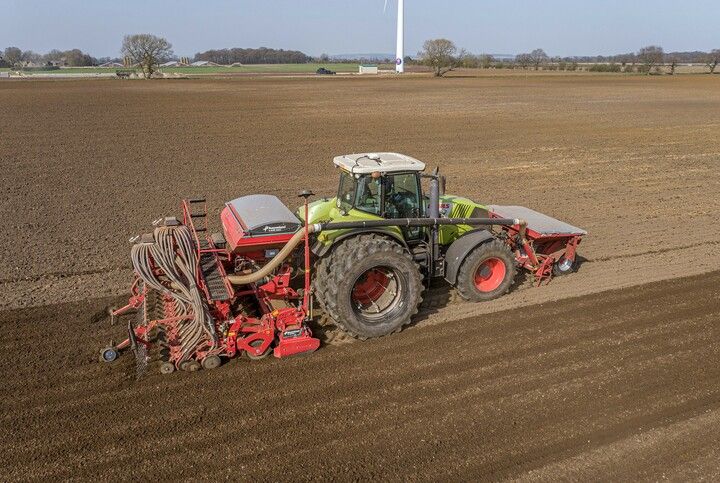 The range offered by Italian manufacturer Maschio is split between its Dama and Alitalia models.
The Dama range is offered as a single-hopper drill, with capacities from 500 to 1,050 litres. Seed is gravity-fed to the coulters and metered mechanically using a land-wheel drive.
Offered with tine or single-disc coulters, with both at 125mm centres, the Dama can be assembled with a quick-release system to the manufacturer's DC, DM or Orso power-harrows.
The higher specification pneumatic Alitalia range uses an IsoBus-ready electric metering and a hydraulically driven fan to deliver seed to the single disc or tine coulters spaced at 125mm.
The 1,500-litre hopper can be increased to 2,000 litres using an extension kit, with a quick-release mounting offered for the firm's DM or Orso power-harrow models.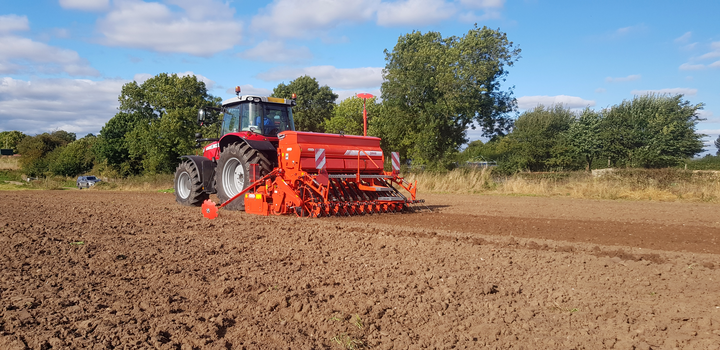 Pottinger's range incorporates fully mechanical gravity feed machines with its Vitasem series and the higher capacity Aerosem series with pneumatic seed delivery.
The Vitasem models are supplied with hopper capacities from 450 to 1,000 litres, depending on the model and extension sections.
Three coulter choices are available with tine or single-disc coulters, with a maximum pressure of 25kg, or dual-disc design, which allows a greater pressure of 50kg.
All coulter options can be spaced at 125mm or 150mm. The land-wheel-driven system includes a three-way-metering assembly which uses manual flaps to open or close access to the feed rollers without removing the shaft and changing the rollers.
Pottinger claims this allows much faster changes and calibrations between varieties. The pneumatic Aerosem is offered with the same single- and dual-disc coulters as the Vitsem, with an up to 1,850-litre hopper available as a split system, which can be configured to deliver products to separate coulters.
The manufacturer says this can be set to establish maize on 750mm rows and grass in the intermediate spaces to reduce run-off and soil erosion. Both models of drill can be fitted to Pottinger's Lion power-harrows or Fox disc cultivators.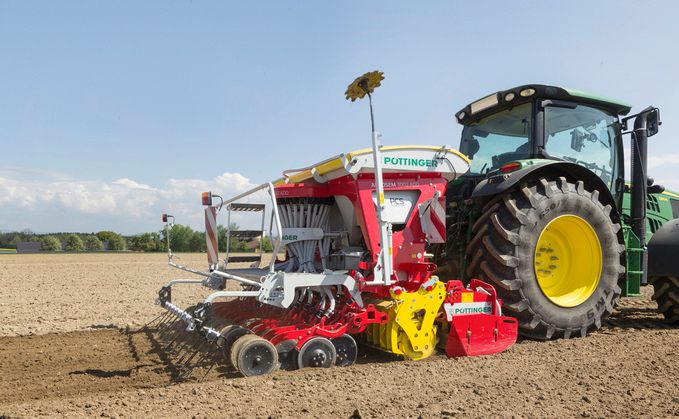 Read Toby's full review, including Amazone and Horsch here or register for your LAMMA 2024 ticket!