02 Oct 2019
Bumper LAMMA'20 show predicted as stand space sells out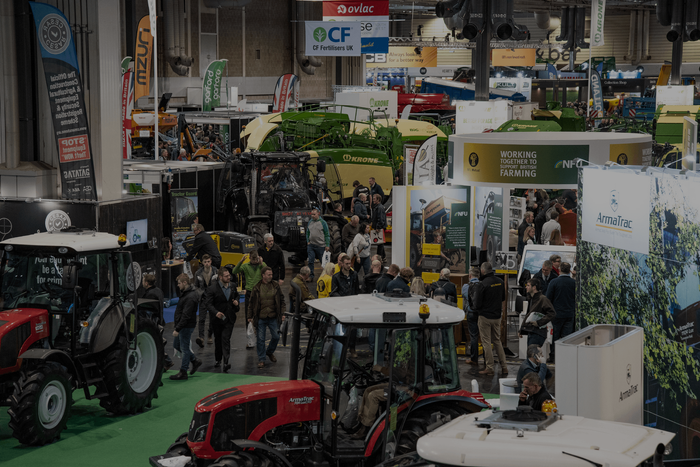 Bumper LAMMA'20 show predicted as stand space sells out
Stand bookings now exceed 95%
Exciting new zone puts tomorrow's farming under the spotlight
Anticipation building for second indoor event
The LAMMA show is set to build on its reputation as the UK's largest agricultural event dedicated to showcasing innovation when it returns to its new permanent indoor venue at the National Exhibition Centre in Birmingham next January.
Over 95% of stand space has already been sold for the 2020 event, following the triumph of LAMMA's NEC debut earlier this year. So far 577 previous and new exhibitors have confirmed their attendance to show a host of UK and global machinery and technology.
In addition, the event will also host a new feature, Farming 4.0, highlighting the expertise, flair and passion for innovative technology that exists in UK Agriculture to encourage the new blood the sector needs to help underpin its future.
LAMMA's move to the NEC in Birmingham brings together all farming sectors under one roof to do business in a thriving environment. The event also provides a great opportunity to network and discuss the latest events affecting agriculture.
Many conversations will centre on the latest Brexit news and how to react to it, while climate change and carbon issues will no doubt be a hot topic in the livestock hall, which is now sold out.
"UK agriculture finally has a show to rival its European counterparts and we believe LAMMA'20 will be even bigger and better than the last," says AgriBriefing group events director Elisabeth Mork-Eidem.
"The NEC provides a very comfortable environment in which to view and discuss the vast array of agricultural kit on show and to talk business, leading many exhibitors at LAMMA'19 to comment on the high quality of conversations they had with visitors.
"The overriding feedback was that the new indoor venue proved ideal for a national event of this size and stature, showing our agricultural sector in the best possible light.
"This has been underpinned by the highly encouraging uptake of stand space for the 2020 event. In all, 11 halls at the NEC are set to host more than 700 exhibitors, reflecting LAMMA's reputation as the UK's most diverse and innovative machinery, equipment and services show."
Many exhibitors will unveil new tractors, combines, drills and cultivation equipment, feeder wagons and forage machinery, as well as a wide range of innovative technology.
Warren Rivers-Scott, UK and ROI managing director of Bednar FMT, a new exhibitor for LAMMA'20, said: "The decision for Bednar FMT to make its UK debut at LAMMA'20 was, for me, an obvious one. With over 400m2, we will be able to show some of our offerings including specifically design CTF approved machines, including other new releases."
Rachael Groves, marketing coordinator at AgriArgo UK, a long-term exhibitor at the event, said: "Based on the positive feedback and high level of enquiries from both customers and dealers alike at LAMMA'19, we will be returning in 2020 to build on our success with the Landini and McCormick brands."
Kate Bennett of Kuhn Farm Machinery said: "LAMMA is very important to the industry and it will only grow from what it is today. It's a great shop window for everyone to exhibit their innovations and machinery."
Fendt UK and Ireland marketing manager Richard Miller said: "We at Fendt are extremely pleased to announce our return to LAMMA in 2020.
"The event is a tremendous opportunity for us to showcase our new products and the opportunity to talk to existing and potential customers about their business requirements for 2020 and beyond. It is also an opportunity to support the fantastic industry that we all work in."
Herefordshire farmer Ally Hunter Blair said: "I thoroughly enjoyed attending LAMMA'19 and I look forward to going back to see how the show develops in 2020. It is important for the UK to retain a show of this calibre and I hope it continues to go from strength to strength."
East Yorkshire farmer Jono Dixon said: "LAMMA'19 in my opinion was a huge success. Provided LAMMA'20 attracts a similar quality of exhibitors to last time I think we can look forward to another excellent show."
Join the farming revolution!
To help address the needs of younger people entering the industry, LAMMA'20 is launching a brand new zone, Farming 4.0, to highlight UK farming's expertise, flair and passion for innovative technology that will help underpin the future of food production.
It aims to encourage new talent into agriculture, challenging the outdated perceptions of working in agriculture and educating new entrants about all avenues of farming, including technology, robotics and digital.
"The zone will cover training and development which plays a fundamental role in the future of farming, especially in the machinery sector where so much exciting technology is being introduced at a rate no-one would have thought possible a few years ago," said Ms Mork-Eidem.
Alex Macdonald-Smith of aerial data specialist Drone-Ag said: "It's great to see a big show like LAMMA dedicating itself in part to the next agricultural revolution with the new Farming 4.0 zone.
"Drone Ag is going to be releasing Skippy Scout soon, and we're very excited to be showing off this brand new, innovative technology within a dedicated zone."
Visitor registration opens
To help make the most of their time at LAMMA'20, visitors are being asked to register in advance. This simple four-step process is now open at www.lammashow.com.
Badges will be emailed automatically within a few minutes of completing the form, ensuring visitors can walk straight through to the show when doors open on Tuesday 7th and Wednesday 8th January.
As well as enjoying fast-track entry into the show, visitors will be able to use their badges to share details quickly and easily with exhibitors.
Advance registration is not compulsory – visitors can register at the entrance but may face a delay entering the event.
LAMMA'20 will take place at the NEC on Tuesday 7th and Wednesday 8th January 2020. Parking and entry to the event are free.