11 Jan 2018
9 great reasons to download the LAMMA app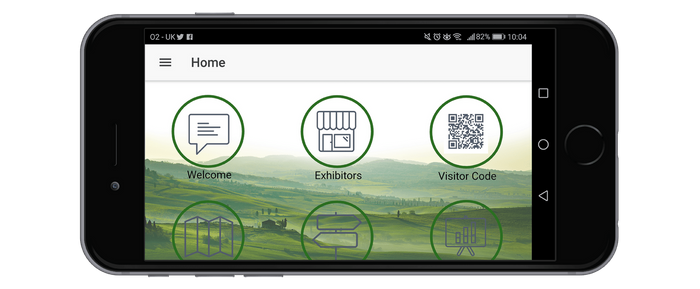 LAMMA'18 is the UK's leading farm machinery, equipment and services show. Over 850 exhibitors will host the most extensive array of farm machinery, equipment and services to be found in one location anywhere in the UK. Many visitors to LAMMA will see farming kit making its first appearance on the global stage, and its UK debut.
This year, we've made it even easier to download and use the event app. Here's 9 great reasons why you should download the LAMMA app to make the most of your time at the show.
The app is available to download in the AppStore and the Play store.
Navigate your way round the showground – use the interactive map to show where you are on the showground, and an exhibitor's stand you want to visit
 
Mark where you've parked – lost your car in a big car park before? New for 2018, this feature will pinpoint the location of your car, and take you straight back to it at the end of the day. All you will need to do is open the app once you have parked and use the new feature to save your location.
 
Get 30% off your virgin train fare – Not booked your train to LAMMA yet? If you're thinking of travelling by train to the show, make sure to download the app to get your 30% off virgin train fare code.
 
Track the free shuttle bus – Getting the train to LAMMA? Use the shuttle bus tracker on the app to see how far away the next shuttle bus is, and if you have time to visit one more stand before you leave!
 
Get live traffic updates – don't get stuck in traffic while getting to or from LAMMA, the app features live traffic updates so you know the traffic hotspots to avoid
 
Stay connected with free wi-fi – don't miss any messages or updates while at LAMMA, get free wi-fi hotspots all over the LAMMA showground. We've made it even easier this year, just download the app and click 'free wi-fi'
Search for exhibitors – Want to find out more on an exhibitor? Find them quickly and easily through the exhibitor list on the app, just by searching their name
 
Claim your NRoSO points – Claiming NRoSO points at the show? Use the QR Code on the app to quickly register for your points and save time from not filling in forms!
 
Got a question about the show? The FAQ section on the LAMMA app will answer most of your questions, and if they don't you can find contact details for who to ask
So why not make your trip to LAMMA as easy and productive as possible? Download now in the AppStore and the Play store.