04 Nov 2022
Manitou Group Exhibits back at Lamma 2023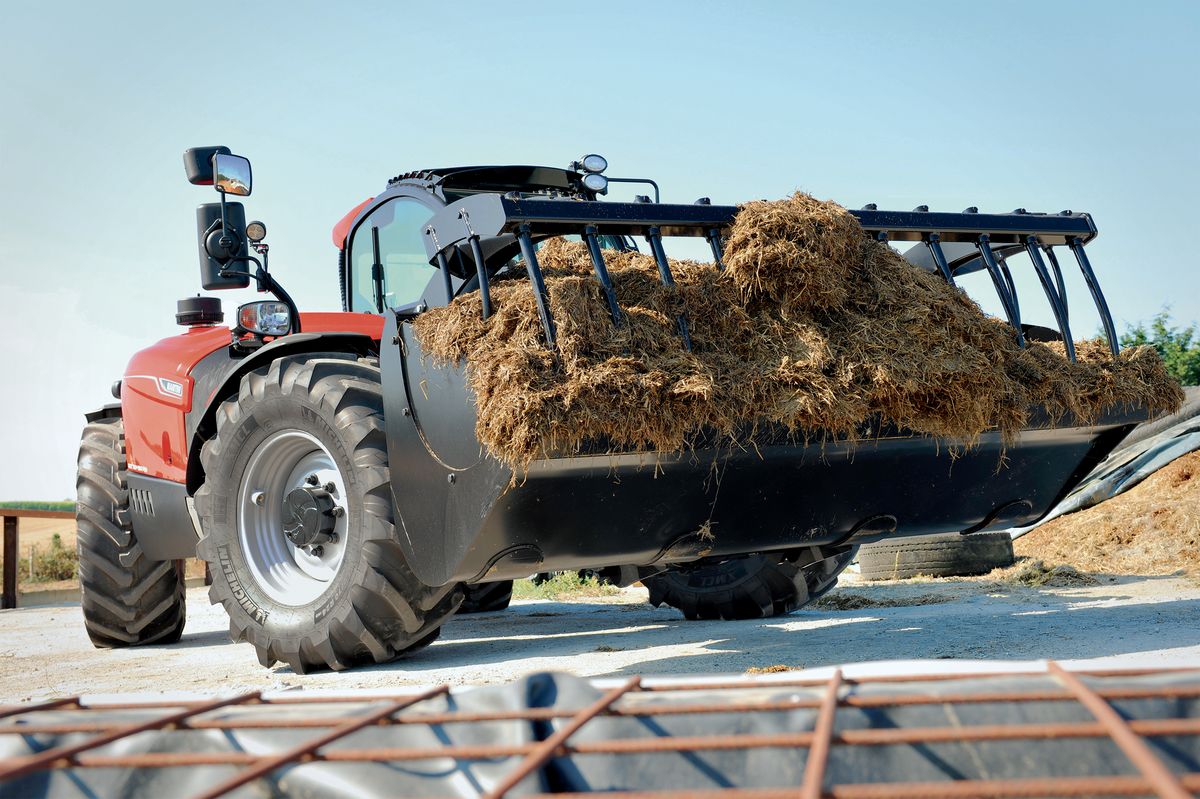 Manitou Group Exhibits back at Lamma 2023
Manitou Group will return to the NEC in January (10th & 11th) 2023. Ever popular in the agricultural community, LAMMA is the UK's largest machinery show with exhibitors displaying the UK's latest farm machinery, equipment, and agricultural services.
Manitou Group's stand (Hall 6, stand 6.420) will feature new and improved machines, attachments. Manitou's sister company Gehl, will also have a strong brand image representing at the show with a display of machines from their very wide range of telehandlers, articulated loaders and tracked and wheeled skid-steer loaders.
The newest, smallest; most compact Manitou telehandler, the ULM (Ultra Light Manitou) will be featured on the stand. The two models are perfectly adapted to numerous applications with over 20 attachments available to suit many needs. With dimensions among the most compact on the market with a width of just 1.49m and a height of 1.92m, the telehandler comes in two versions: the ULM 412H with a lifting capacity of 1250kg and the ULM 415H with a lifting capacity of 1500kg. Both have a lift height of 4.30m. Transportation has never been easier; with a transportable weight of less than 3t, the ULM can be carried by a trailer with a gross vehicle weight of 3,600kg.
At the other end of the scale, if you are looking for a larger, more comfortable, efficient and profitable machine for working at great heights, the MLT 1041-145 PS+ L NewAg XL is for you! Dedicated to intensive agricultural handling, it has a lifting height of 9.65 m and a lifting capacity of 4.1 t. The Newag XL model offers a new soundproof cab (69 dBA - the quietest cab on the market) with easy step access, optimal visibility, JSM® (Joystick Switch and Move) on a floating armrest, DSB (Double Switch Buttons) and an automatic parking brake. This machine delivers exceptional results even on the most demanding applications thanks to its 141 hp Yanmar engine and M-Shift transmission. A wide choice of tyres are also available to optimise your efficiency in all working conditions.
Designed for high production environments the Manitou MLT 635-140 V+ is a real work-horse capable of lifting 3.5t to 6m. With a modern, ergonomic, and stylish design this is still a compact machine with a height of 2.38m and a width of 2.39m. The user comfort has been thought about through the whole design process as the cab offers easy access, optimal visibility, JSM® (Joystick Switch and Move) on a floating armrest and DSB (Double Switch Buttons). Performance above all: This machine offers exceptional results thanks to its 136 hp Deutz engine and M-Vario Plus transmission. Its limited-slip differential, ground clearance of 42 cm and its automatic radiator cleaning system are perfectly suited to agricultural use.
With 12 new models, Manitou Group has extended its range of articulated loaders, which now comprises 22 models, all available under the Gehl AL (Articulated Loader) and Manitou MLA (Manitou Loader Articulated) brands. These new products offer a load capacity ranging from 700 kg to 1.5 t for a lifting height of between 2.50 m for a short arm and 3.07 m for a long arm. On display will be a GEHL AL 530, which features a Perkins engine and hydrostatic transmission. In order to offer a level of performance adapted to each model, series 2 and 3 models are equipped with a 25 hp stage V engine, and series 4 and 5 with 48 hp. The complete range makes it possible to respond to very wide-ranging demands, with the largest of the articulated loaders providing a nominal load capacity of up to 3.3 tonnes. Gehl loaders give users state-of-the-art ergonomics, unsurpassed visibility, and ease of operation.
These connected models benefit from a 2 year warranty as standard, which can be extended to 6 years and/or 6,000 hours for complete peace of mind at work.
Also on display from GEHL, powered by a 69.9 hp Yanmar engine, driving a hydrostatic transmission with 4-wheel drive, the Gehl R165 has a 748 kg working capacity. The Gehl R165 has a radial lift design, which delivers excellent forward reach, and low-profile lift arms which help visibility. The canopy is ROPS/FOPS with easy operator entry thanks to the cab-forward design and a low non-slip step. A wide range of attachments are available enabling the R165 to tackle numerous jobs around larger agricultural enterprises.
Manitou will also have their range of warehousing products on display from the EP 15 to the EP 20. (Electric Pallet). The EP 15 Lithium Easy pallet truck is part of the Easy range and with Its small size makes it ideal for use in trucks or small warehouses to move loads up to 1.5t. The integration of lithium technology and its integrated charger allows a great flexibility of use making the EP15 Lithium Easy a pallet truck to be used every day.
Along with the warehouse products, Manitou will also feature their forklift truck, the ME 425. (Manitou Electric). Electric, this Manitou model has a load capacity of 3500 kg and a lifting height of 6m. Designed with carefully selected components, it will efficiently assist you in all your applications. Loading/unloading trucks, stockpiling, transporting goods... Take advantage of its many standard and optional equipment to increase your productivity.
Connected Machines
Since January 2019, all new compatible machines built by Manitou Group are a 'Connected Machine'. This opens-up endless possibilities for Manitou and Gehl customers to improve performance, safety, security, and reduce their total cost of ownership (TCO). To enable users to connect with their machines, and reap the many benefits, Manitou offers 2 free Apps, MyManitou and MyGehl.
As part of Manitou Group's drive towards digital transformation the new MyManitou and MyGehl Apps give around the clock access to a stream of data transmitted by the connected machine in real time. The new Apps provides users with the exact location, fuel level, and maintenance notifications to ease their day to day operations. Users can also contact their local Manitou or Gehl dealer via MyManitou and My Gehl to arrange work on their machine by a factory-trained technician using genuine parts.