HB-101 All-Purpose Organic Plant Vitalizer Granules / Organic Certified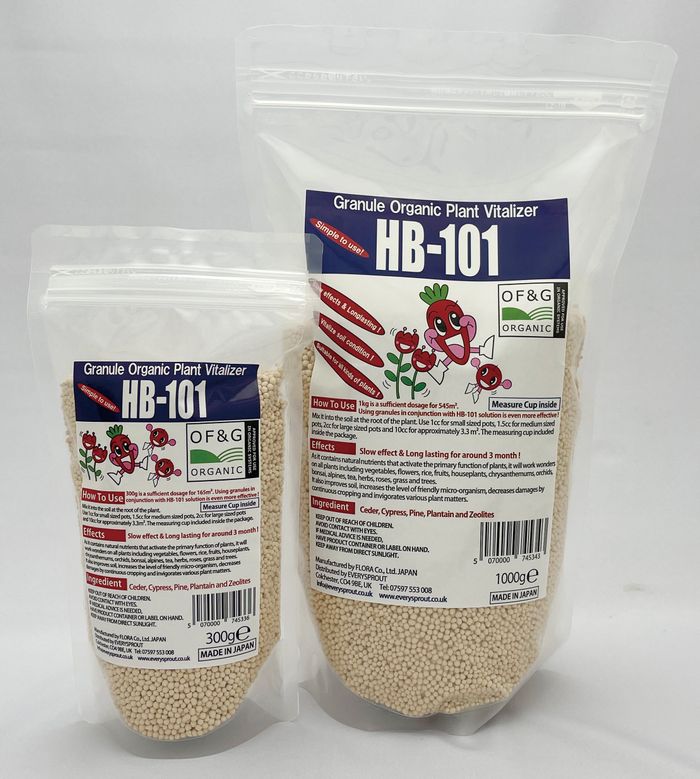 HB-101 is a growth-enhancing formula for plants, specially processed by blending the extracts of Japanese cedars, pines, cypress trees and plantain grass. Cedars, pines and cypresses contain saps and secondary metabolites that are responsible for maintaining the longevity and health of the trees. Plantain grass has a history of recorded use as an herbal remedy. HB-101 plant vitalizer is a natural extract derived from the portion of these trees and plants that are most important to their development. HB-101 is a growth enhancer for plants, flowers and crop production and is not a chemical fertilizer. HB-101 is a 100-percent organic product--safe for plants and animals--and is designed to benefit the earth's environment while reducing the demand for costly fertilizers. HB-101 is formulated and bottled in a ready-to-dilute solution for easy and immediate use. Highly concentrated, it's a cost-efficient way to achieve healthier and more vibrant plants.
Ingredients : Ceder, Cypress, Pine, Plantain and Zeolites
Why is Flora's Granule HB-101 effective for cultivating plants ?
HB-101 is made up of active plant substances. Or in other words, HB-101 is the essence of nutrition for plants. Just as good blood circulation is important for animals, good nutrition is essential for plants. If you use HB-101, your plants will become stronger and healthier and will grow more vigorously. Strong and healthy plants are also environmentally friendly. So HB-101 is good for everything!
How to Use Gralule HB-101
Mix Granule HB-101 with the soil around the roots. Use 6g for a 3.3㎡ plot.
300g is enough for a 165㎡ plot.
1kg is enough for a 545㎡ plot.
* Use Granule HB-101 in combination with HB-101 (liquid type).
Mix Granule HB-101 with the soil around the roots of plants.
Use 1 cc for a small plant pot,1.5 ccs for a medium-sized pot, 2 cc for a large pot, and 6 ccs for a 3.3㎡ plot of land.
(Measurement pot is included in the product)
■Cereal grains
Rice, wheat, corn

■Flower bulbs & root vegetables
Lilies, tulips, potatoes, taro potatoes, Japanese radishes,
sweet potatoes, carrots, burdocks, etc

■Pulses
Green soybeans, kidney beans, broad beans, soybeans,
black beans, adzuki beans(red beans), etc.

■Leafy vegetables
Cabbages, Japanese mustard spinaches, spinaches,
Chinese cabbages, lettuces, etc.

■Flowers & ornamental plants
Chrysanthemums, roses, carnations, eustomas, etc.

■Fruits and vegetables
Tomatoes, strawberries, cucumbers, bell peppers,
watermelons, eggplants, melons, etc.
■Trees and Bonsai