09 Nov 2019
Vredo Self-propelled Trac VT4556 with the possibility to be combined with a 24 meter dribble bar/ trailing shoe implement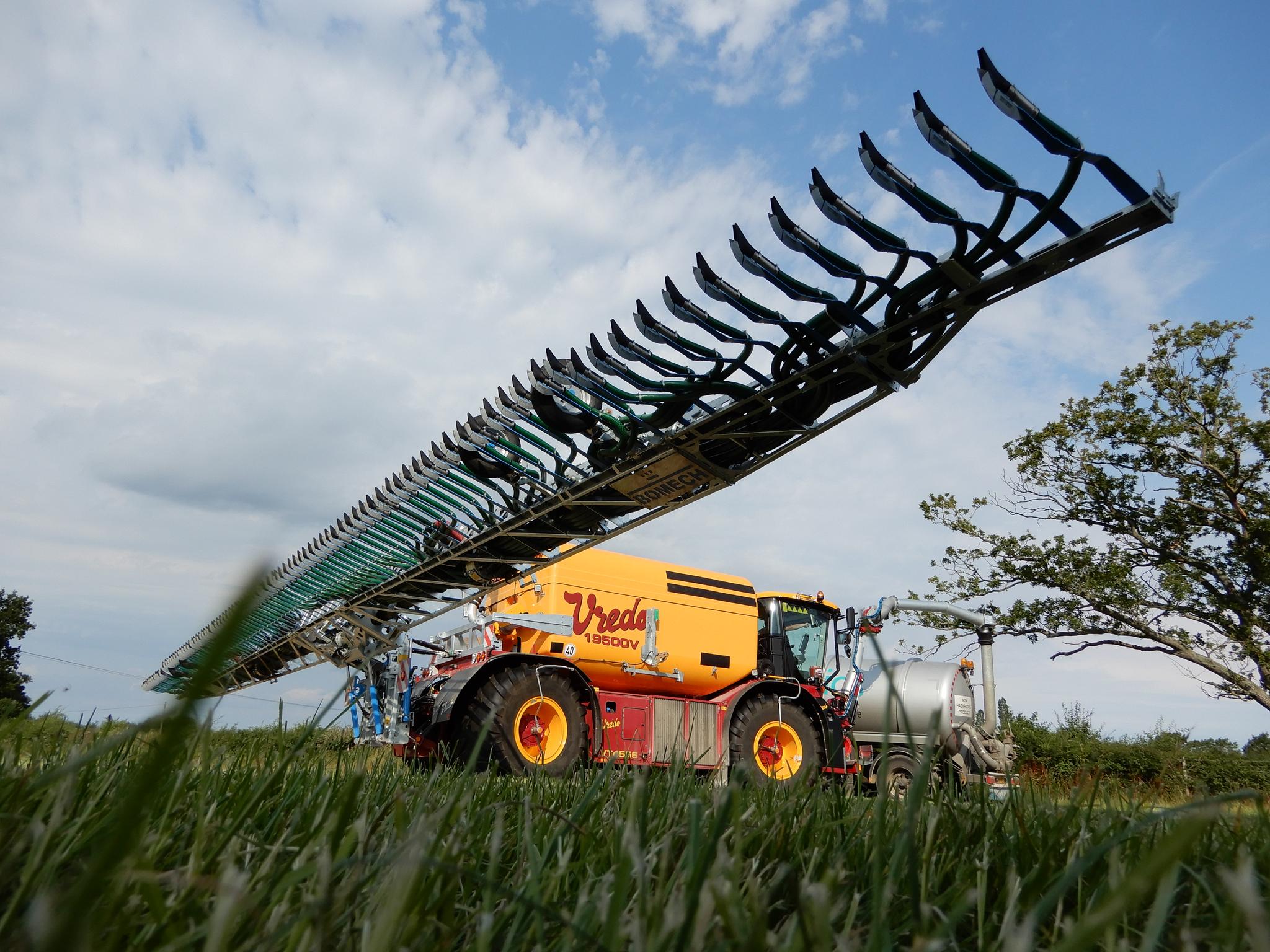 Vredo Dodewaard has made the VT4556 series self-propelled slurry vehicles suitable for attaching 24 meter wide dribble bar / trailing shoe implements.
The unique feature of this concept is that the machine remains very compact because the booms fold in next to the tank. Vredo achieves that the transport width remains below 3.5 meters. The tank can also be loaded with the booms folded next to the tank, because the reload docking arm at a Vredo Trac is mounted in front of the vehicle.
The demand for self-propelled slurry vehicles is increasing, because of the need of a high capacity, traction and minimum soil compaction. To achieve less soil compaction, there is a demand for wider implements. Due to the unique concept of the Vredo self-propelled vehicle with a 50/50 weight distribution and the reload docking arm mounted at the front, Vredo has the possibility to mount 24 meter dribble bar / trailing shoe implements. It remains possible to drive in the field in a crab steer with a 24 meter trailing shoe implement. Because of the crab steer there is only 1 wheel in each track and especially in combination with a tire pressure inflation system, very low tyre ground pressure is reached.
Optional the implements could be equipped with section control, to get the possibility to shut-off the implement in sections. This creates the possibility to drive on several working widths with a minimum of overlap. Vredo offers two options for the section control: manual and in combination with a GPS steering system. In case of section control the machines are also equipped with automatic manure pump control so that the dosage per m2 always remains the same at the time a sections opens/closes
In summer 2019 the first machine with a 24 meter trailing shoe implement was put into operation in the UK. One of the requirements of this customer was the possibility to mount a 24m wide trailing shoe implement. This in combination with the unique features of a Vredo Trac such as the low weight, compact design of the machine and the crab steer possibility.
For spring 2020 Vredo has planned the delivery of 4 other Vredo Tracs in combination with a 24m dribble bar implement.