23 Nov 2021
THE JOURNEY AHEAD: NEW BOOK SEES INDUSTRY EXPERTS HELPING FARMERS PLAN AHEAD AND SUPPORTS BUSINESS RESILIENCE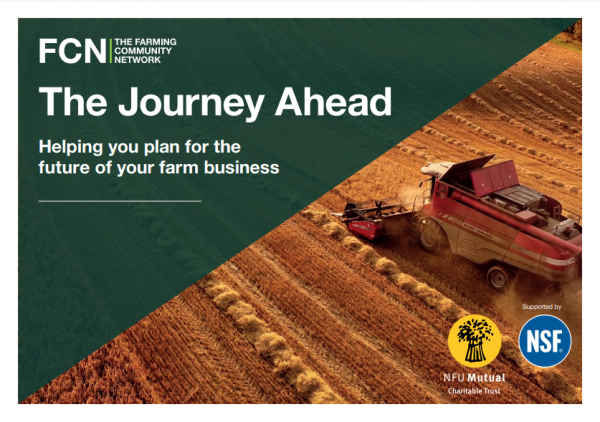 A new book designed to help farmers plan ahead for the future, developed by The Farming Community Network (FCN) charity with input from more than 40 different organisations and experts, launches today.
Through Q&As, articles, guidance and case studies, the publication, titled 'The Journey Ahead: Helping you plan for the future of your farm business' contains a wide range of information sourced from industry experts around areas such as financial security, succession planning, diversification, retirement, mitigating TB, farm safety, wellbeing and more.
The publication's lead sponsors are the NFU Mutual Charitable Trust and NSF, with additional support from Westpoint Farm Vets and tax, accountancy and financial services experts Simpkins Edwards.
Its content has been adapted from FCN's recent 'Time to Plan' campaign (October 2020 – March 2021), which saw the charity working with a range of organisations across agriculture to develop useful information to support farmers in planning ahead and managing change.
The Farming Community Network (FCN) is a voluntary organisation and charity that supports farmers and families within the farming community through difficult times. FCN helps approximately 6,000 farmers and farming families each year with a wide range of issues, including mental health, family disputes, animal disease and financial concerns.
A lack of short and medium term planning on the farm factors into many calls FCN receives to its confidential Helpline (03000 111 999) each month.
Dr Jude McCann, CEO of The Farming Community Network, said: "Many of those who contact FCN do so because of issues they are experiencing on the farm that cause them stress or anxiety for the future. With UK agriculture undergoing significant changes, we anticipate a greater volume of calls to our Helpline in the coming months and years as farming families adapt, modify their businesses and in some instances choose to leave farming altogether. We need to ensure farmers are well supported at this time and have access to as much information as possible in order to make informed decisions.
"This publication, The Journey Ahead, has been developed alongside experts across our industry to help provide useful information to support decision making. With a focus on planning ahead, normalising change and encouraging farmers to consider areas such as will writing and Powers of Attorney, we hope it will be an important resource for many farmers during this uncertain and challenging time. We would like to thank those who have contributed to it, as well as our sponsors who have helped us to develop and publish this resource."
Jim McLaren, Chairman of NFU Mutual Charitable Trust, said: "Our industry faces an ever-shifting landscape, with significant changes in government farm support, the threat of food imports produced to lower standards than our own, the impact of the pandemic and the growing influence of technology all contributing to an overarching sense of change.
"Farmers must be ready to adapt to these changes, taking a hard look at their businesses and potentially making tough decisions for the future. The Journey Ahead has been compiled to support farmers in considering their options, highlighting a range of expertise and guidance from across the industry. It's resources like these that make The Farming Community Network a vital lifeline for farmers, and one which NFU Mutual is committed to supporting through its Charitable Trust."
Janatha Stout, Associate Director, NSF UK Agriculture, said: "Effective planning and preparation are the cornerstones for managing change. Our agricultural industry is facing its biggest changes since the post-war period. NSF's help in 'Leading You Forward' and FCN's FarmWell (farmwell.org.uk) resources provide valuable support to help guide farmers to prepare for the future and remain resilient.
"NSF is at the forefront of agricultural innovation and development through all stages of the food chain. For more than twenty years, we have been protecting the reputation of brands and products and empowering the British farming community by ensuring produce is compliant, safe, and quality assured. We are proud sponsors of FCN, helping to contribute to the wellbeing and future of British farmers. We are with you, your customers and consumers, from field to fork."
Physical copies of The Journey Ahead will be available during certain events and shows, including the upcoming Farm Business Innovation Show at the NEC, Birmingham 10-11 November.
A digital copy of The Journey Ahead is available to download via the FCN website here: https://fcn.org.uk/the-journey-ahead/