03 Apr 2022
Succession plans and climate change drive Frickley Holdings Ltd to bring grain drying and processing plant into the 21st century with solution from BDC Systems Ltd and McArthur Agriculture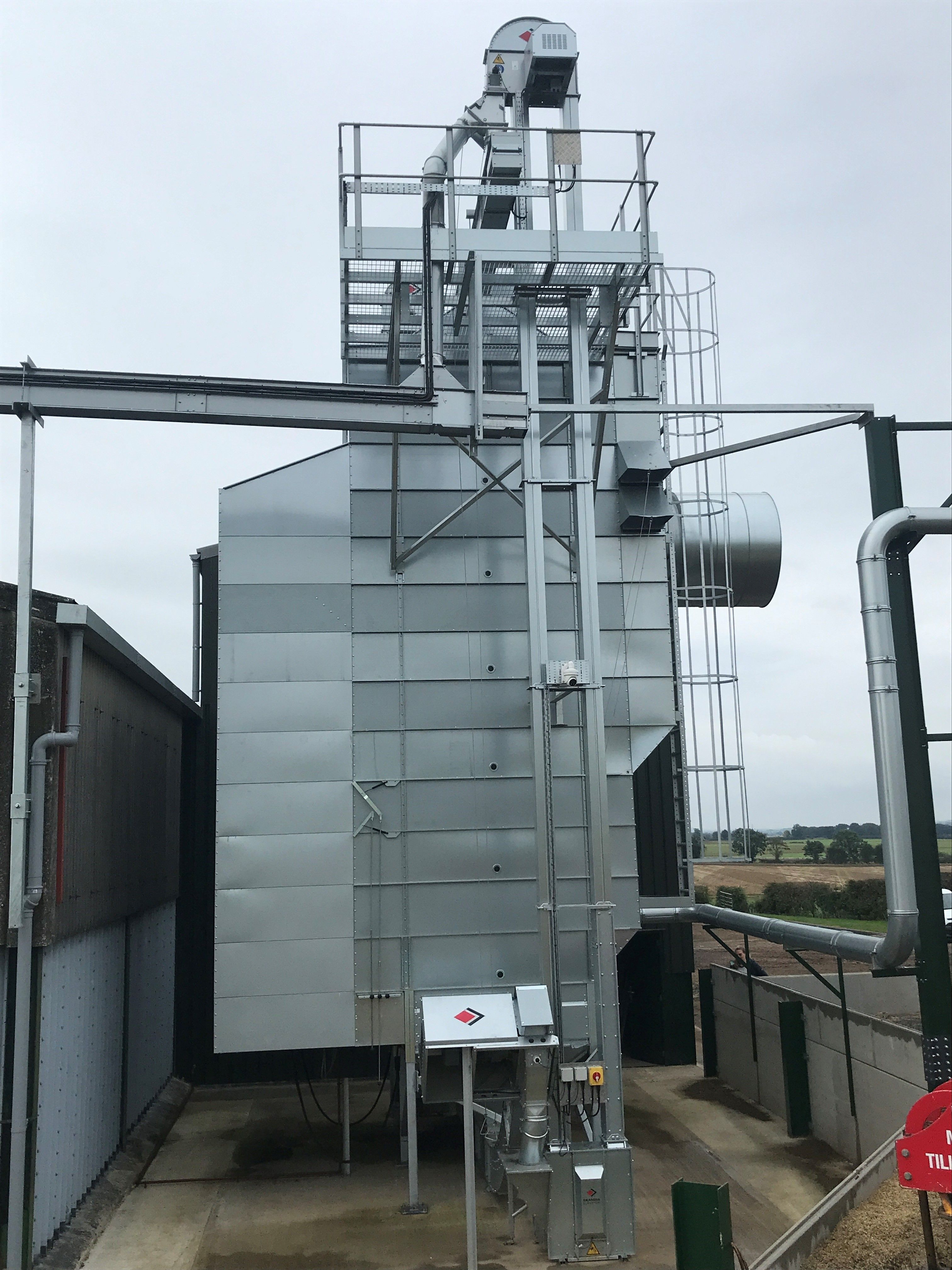 To ensure that Frickley Holdings Ltd continues to be successfully run by the family and is equipped to combat climate change, it's managing director, Michael Scholey, has installed a future-proofed grain handling machinery infrastructure as part of a succession plan.
"It's important that all the right equipment is in place enabling the next generation to successfully farm Frickley Holdings' 800 plus acres near Doncaster and over 2,000 acres near York, and ensure that business thrives when I step down," said Michael Scholey. "The modern, efficient grain drying plant that we now have, will play a huge part in achieving this."
"How to cope with climate change was also a consideration. The harvest weather window has already reduced dramatically," continued Mr Scholey. "We have to combine at a higher moisture percentage and using electric fans to dry more grain is not cost effective."
Although Frickley Holding's existing 1,200t grain store's drying floor, equipped with laterals previously supplied by BDC Systems Ltd, had done its job, Michael Scholey realised that he wanted a future proofed solution that would bring his grain drying and storage facility firmly into the 21st century. He needed to ensure that the business could continue to meet merchant demands for high quality grain, the market requirements of Red Tractor and TASCC plus, take on more contract farming requiring additional storage capacity all at the same time as preparing for climate change.
Michael Scholey and son Will, discussed their requirements with Scott McArthur, Director at McArthur Agriculture, a trusted BDC Systems' partner, with whom they had previously worked.
The decision was taken to locate the new plant at the Doncaster farm as it is where Frickley Holdings grow high quality wheat which can be harvested before the feed wheat grown close to York.
Initially, the Scholeys were open to several grain handling options: a drying floor, batch dryers or a continuous flow drier.
"A drying floor did not offer the required flexibility; batch dryers were of interest but not able to deliver the hourly throughput necessary. So, we put forward BDC's Svegma continuous flow drier supported by handling equipment from Skandia Elevator," said Scott McArthur.
"A future-proof solution was a key requirement. It was clear that the BDC Systems' Svegma drier and Skandia equipment were of the highest build quality, robust, reliable and proven to be long lasting," added Michael Scholey.
Following construction of a new 3,000t grain store and wet grain reception bay alongside the existing 1,200t store, the grain drier and handling equipment was installed:
-Svegma Continuous Flow Drier SVC6/4 30t/h
-Skandia KTIG Trench Conveyor with 10m Inlet
-2 x Skandia SEI 35/14 Belt and Bucket Elevators
-Skandia KTIF 20/33 Chain and Flight Conveyors
-Skandia Dust and Chaff Aspirator Cleaner
The Skandia trench conveyor allows delivery of grain by tractor as well as HGV. The Skandia conveyors transport the grain to the Skandia dust and chaff aspirator cleaner. Once cleaned, the grain is transported to the Svegma continuous flow drier and then on to either the new or existing grain store. The existing store is split into two allowing for storage of both pulses and grain.
"With everything up and running for harvest '21, the Svegma drier quickly delivered a return on investment. We could extend combinable hours as grain moisture content was less of an issue," said Will Scholey.
The new plant has already allowed Frickley Holdings to grow its business. The additional capacity has enabled contract drying and grain storage for local farmers.
"The wet bay combined with the Svegma drier enables contract storage capabilities throughout the year. We will also be able to accept grain for drying which is then immediately taken away or stored," continued Will Scholey.
With an eye on the uncertainty surrounding farming the Scholeys new grain store has been designed with potential change of use in mind. It could be used for general storage and being close to the M62 and A1 it is very well located.
"It is too early to calculate a return on investment. It's not just about money; the new plant has helped to get harvest done more quickly and efficiently, reducing our labour and machinery costs across the entire acreage," added Will Scholey.
"It has never been so important for farmers to plan for the future so we can pass on thriving, successful farming businesses to the next generation," said Michael Scholey. "If grain drying and storage is key to the ongoing profitability of your farm, then you can do no better than to talk to BDC Systems and McArthur Agriculture."
About BDC Systems Ltd:
BDC Systems, renowned for its superior customer support and comprehensive technical service ability, offers an extensive range of grain drying, cleaning, storage, handling, ventilation, milling and mixing equipment, together with other specialised solutions. In the UK, the company represents a number of world leading manufacturers and suppliers (incl: Skandia Elevator, Svegma, Zanin, and BM Silo) providing outstanding technology, quality, durability and value for money.
For more info visit: https://BDC SystemsSystems.com/ or call: +44 (0) 1672 810851
About McArthur Agriculture:
McArthur Agriculture is a specialist engineering firm which designs and installs grain processing and storage systems. The company develops, builds and maintains the food and feed processing systems that are a critical step in the food supply chain and works closely with its customers to deliver equipment and turnkey projects that strengthen their businesses and ensures peace of mind. McArthur Agriculture has been a BDC Systems Ltd partner for over 10 years.
For more information visit: https://www.mcarthuragriculture.co.uk/ or call +44 (0) 1724 747110
Media contact:
Sarah Chidgey, ChidgeyPR, tel: +44 (0) 7795 288302 | email: sarah@chidgeypr.co.uk