02 Dec 2021
Strautmann Forage Wagons – updates for LAMMA 2022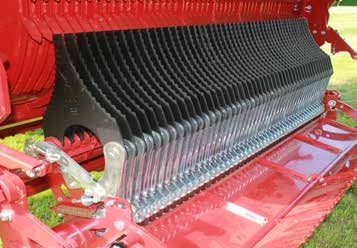 Strautmann Exact-Cut is now standard on all Super Vitesse Forage Wagons.
Strautmann Exact-Cut is now standard on all Super Vitesse Forage Wagons.Developed for high performance, non-stop work the Exact-Cut system has, until recently, only been available on the larger models of Forage Wagons. The number of blades and chop length are the same as previous but the Exact-Cut system features new double-sided knives, a plastic damper and a return spring so that knives reset automatically under reduced tension, meaning the knife bank stays cleaner and maintenance time is reduced.
Smart ISOBUS 570 is now available as an option to replace the on FO 130 control terminal on all Giga Vitesse 01 models bringing systems compatibility to whatever the tractor ISOBUS is.The Giga 02 and Magnon forage wagons have been fitted with the new ISOBUS 570 control unit as standard since the beginning of 2021.Advantages of the ISOBUS system and Smart 570 control box include:
Three operating modes, bringing all the required functions together on one page
Numerous automatic functions, including, drawbar position, axle lock, loading and unloading
Knive way-back function
External operation of knives and drawbar
A 3602 Giga Vitesse with the Exact Cut knife system will be on display at LAMMA 2022.
OPICO Ltd is the largest independent distributor of agricultural machinery in the UK. The company is the sole UK importer for the following machinery brands: HE-VA, SKY, Strautmann, Maschio and distributes grain dryers, mechanical weeding, grassland and arable equipment under its own OPICO brand.