24 Nov 2021
Spaldings to focus on Tillso and SPL Ultra high-performance soil-engaging parts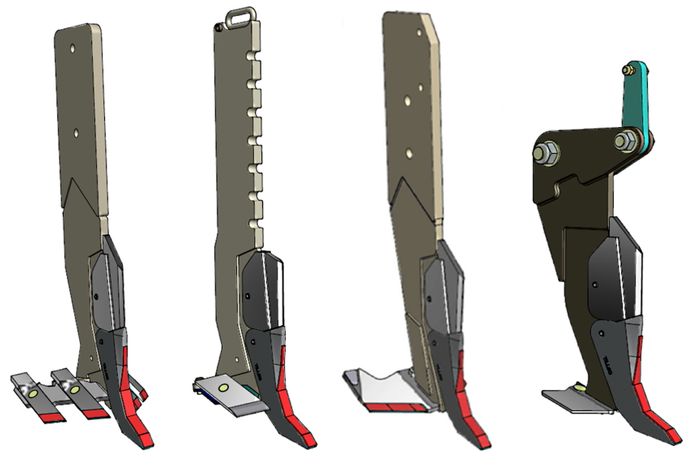 Bespoke soil restructuring tines from Tillso sporting different point and wing combinations will feature alongside the SPL Ultra range of soil-engaging parts on the Spaldings stand at the LAMMA show.
Spaldings is sole distributor of Tillso's Sabre system (pictured), a multi-component assembly of points and wings designed for efficient restructuring of compacted soils; the designs result from intensive studies of soil mechanics.
The system comprises a common point and shin and four soil-lifting wing assemblies to suit different soil types and working depths.
Steve Constable, Spaldings managing director, said: "To reinforce the relationship between Spaldings, as sole UK and Ireland distributor, and Tillso as the innovative manufacturer behind the Sabre products, Tillso's owner Chris Lane will join us on the stand to talk through the features and benefits of the system."
The partnership marks a return to the LAMMA event for Tillso, said Chris Lane: "We haven't exhibited at the indoor show, so being with the technical team on the Spaldings stand will be a great opportunity to explain to farmers how we arrived at the Sabre designs, how they work beneath the surface, and how users can be sure of getting the best results in different situations."
The retro-fit components are available for a number of different manufacturers' subsoilers, and also cultivators fitted with soil-loosening tines.
A one-piece delta-shaped wing is used on the Ultralite for 150-250mm working depths and 400-500mm spacing, while the Mono's is designed for 225-400mm and 600-750mm spacing.
Tillso's Lite and Max products have a cast supporting frog with separate left- and right-hand bolt-on wing assemblies formed as a wide wing slat or with two chisel-like wing slats for deeper working.
Chris Lane explains: "They are all calculated to apply controlled tension to compacted soil, which fractures as it is lifted and falls off the wings to permanently rearrange the soil aggregates."
The Spaldings exhibit will also include items from the SPL Ultra range of premium-quality points, wings and shins for leading makes of cultivator and subsoiler, as well as the laser scanning technology that measures wear patterns and 3D printer for prototypes used in the development of these parts.
Original wearing parts for Grimme machinery will also be shown as Spaldings is an approved national dealer for these components.