10 Dec 2021
SENCROP INTEGRATES INTO ITS APPLICATION PREDICTIVE INDICATORS OF DISEASE RISK AND CROP DEVELOPMENT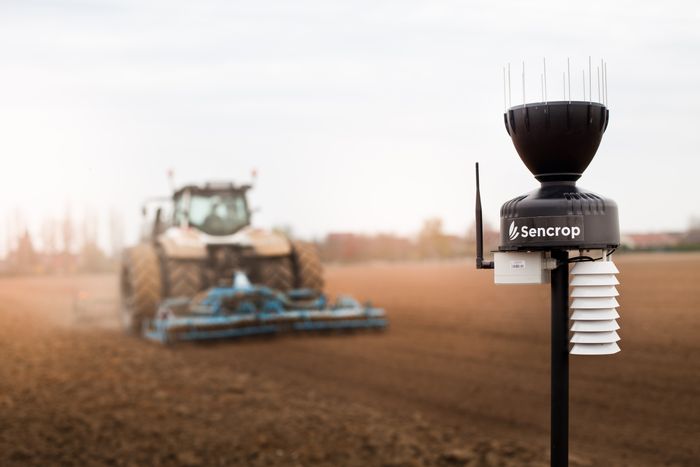 Sencrop is continuously optimising its solutions to help farmers make the best decisions at the right time.
Lille, October 01, 2021 - European leader in weather solutions connected to agriculture, Sencrop is continuously optimising its solutions to help farmers make the best decisions at the right time. Sencrop's application, used by many UK farmers to track at a distance real-time weather conditions across their farm, organise their days and foresee input application, has a special feature called "Agronomy" that is available to Professional level users. In this feature, several agronomic models are being installed to provide early signs of disease risk or to help follow up crop growth stages.
Helping to prevent disease using Sencrop's weather indicators Earlier this year a potato blight risk assessment was made available exclusively for the UK, providing a first overview of the potato blight risk in the fields. This feature, based on the Hutton criteria, helps out growers to go through the high disease pressure period, but it is not an indication for spraying, and should be used coupled with DSTs if spraying recommendations were required. It helps to indicate early signs of disease risk by monitoring in 2 consecutive days if each day has a minimum temperature of 10°C, topping with at least six hours of relative humidity above or equal to 90%.
In a recent partnership with French Seeds company "Semences de France", from now on, farmers also will be able to follow the growth stages of their crops - for the moment grain, forage maize and sunflower - directly in the Sencrop application. This will facilitate crop monitoring and help them make better decisions about harvesting or spraying applications. Soon, the model will be available for other crops.
Combining the accuracy of Sencrop's weather data with crop information A pioneer in European agtech, with a presence in 26 countries and 100 employees, Sencrop offers its 20,000 farmer customers a connected ag-weather data platform. Its network of stations, capable of providing ultra-precise and ultra-local information such as temperature, humidity, wind speed or rainfall accumulation, enabling farmers to refine their sowing and irrigation plans or to limit inputs.