04 May 2022
Richard Western pusher ram trailer to make UK show debut at LAMMA 2022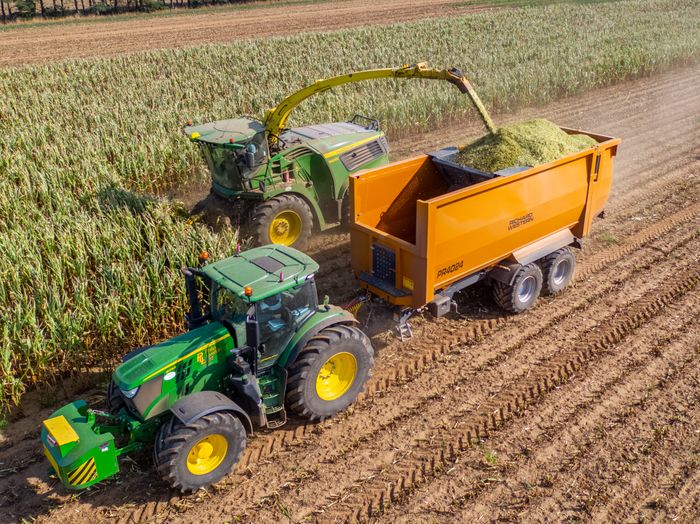 Richard Western pusher ram trailer to make UK show debut at LAMMA 2022
Trailer load security, rubble haulage and manure spreader precision – plenty new from Richard Western at LAMMA 2022
With load security and protection having become ever more important as modern agriculture has moved towards transporting bulk loads at high road speeds, centrepiece of the Richard Western stand at LAMMA 2022 will be one of the firm's best-selling products, the SF18HS Plus Suffolk trailer, with silage sides and the company's side-to-side hydraulic roll-over sheet option, for which the firm reports significantly increased demand as farms and contractors seek to meet their road safety obligations and minimise the risk of traffic dangers caused by grass spillage onto roads.
The sheet design safely covers filled trailers to ensure the trailer's contents are secured without reducing capacity, and emptying is possible with the cover in place. The top-of-the-range Plus specification on the SF18HS means it is fitted with premium features including 560/60 R22.5 BKT tyres, flashing LED beacon, arched perspex window, grain chute, hydraulic tailboard, LED road lights and indication ballast control.
The growing number of contractors and farmers looking to carry out track repairs and building works are key target markets for the SRT20 Stone and Rubble trailer, which will also feature on the stand. Built around a chassis constructed from beams formed from 10mm 355mc steel, with eight bends per section, the SRT20 is fitted with 10-stud commercial axles with a 2.0m axle track, equipped with 420mm x180mm brakes, which can be specified with either hydraulic or air actuation and load-sensing valves. Cushioning is via 100mm-wide heavy-duty single-leaf axle springs, while rubber shock absorber pads are sited between the trailer body and chassis. The running gear package has a 32t load rating.
Richard Western's hallmark tapered body design is used to ensure swift load ejection, and floor steel is 8mm-thick while sides measure 6mm – options include 10mm floor with 8mm sides or high-strength Hardox 400 4mm floor and 3mm sides. Extra floor bracing helps prevent damage and protects against debris and foreign objects.
With rising fertiliser prices having boosted interest in achieving maximum accuracy when applying manures, Richard Western will also be showing the D4150 flagship model from its range of Delilah vertical beater manure spreaders, which offers two spreading options. The machine features 1,100mm diameter rotors incorporating a disc base with three blades and replaceable wearing parts. The option of a hydraulic folding canopy door allows the spreader to be used as a vertical beater spreader for maximum output. Alternatively, closing the canopy doors allows the spreader to spread with the disc section only and is the ideal solution to achieve maximum spreading width and accuracy.