08 Jan 2023
Restored Deere 6800 fitted with latest Stoll front loader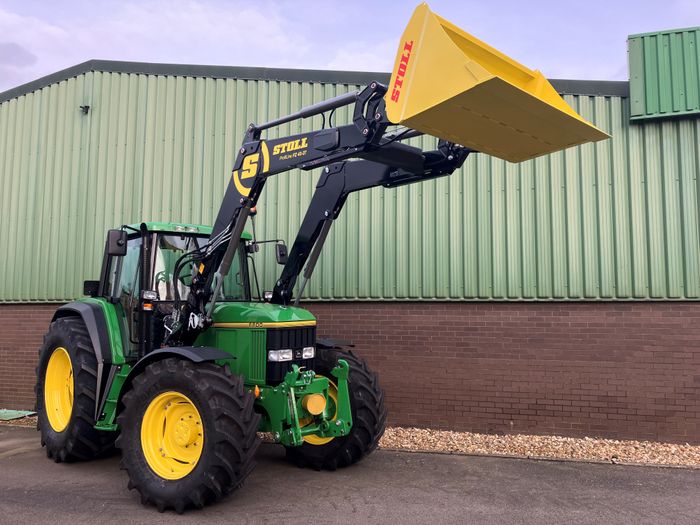 A classic and iconic John Deere 6000 series tractor fully refurbished and restored by Lynx Engineering has now been fitted with brand-new kit by Lynx to equip it for the demands of modern-day farming. This stunning Stoll front loader is just the start.
A classic, near 30-year old John Deere 6800 which has been painstakingly refurbished and restored by the project team at Lynx Engineering to mark the company's 30th anniversary has been fitted with the very latest Stoll 'Next Generation' ProfiLine front loader ahead of the tractor's star appearance on the Lynx stand at LAMMA. A Stoll Pro Control electronic joystick has also been fitted.
The new loader has been finished by Lynx in the Stoll colours that would have been applied at the time of the 6800's UK launch back in the early 1990s, hence the striking combination of black loader arms with yellow bucket.
As evidenced by the fitting of the new loader, the project was not just about refurbishing and rebuilding an iconic 6000 series Deere. The objectives also included re-equipping the tractor with some of the latest add-on technology to better meet the demands of today's farmers for greater versatility and productivity. In pursuit of that goal, the tractor also boasts a new Zuidberg front linkage and PTO, a new Flexxaire reversing cooling/cleaning fan to replace the original viscous fan, and a fully overhauled Dromone rear pickup hitch. A Zuidberg override protector will also be added on site at the NEC before LAMMA opens its doors to the public.
More about the loader
Stoll's next generation ProfiLine FZ 43-27 front loader model aligns perfectly with the tractor's 120hp, 6.8 litre power unit.
The latest ProfiLine is equipped with an even stronger double-acting lifting cylinder than its predecessor, which translates into more lifting power. In addition, Stoll's renowned Z-Kinematics technology has been further improved. Z-Kinematics frees the operator's view of the implement by concealing the mechanical parallel guide rods within the lifting arm booms. It also allows the front loader to be mounted closer to the driver's cab. This means that attachment components are in the best position possible to reduce the load on the tractor.
The lower lift arm has also been lengthened to provide increased lifting height, while the cross bar has been optimally positioned for maximum operating visibility.
Rugged construction, durability and ease of operation and maintenance feature strongly across the new ProfiLine range. Stoll have eliminated the need to regularly replace hose lines by using wear-free steel hydraulic pipes instead of rubber. Hydraulic lines are fully protected but can be freely accessed under the beam and, thanks to Stoll's Hydro-Fix system, hydraulic lines can be quickly connected and disconnected – with one hand. Furthermore, all new generation ProfiLine loaders are fitted with oversized large pin diameter and bushing, with lubrication points that can be easily accessed from outside.
A loader built for the future
The new ProfiLine loaders incorporate the technology platform on which an increasing range of loader functions will be made available. These include Work Area Restrictions, a system of sensors which, for example, can automatically restrict loader height when working in barns with low overhead space, and Payload Weighting which will enable operators to weigh the load on the job, ensuring material loading accuracy in real time for bucket work or when handling bales, silage, big bags and pallets.
These new systems, together with Electronic Self-Levelling, will sit alongside established ProfiLine features such as Stoll's well-proven Drive-In System, Return to Dig, Comfort Drive, Hydro-Fix, Anti-Lowering Guard, rapid implement attachment using Euro-frame or Combi Headstocks and Stoll's unique Re-scooping function which ensures the bucket is always full with no trickle losses.