25 Nov 2022
RELIABLE AND SUSTAINABLE SILAGE FILMS FROM COVERIS AT LAMMA SHOW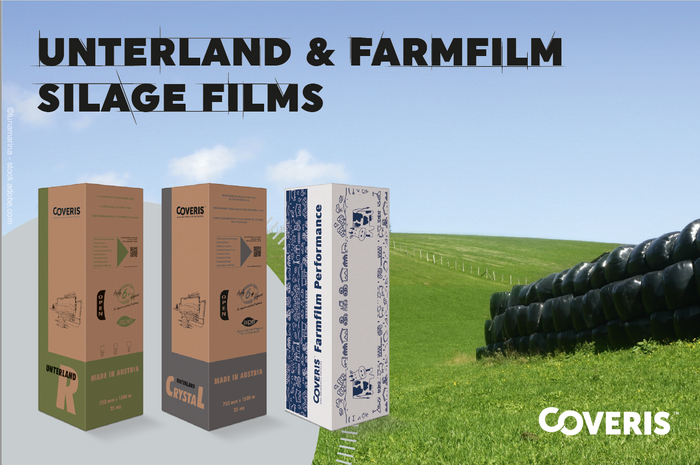 In these uncertain times, UK farmers need a business partner that can offer both high-quality products and local support. Coveris meets both these criteria thanks to more than 30 years of experience in manufacturing premium silage films known worldwide and having a strong presence in the UK. At upcoming LAMMA 2023 trade show in Birmingham, the film producer will present different solutions for bale wrapping – the proven FarmFilm Performance and Unterland Silage Films as well as the latest sustainable Unterland R with 30% PCR.
FarmFilm Performance is a product known on the UK market for over 30 years, now available under Coveris brand. Manufactured in Winsford, Cheshire, it stands out with high puncture and tear resistance which ensures perfect round and square bale wrapping. Additionally, the multi-layered material offers long-standing performance and crop's protection in any weather. On top of that, it offers a double-sided adhesion that ensures the tail stays intact on the bale. Available at your local supplier across the UK, FarmFilm Performance is a brand that is trusted by farmers and contractors all around the world.
With Unterland Crystal, we offer a recyclable silage film, fully in line with Coveris' No Waste vision. The film answers the growing market demand for recyclable silage films by ensuring complete transparency while maintaining the same quality as standard-coloured films. By simply switching from coloured to transparent films farmers can achieve considerable savings in the recycling process. The transparent film fits on all wrapper types without any adjustments, simplifies bale trading and effectively protects the bales from external factors like bird damage during a guaranteed one-year outdoor storage period. Unterland Crystal already received positive feedback from Solway Recycling Ltd in Scotland and Emerald Isle Recycle in Northern Ireland.
For more sustainable bale wrapping, Coveris recently launched a new silage film – Unterland R – containing at least 30% recyclate from collected agricultural films. Due to the PCR content of the film, 20 litres of mineral oil can be saved per produced roll. The new film has been tested by trusted Coveris partners all around the world in different weather conditions and using various conventional wrappers and maintained the exact same quality no matter the environment. Thanks to the above factors, UK farmers can significantly reduce their carbon footprint by 23% and contribute to greater environmental protection simply by switching to Unterland R.
UK customers also benefit from our Films Science Lab at Coveris Winsford in the UK, providing state-of-the-art technology and market leading expertise.
Learn more about our highlight products and how our Films Science Lab supports new developments by visiting us at LAMMA Show from 10 to 11 January 2023 in Birmingham (booth no. 10.532, hall 10) or contact our sales representative.