24 Nov 2022
The Premier Tyre Sealant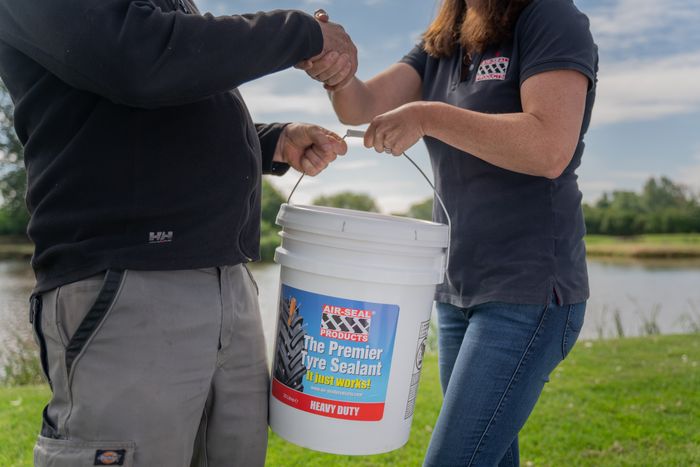 Who are Air-Seal Products?
These premier tyre sealants are a major solution to tyre management and have been proven to reduce operating and tyre replacement costs. They can prevent 95% of punctures up to 15mm in the tread area of a tyre with the use of the popular Heavy Duty tyre sealant, and up to 30mm in earthmoving vehicles with Armour-Seal. This gives a permanent repair for the life of the tyre.
Air-Seal tyre sealants will also help maintain optimum tyre pressure in a cost effective and safe way by stopping all rim, bead, and other slow air leaks. Meaning our sealants will increase fuel efficiency up to 3% and the life of the tyre up to a staggering 20%. This reduces downtime and the cost of a user's operation and mitigates their carbon emissions.
How does it work?
The product spreads evenly over the inside surface of a tyre as it rotates. When a puncture occurs, the air pressure immediately forces a combination of aramid fibres and fillers to inter-lock and form a seal, preventing any further air-loss. The operator may not even realise a puncture has occurred until they later inspect the tyre.
Aramid fibres are some of the strongest, abrasion-resistant synthetic fibres used to date and were specifically chosen by Air-Seal Products to ensure that punctures are sealed, without failure, for the life of the tyre. These premium tyre sealants are simple to install, safe to use, and have been independently tested.
Who is it for?
Air-Seal tyre sealants are used worldwide by major companies for their vehicle fleets both on and off-road. Some of the sectors we supply include Road Haulage; Waste Management & Recycling; Mining & Quarrying; Construction & Demolition; Agricultural; Grounds Care; Local Authorities; Original Equipment Manufacturers; and UK Armed Forces and Government Departments.
One of Air-Seals loyal customers had this to say: "Over the years we have tried a variety of glue based sealants but nothing works as well as Air-Seal Products. This water based product is not only very easy to use, repairs punctures from anything up to reinforcing bar and also maintains correct tyre pressure. This saves us the inconvenience, time, and considerable costs associated with having many punctures in our industry".
If you are tired of inconvenient punctures costing you unnecessary downtime and money, contact Air-Seal Products on 01823 674411 or visit www.air-sealproducts.com.
https://www.youtube.com/watch?v=U0YY-745SkA