04 Jan 2023
Pentair presents new HYPRO SPRAY technologies at LAMMA 2023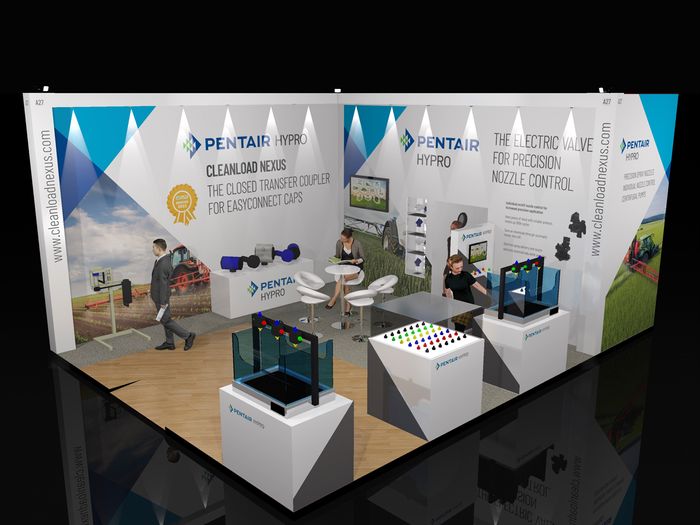 CLEANLOAD NEXUS - CLOSED TRANSFER COUPLER
Cleanload Nexus is a manually operated mechanical device that will open a container with a compatible easyconnect cap, rapidly remove liquid agrochemical products (fully or partially) into the sprayer tank, and then clean and reseal the container in a totally closed system.
It is not only safe, supporting the industry's mission to reduce agrochemical exposure to people and the environment, but also a fast and simple way to load chemical. It meets the ISO21191 standard for agrochemical closed transfer devices, is JKI-approved (ref G-2260) and compatible with easyconnect caps which will become the standard for almost all agrochemical companies over the next few years. Proven in-field testing across Europe over several seasons. Pentair Hypro Cleanload Nexus is set to launch in 2023.
PROSTOP-E DUAL NOZZLE BODIES
Pentair Hypro ProStop-E Dual Nozzle bodies are a cost-effective and flexible way to enable individual nozzle control that will eliminate overlaps and prevent over-dosing saving chemical. It features two pairs of nozzles, each controlled by an electrically actuated quarter turn ball valve on a manually rotatable turret.
Like Pentair's air-actuated Duo React this allows operators to select two nozzles at a time (one from each pair A and B), A, B or A+B can then be operated on the move to maintain control over droplet size thereby optimising spray performance and minimising off target spray. However Prostop-E Dual has advantage over Duo React of offering individual nozzle control.
The ProStop-E Dual is ISObus compatible so works with the spray controllers from many suppliers to automate nozzle selection according to field maps, to prevent overlaps. It is an ideal system to consider for both new and refurbished sprayer booms offering many of the advantages of more costly and complex PWM systems. The Dual nozzle body is compact and its ball valve actuation is simple and reliable having been exhaustively life testedto ensure reliability.
PUMPS FOR DEMANDING AGRICULTURAL NEEDS
Pentair will present a selection of agricultural pumps that cover a large part of agricultural spraying needs. Among them are the easily maintained 9319 series of Centrifugal pumps with Force-field wet seal technology offering flow rates up to 1177 l/min and capable of up to 10.3 bar pressure making them ideal for high-speed spraying with the advantage of dry run protection.
Hypro high-capacity lightweight polypropylene transfer pumps are suitable for high-speed tank filling and other fluid movement with flow rates up to 1832 l/min.
For lower application rates self-priming roller pumps offer highly uniform output from 7 to 235 l/min.
Cost effective flexible diaphragm positive displacement SHURFLO pumps offer flow rates up to 23 l/min and self-priming capability.
HYPRO NOZZLES FOR MAXIMUM DRIFT CONTROL
Two of Pentair Hypro's latest nozzle offerings offer industry leading performance. Where drift control is most critical the Ultra-Low Drift Max nozzle provides the highest level of drift reduction regardless of nozzle size and pressure, a great option to have on the boom to ensure you are never caught out by off-target spray.
In addition, the steeply inclined 3D Ninety Nozzle gives unequalled spray coverage for a nozzle in this drift class. Jointly developed with Syngenta the 3D Ninety has been extensively field tested and is recommended for a range of applications including potato blight fungicides and pre-em herbicide. Like the standard 3D nozzle, it should be alternated forward and back and can be seen in operation alongside the rest of the Pentair Hypro nozzle range.