02 Dec 2019
NEW PRODUCTS FROM ALBUTT AT LAMMA 2020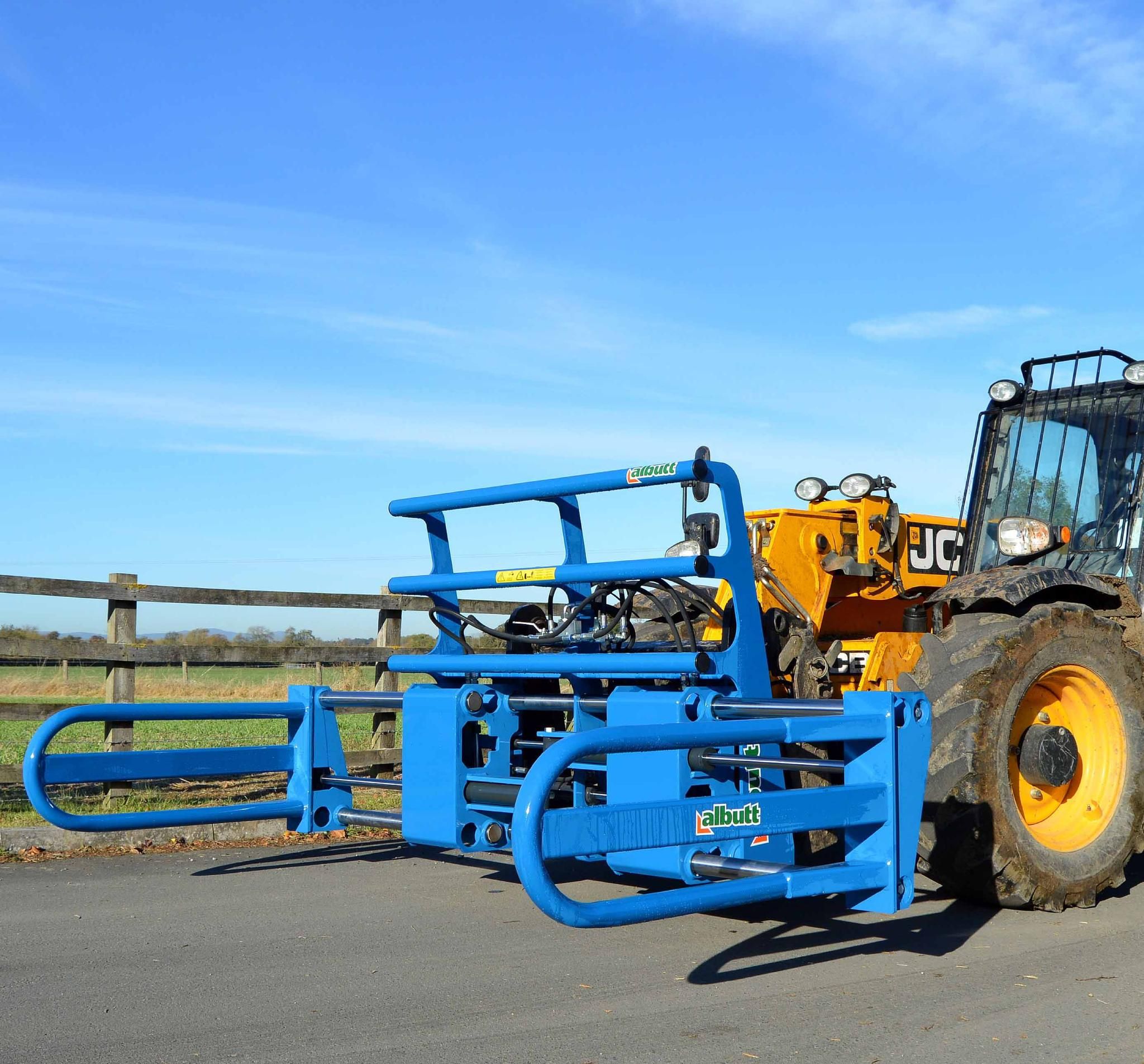 Shear Bucket – SKMB220HX
Albutt are showing their range of Shear Buckets, featuring new smaller capacity models for tractor loaders and telehandlers This is a time saving attachment designed for the livestock farmer. This attachment allows the cutting of silage and handing of feed materials, eliminating the need to swap between bucket and shear grab.
The design is based on our proven range of high capacity shear grabs.
Specification includes the use of high tensile steels in key stress areas to provide high strength and long term reliability.
The Shear bucket is designed to be used with telescopic handlers with a lift capacity of 2.00 to 4.00 tonnes,
Heavy duty bale handler – F650HX
Fast and efficient handing of large straw bales is now made simple using the new bale grab from Albutt. F650HX will handle 4 x mini Hesston 4 string bales. Bales are secured by hydraulically controlled wings. Wings feature high tensile steel Hardox tines which penetrate bales holding them securely.
Wing movement is synchronised with two hydraulic rams, wings engage bales simultaneously. This new attachment is designed to be used with telescopic handlers with lift capacities of 4 tonnes.
Contactor Bale Squeezer - F470
The Albutt F470 Bale Grab is a contractor quality, heavy duty bale handler aimed at high intensity users. The side squeeze operation provides a simple yet effective tool for moving both square and round silage bales. Lateral movement of the clamp can be adjusted to allow for the largest possible range whilst keeping the frame width at a minimum. A heavy duty spill frame means a second square bale can be stacked. Bolt on brackets allow the bale handler can simply have the brackets swapped if the machine type is changed. If the machine has two hydraulic services to the attachment, both width adjustment and the clamp movement operations can be handled from the cab. If the machine only has one hydraulic service, 2 x three way valves on the F470 can be manually operated to switch between width adjustment or clamp movement services.
Shear King Grab with ejector
Market demand for an ejector function in our range of Shear King shear grabs has led to the development of a hydraulic push/eject system. This can be retro fitted to existing shear grabs or specified on new build machines. Ejecting the silage block from the grab offers users the option of cutting and storing blocks for later use. New robotic feeding systems require accurately cut blocks of silage for robotic handling. The new ejector releases the cut block form the shear grab at the same time retaining the shape of the block. Feed quality is maintained by retaining the block shape.