12 Apr 2022
NOROSO points and the latest nozzles and spraying components from Pentair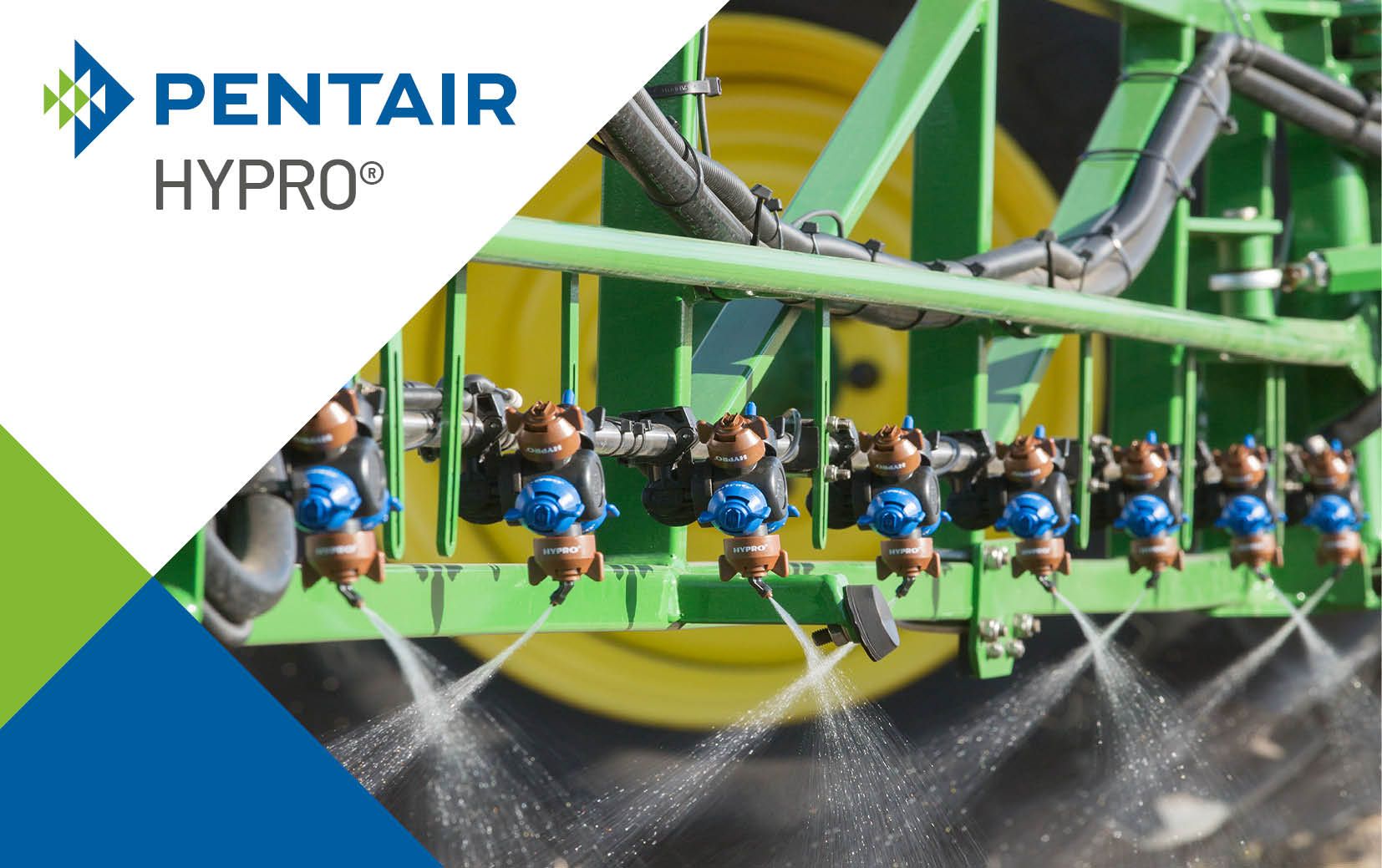 Pentair Hypro experts are really looking forward to meeting up with you at Lamma again and ready to answer your application questions and explain this year's innovative new spraying products.
Avoid spray overlaps and save at least 4% on your spray bill with individual nozzle control. The cost-effective ProStop-E 12v nozzle valve is being joined by new Dual and Quad versions to give even more nozzle control options. We can advise for new sprayers or retro-fits.
Eliminate spray drift but not at the expense of spray performance. Our new 3D Ninety nozzle in partnership with Syngenta is proven to combine the best pre-em weed control and broad-leaved crop fungicide performance with the highest levels of drift (LERAP 4* rated 90%), we can advise how this can be achieved.
Minimise pump downtime and reduce running costs by up to 50%. High capacity Pentair Centrifugal pumps have only 4 moving parts and require virtually no annual maintenance compared to a equivalent diaphragm pumps. Our new Cobalt stainless steel multi-stage centrifugal pump offers a higher pressure option for turf and pest sprayers with ceramic wear surfaces for chemical and abrasion resistance.
Load chemical faster and safely. Cleanload Nexus is the coupler for easyconnect caps that creates a fully closed chemical transfer system. We can show it in action and advise when you can get one, how to get the best out of the system and how do you fit it onto your sprayer?
3D Ninety Nozzle: A drift reducing steeply inclined spray. Proven for pre-emergence herbicide applications at higher water volumes. LERAP 4* 90% drift reduction right up to 5 bar pressure. Features a pre-orifice design suitable for use with PWM systems and easy twist Snaplock cap.
Cobalt multi-stage centrifugal pump: Higher pressure up to 14 bar, multi-stage centrifugal pump with flows up to max. 273 LPM, hydraulic and gas engine driven variants
ProStop-E family: 12v electrically actuated nozzle control valves in place of a DCV or pneumatic valve. Integrated with different nozzle bodies options offering single, dual and quad individual nozzle control options.
Cleanload Nexus Closed Transfer Coupler: A simple, effective and fast way to eliminate the risk of contamination to operator and environment during chemical loading. Works with easyconnect containers from all agrochemical manufacturers.
For more information please contact:
Roger James
Hypro-EU Ltd (Pentair), Station road, Longstanton, Cambridge, CB24 3DS, UK, Tel: +44 (0)1954 262314, roger.james@pentair.com, www.hypro-eu.com
About Pentair Hypro
At Pentair, we believe the health of our world depends on reliable access to clean, safe water. We deliver a comprehensive range of smart, sustainable water solutions to homes, business and industry around the world. Our industry leading and proven portfolio of solutions enables our customers to access clean, safe water. Whether it's improving, moving or enjoying water, we help manage the world's most precious resource. Smart, Sustainable, Water Solutions. For Life.
Pentair had revenue in 2019 of $3 billion, and trades under the ticker symbol PNR. With approximately 120 locations in 25 countries and 10,000 employees, we believe that the future of water depends on us. To learn more, visit www.pentair.com.
Since 1947, Pentair Hypro has helped farmers to feed the world with our highly engineered products, technological expertise and exceptional customer support we help our customers to deliver more sustainable and higher precision farming.
https://youtu.be/BLSmP0CKeQc