10 Dec 2021
NEW EASYCUT MOWER FOLDING CUTTER BAR WINS DLG SILVER MEDAL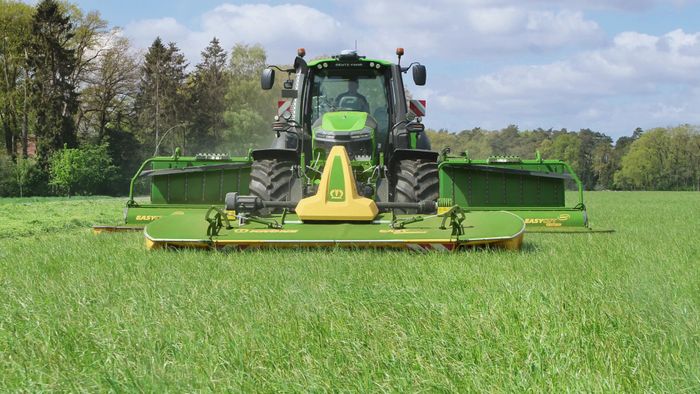 Krone has launched an innovative cutter bar folding system for its EasyCut folding conditioner mower, which is a world first in the disc mower market segment.
The new EasyCut F 400 CV Fold has a maximum working width of 4.04m. It is claimed to boost efficiencies and work rates in comparison with traditional front mowers of a maximum 3.20m width and yet does not exceed the statutory 3m transport width.
When changing over for road transport, a hydraulic slewing gearbox folds the two outer discs into the space between the tractor wheels and the mower to reduce the width to under 3m. At the same time, the driveline is not cut and the discs remain in cutting position.
Folding is hydraulic and sequence controlled. The sequence is triggered easily and conveniently from the cab. As the machine arrives in the field, the discs fold back into working position and are hydraulically secured in their working positions. The side guards, too, fold into working position. As a result, Krone is able to implement a working width of 4.04m for higher work rates and maximum overlap also on slopes. The machine is ideal in set-ups with a three-point or trailed rear mower or a butterfly combination. In addition, the wide working width eliminates the risk of the tractor running on cut grass and stripes of uncut grass.