02 Jan 2023
Multigrab C for compact loaders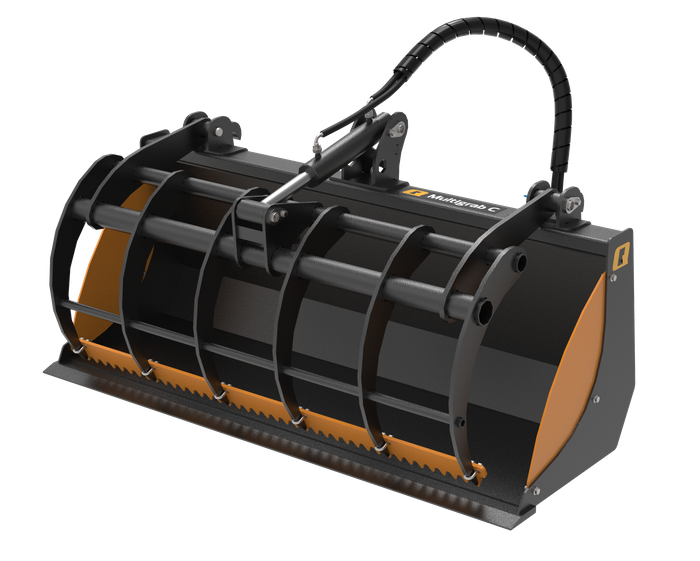 Multi-functional bucket grab for compact tractors
The Multigrab C
It is characterized by the "open" bucket gable design and the rounded shape of the grab head that allows you to pick up all types of bulky low-density materials such as branches, garden disposals, loose manure and more.
Also logs can be handled with ease thanks to this design.
Another advantage of the rounded shape of the grab head is that it follows a circular movement that minimize the need of power.
The grab head can open over 1 meter which makes it very easy to fill the implement and allows a lot of material to be grabbed.
A useful feature is that when grab head is fully open you can drive all the way towards a wall with the bucket cutting edge to scoop up that last material without grab head touching the wall.
Two accessories are available to outfit the implement to your business requirements;Clamp edge - To facilitate handling of loose materials such as disposals or wood chips it is recommended to use the optional clamp edge to keep grabbed material in place. Grab head tines are prepared by having a cut out that makes positioning of the bolted Clamp edge easy.
Also, when handling irregular shaped objects such as logs and stumps the Clamp edge creates a better grip of the material as well as it support the tines.
Gables - When handling very loose materials, bolt on side sheets are recommended to avoid any spillage through the sides.
One powerful cylinder controls the grab, and the Implement is available with Euro and Skid steer attachments (width 170 is available with Euro only).
Multigrab C require third service to operate the grab head.