09 Dec 2022
Merlo UK 2022 Dealer Awards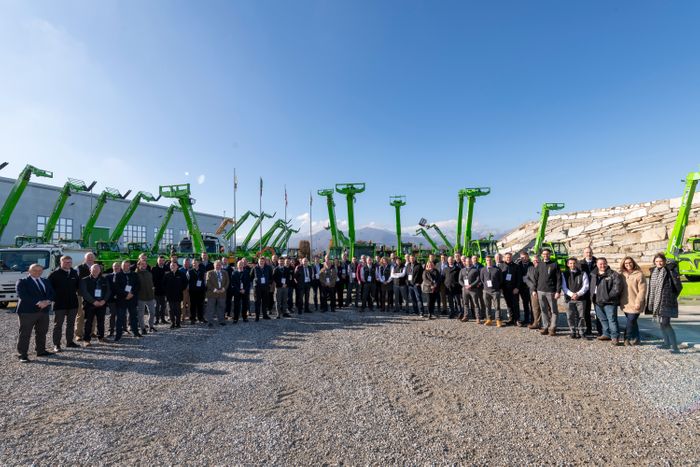 Merlo UK Celebrates Winners of 2022 Dealer Awards
Merlo UK were pleased to welcome their dealers to the 2022 Merlo UK Dealer Conference at the beginning of December. The event was held at the global headquarters of Merlo Group in Cuneo, Italy.

Titled "Partners for Life" the two day event was geared to give Merlo UK dealer partners an insight into the significant investments being planned by Merlo Group to meet future global demand for the Merlo product range.

Attendees were also given a full tour of the Merlo onsite manufacturing & production facility, had an opportunity to drive and test a wide range of Merlo products and were shown the latest new Merlo product developments to be launched in 2023.

The conference concluded with the Merlo UK 2022 Awards Dinner. Held in the historic 600 year old Castello Rosso castle the event recognised Merlo UK's top performing dealers across several categories.
---
Ramsay & Jackson - Parts Dealer of the Year 2022.

Ramsay & Jackson could have been forgiven for slowing down their operation and potentially throwing in the towel following a devastating fire at their yard in April. However, the strength of character of the whole team at Ramsay & Jackson shone through as they continued to provide a first class parts service, despite operating in incredibly challenging circumstances. Add to that the fact that Ramsay & Jackson remain on course to achieve their 2022 forecast parts volumes is highly impressive.
---
Ancroft Tractors - Service Dealer of the Year 2022.

Ancroft Tractors is a dealer that has for many years provided a top quality, reliable service to their local Merlo customer base. A proactive approach to training ensures their Merlo technicians are equipped with the most up to date training and technology to provide an exemplary customer experience in any situation. With a 'Service First' approach Ancroft Tractors continues to offer their customers the very best in back-up and support!
---
Agriscope - Merlo Ambassador of the Year Award 2022.

Agriscope are the first recipient of the all-new Merlo Ambassador of the Year Award for exemplification of the values of the Merlo brand in customer service, communication and brand representation. Consistently going above-and-beyond expectations, Agriscope have shown year on year growth in their parts business all whilst maintaining an excellent reputation for aftersales support & service.
---
RVW Pugh - Agricultural Dealer of the Year 2022.

RVW Pugh are celebrating their 25th Year with the Merlo franchise this year. Displaying year in year out a consistently robust performance for Merlo agricultural sales, RVW Pugh have firmly hit, and exceeded their 2022 objectives. Operating across a very diverse farming area RVW Pugh of have succeeded in selling a wide range of Merlo agricultural telescopic handlers to farms large & small.
---
AF Wiltshire - Overall Dealer of the Year 2022.

AF Wiltshire are a long established Merlo dealer that has achieved an impressive result in terms of new machine sales in 2022 securing a very respectable local market share. Always ready to embrace new Merlo technology & products Wiltshires were one of the first UK dealers to operate their own fully electric eWorker demonstrator unit.

A focus on Merlo customer retention in 2022 has paid off with many customers returning to Wiltshires when the time has come to change their existing Merlo.