13 Apr 2022
Massey Ferguson MF 8S Series wins Farm Machine 22 award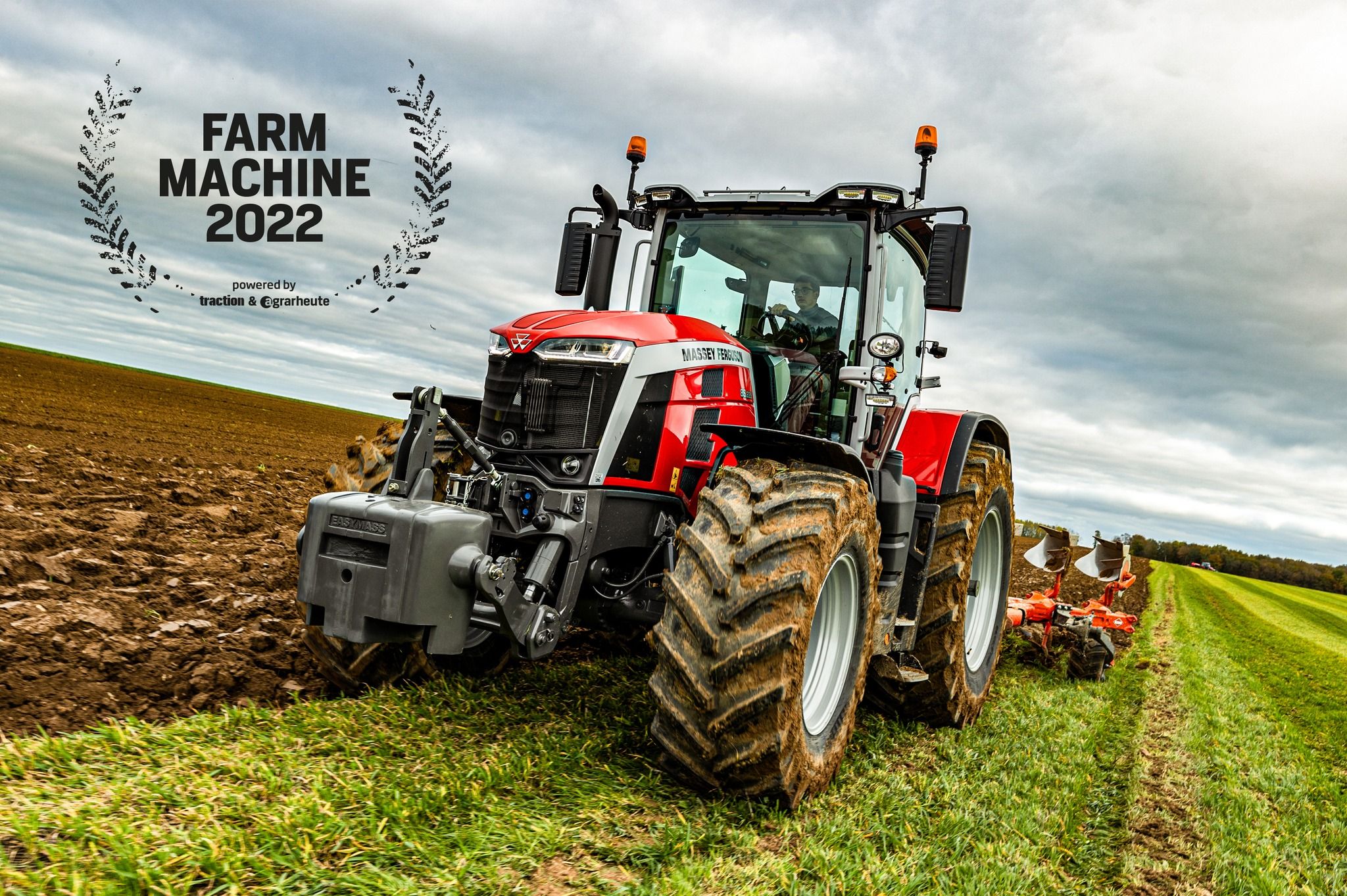 Massey Ferguson, a worldwide brand of AGCO (NYSE:AGCO) is proud to announce its highly efficient and comfortable MF 8S is the winner of the Farm Machine 22 Award for tractors in the 180hp to 400hp category.
"Everyone at Massey Ferguson is honoured to receive this Farm Machinery 2022 award, which also recognises the passion and commitment of the whole MF team that set out to define a new era in straightforward and dependable tractors," says Thierry Lhotte, Vice President & Managing Director Massey Ferguson, Europe & Middle East.
"When we say the MF 8S is 'designed for and by farmers' it's because it all started eight years ago, with a blank sheet of paper, and our 'Voice of the Customer' in-depth, one-to-one interviews with customers and operators from around the world", explains Jérôme Aubrion, Director Marketing Massey Ferguson, Europe & Middle East.
"It's with those farmers we share this award because they inspired us to develop this ultimate tractor, which is built on Massey Ferguson's strong heritage of delivering affordable machines that perfectly meet every farmer's requirements," he adds.
Straightforward and dependable range
There is a choice of six models in the straightforward and dependable MF 8S Series – from the 205hp MF 8S.205 up to the latest MF 8S.305, 305hp flagship. A choice of 'Exclusive' or 'Efficient' specification packages and a wide range of options to enable farmers to tailor the tractor to suit their particular needs.
All are powered by the latest technology, AGCO Power 7.4-litre, six-cylinder engines. These develop maximum power at engine speeds as low as 1,500rpm, for excellent economy and quiet operation. Engine Power Management (depending on model) delivers a 20hp+ power boost, along with extra torque for when it's most needed.
Unique Protect-U design
With its 24cm gap separating the cab from the engine, the unique Protect-U concept completely insulates the MF 8S cab from noise, heat and vibrations. With noise levels of just 68dB, it is one of the quietest on the market and, with an interior volume of 3.4m³, it is also one of the most spacious. A light and airy workplace, with a 6.6m² glass area, it boasts unrivalled space and visibility.
Replacing the dashboard with the new digital 'MF vDisplay' terminal, fitted to the right pillar of the MF 8S cab, leaves just the steering wheel and Power Control lever in front of the driver, providing exceptional forward visibility over the slim, wasp-waisted bonnet.
The new Control Centre armrest, fitted with the latest easy-to-use Multipad lever, provides complete fingertip control. This ISOBUS compatible lever operates all the tractor functions and includes an integral micro-joystick to control two spool valves.
Outstanding transmission choice
MF 8S tractors are available with a choice of transmissions including the latest Dyna-7, new Dyna-E-Power as well as the renowned Dyna-VT continuously variable transmission (CVT), which is standard on the MF 8S.305 and an option on other models.
A new, efficiency enhancing Automatic Mode for the Dyna-VT allows operators to use the Multipad lever or foot pedal to alter forward speed, while it automatically sets the optimum engine rpm according to the load and speed. As well as delivering smoother operation, this also reduces fuel consumption.
Alternatively, the Dyna E-Power, Dual Clutch gearbox combines the advantages of a continuously variable transmission (CVT) with the ability to transmit power as efficiently as a mechanical transmission.
Employing Dual Clutch technology for range shifts and anticipating when to make seamless changes. It provides four ranges with seven gears and semi-overlaps designed to maximise in-field and on-road performance.
A further option is Massey Ferguson's new Dyna-7, semi-powershift transmission, which offers easy and efficient operation of a total of 28 forward and reverse speeds in four ranges and seven seamless gears.
Complete connectivity
The latest Datatronic 5, 9-inch terminal is mounted on an adjustable arm. With its anti-glare touch-screen and short cut keys, it's as easy and intuitive to use as a mobile phone or tablet.
This single screen system controls all the tractor functions and manages all the MF Technologies smart farming suite including MF Guide, MF Section and MF Rate Control as well as MF TaskDoc data capture and transfer.
For further operating flexibility users can also choose to control precision farming functions via the optional Fieldstar 5 terminal or the Datatronic 5 screen.
All MF 8S Series tractors can be fully connected with MF Connect telemetry. A new Geofencing function improves logistics management and security by sending alerts to smart phones and devices if and when machines exit or enter pre-defined areas.
About AGCO
AGCO (NYSE:AGCO) is a global leader in the design, manufacture and distribution of agricultural solutions and delivers high-tech solutions for farmers feeding the world through its full line of equipment and related services. AGCO products are sold through five core brands, Challenger®, Fendt®, GSI®, Massey Ferguson® and Valtra®, supported by Fuse® smart farming solutions. Founded in 1990 and headquartered in Duluth, Georgia, USA, AGCO had net sales of $9.1 billion in 2020. For more information, visit http://www.AGCOcorp.com. For company news, information and events, please follow us on Twitter: @AGCOCorp. For financial news on Twitter, please follow the hashtag #AGCOIR.