21 Dec 2022
Lynx to unveil refurbished Deere 6800 at LAMMA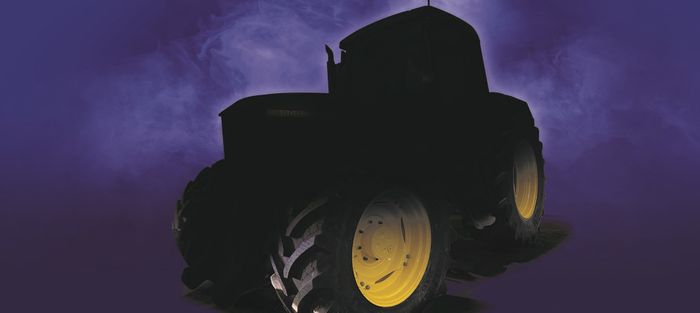 Lynx have breathed new life into a tired, old and well used John Deere 6800 and re-equipped it for the demands of modern day farming.
A near 30-year old John Deere 6800 fully refurbished by Lynx Engineering and equipped with the latest add-on technology, including a new Stoll front loader and a new Zuidberg front PTO, will be making a star appearance on the Lynx stand (Hall 20: Stand 20.520) at LAMMA 2023.
Lynx Engineering was founded in 1992 by husband and wife team, Nick and Nicki Ewbank. The refurbishment project was undertaken to mark the company's 30th Anniversary and to demonstrate how an old, tired and well used tractor can be restored and re-equipped with new components to give it a new lease of life, enabling it to take on the demands of modern-day farming.
Lynx Engineering's choice of the Deere for the project was an easy decision to make. The 6000 Series was a completely new range of tractors when it was launched to wide acclaim at Smithfield in 1994. Lynx were ahead of the game having already taken all the key measurements for a front linkage and PTO kit to fit the tractor. By the time UK dealers took delivery of their first consignment, Lynx had a Zuidberg front linkage and PTO kit available and ready to go.
Since Lynx acquired the tractor and took delivery in late 2021, the project has had to overcome a number of challenges. The Covid pandemic, problems associated with Brexit, and, not least, greatly extended lead times on parts delivery combined to repeatedly delay the schedule of works. In addition, the Lynx team assigned to the project, Mark Purves, Greg Allan and Sam Ewbank, were working on the tractor alongside their main jobs.
When the tractor arrived on site, it looked in reasonable condition for its age and many hours in the field. However, stripping it down to the chassis revealed underlying problems that had to be addressed. Amongst many others, these included an engine that only ran on five cylinders, a turbo requiring full rebuild and a gearbox that was virtually completely replaced with new parts. Work was needed on front and rear axles and there was much more cleaning, blasting and painting than originally planned for.
Works will be completed in December. The tractor will be equipped with the latest Stoll Next Generation ProfiLine front loader with Pro Control electronic joystick. The original Zuidberg front linkage could not be saved so a new up to date system was specified with the addition of a front PTO, the linkage will also carry the Zuidberg front override protector. The original Dromone rear pick-up hitch was sent back to Dromone for a complete overhaul. Lynx have also replaced the original viscous fan with a brand new Flexxaire reversing cooling/cleaning fan.
Other products to be featured on the Lynx stand include the latest Stoll ProfiLine front loader, Dromone pick-up hitches and coupling systems, a range of front-mounting weight units and the company's own Streamline branded front press.