07 Mar 2022
KEENAN® evolves MechFiber diet feeder and launches new MechFiber+ range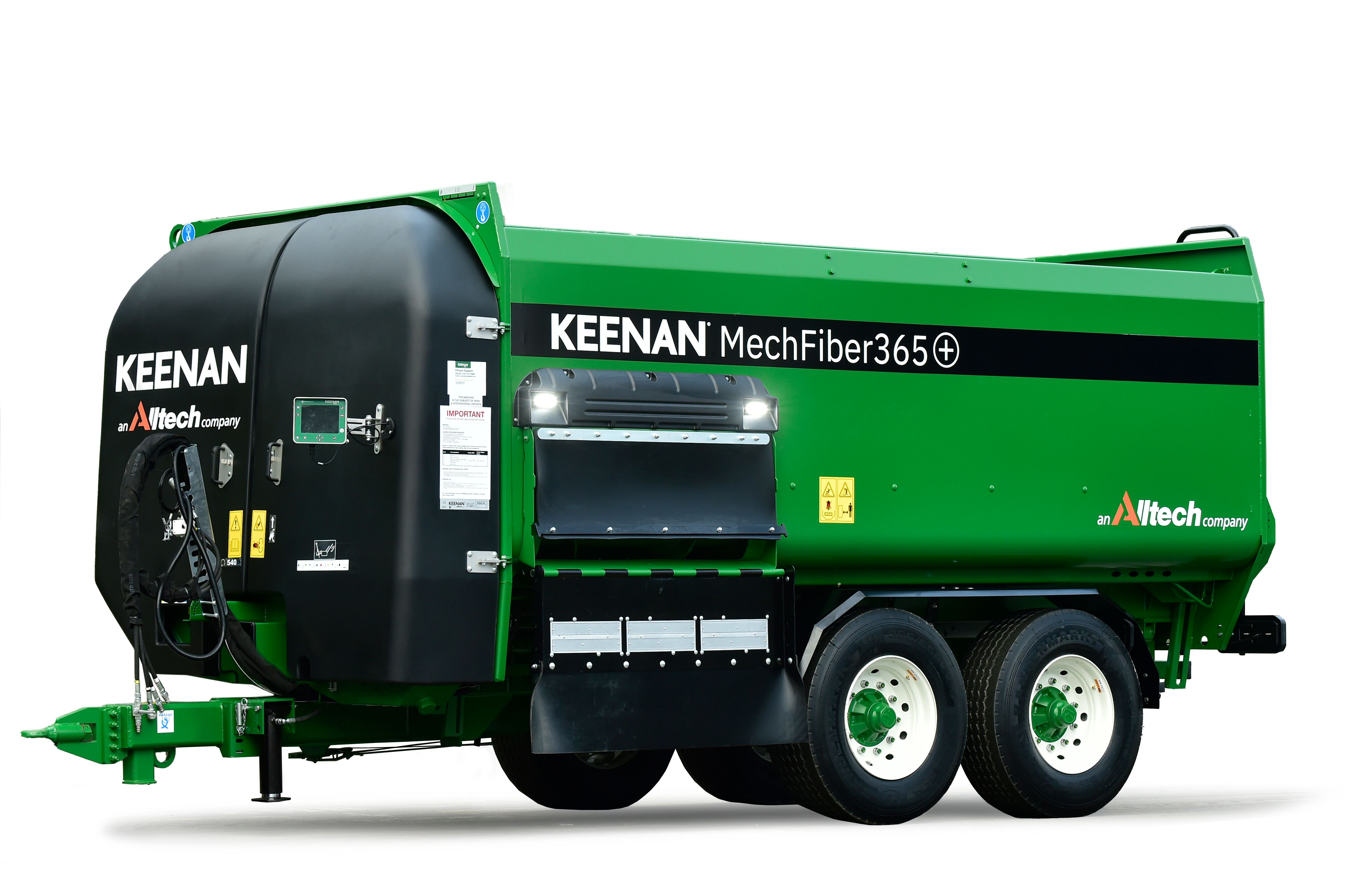 Designed over 40 years ago, the KEENAN MechFiber paddle feeder is renowned for the evenly, thoroughly mixed, light and fluffy ration that it produces, it's simple and low maintenance design and quality of build. To help farmers achieve even greater nutritional performance from their livestock, a number of small but significant changes to the MechFiber system have been made and these will be rolled out from this week. All models will be included in the new MechFiber+ range which will replace the original MechFiber range by the summer.
Said James Brough, General Manager UK and Ireland, "What we discovered from speaking to farmers was that the consistency and thoroughness of the mix quality was sacrosanct. The design of the MechFiber's unique paddle system means that it is the only machine in the world to produce and replicate the MechFiber mix time and time again. This mix improves herd health, productivity and helps farms reduce methane emissions through increased feed efficiency. However, with input costs only going one way, we knew we had to take our MechFiber machine to the next level, further refining the quality and consistency of the MechFiber mix will help to drive even greater feed efficiency on farm compared to that which we already see."
With this in mind the engineers at KEENAN studied every intricate detail of the internal mechanical design and have been able to further improve mix quality and consistency by re-engineering the paddle castellations. The paddle castellations have been re-shaped to give a rounded top section and the rake angle increased to allow for greater material movement in the chamber. This has resulted in less material residing on the paddles which means an improved tumbling action with less friction, resulting in an improved mix and less wear to the machine's mixing chamber. The resulting MechFiber mix proves more consistent than ever before and trials have shown a reduction in the machine's horsepower requirement.
Externally too, there are improvements in design. Lights have been added to the feed-out door, providing the operator with improved visibility during mix discharge especially when ambient lighting is low. Specially moulded, durable black pods house these new lights to ensure protection during use and storage. Farmers can also opt for a wider feed-out door to increase the speed of feed-out. A new style of optional mudguards can also be fitted to reduce the risk of corrosion.
Aesthetically, the range has been given a new, fresh look with specifically moulded black pin seal matt finish front covers. The rear ladder also now finished in black is made from sleek tubular steel that is less prone to damage, more user-friendly and is collapsible.
Models in the MechFiber+ range can be further enhanced by the addition of the new 4th generation KEENAN Controller, feed management app and InTouch dashboard all of which won the Enterprise Ireland Innovation Award in September of 2021. Combined, these hard and software components allow the farmer to have full oversight and control of their feeding data in real-time, at the touch of a button. The new 4th generation Controller now includes key visual mechanical telematics such as an oil level indicator, temperature sensor, chain tension status indicator and feed-out door status indicators for easier maintenance and trouble-free operation.
More information can be found at: https://www.alltech.com/en-gb/keenan or visit the KEENAN stand at LAMMA '22 in Hall 19 (19.234) to see the machine for yourself.