09 Nov 2019
JC Machinery Brings the New Vredo Crop Drill System to LAMMA 2020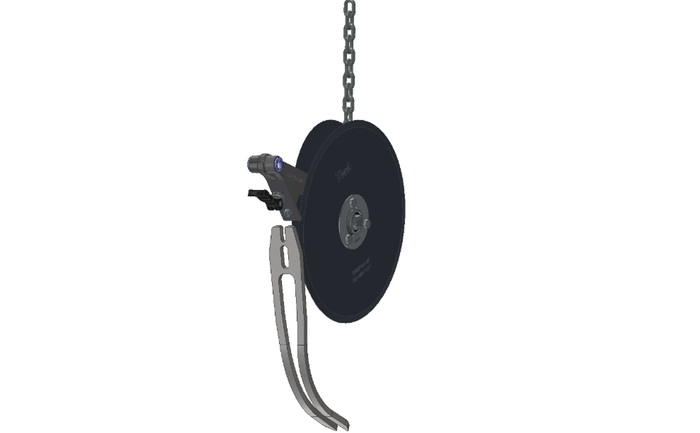 JC Machinery will be exhibiting the new Vredo Crop Drill System (CDS) in Hall 17, Stand 17.430, at LAMMA 2020.
The well-known Vredo Agri Twin and Vredo Agri Air Series will be displayed with the new CDS feature. CDS enables the Vredo to sow arable crops directly on corn stubbles without any tillage at a 15cm row distance. The machine keeps its well-known features for grassland overseeding (7.5cm), making it the only machine that can overseed on grass and arable land.
The base of the machine remains a pair of slicing discs with an interrow distance of 7.5cm. To allow arable crops to be sown deeper, every second pair of discs can be pulled up hydraulically, creating a sowing distance of 15cm. The seed distributors can be quickly diverted from 20 to 10 exits, to withhold the pulled-up elements from seed. Vredo has developed its own pneumatic seed hopper, which distributes very fine seeds or very large seeds to the seeding elements evenly. This system doesn't cultivate the soil, it only slits the ground meaning less machine power is needed, which brings savings on fuel and means you can work with one machine all year round.
The soil is not processed, not even in advance, and retains its strength, moisture and structure. Stubbles only need to be mulched, e.g. with a knife roller or flail mower (combinable with front attachment). The soil retains the organic matter in the top layer, which gives you healthier plants, uses fewer chemicals and fertilizer and nitrogen stays in the soil.
Other unique features of the system include a bigger fan and pipework to enable seeding up to 240 kg/ha, turf guards with quick couplings that can be removed quickly in order to seed deeper and a working width of 5.8m in combination with a packer ring roller.
For more information on the Vredo line of products, Evers harrows or Imants spaders visit JC Machinery in Hall 17, Stand 17.430.
For further information or a demonstration please contact John Campey at J C Machinery Tel: 01260 224568 or Mobile: 07736 953143 email info@jcmachinery.co.uk