17 Nov 2021
JC Machinery brings grassland into Focus at LAMMA 2022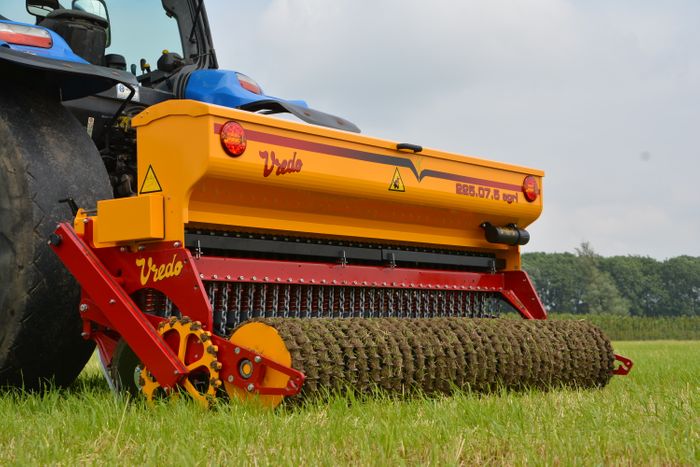 JC Machinery brings grassland into Focus at LAMMA 2022
Agriculture grassland specialists, JC Machinery, will be bringing grassland into focus at LAMMA 2022 with a range of machines from Vredo, Imants, Evers and Weed Control.
All the machines in Hall 17 Stand 17.430 are essential for high quality, reliable grassland rejuvenation. Vredo's range of Agri Seeders have gained a reputation for their outstanding 96% germination rates. The Dutch made unit keeps its well-known features for grassland overseeding (7.5cm), making it the only machine that can overseed on grass and arable land.
Preparing the soil for seeding is a crucial aspect of successful grassland and harvests, and for that, the Imants range of spaders are perfect. Currently, in use on farms and at plant breeding companies in a range of glasshouses and other outdoor areas, the Imants Spaders make soil rejuvenation more efficient.
Using the Imants machines removes the need to handpick debris out of the soil after harvest and takes out the need for subsoiling. This is because the Spader reaches depths similar to a subsoiler whilst bringing fresh earth to the surface and incorporating it. The working depth also means it can operate in dry conditions and will break up dry slaps of soil.
Even with a healthy establishment of grass, compaction through grazing and heavy machinery use can lead to flooding and ultimately weak and poor grass growth. JC Machinery offers Evers grassland maintenance products to combat this, including the GPG range of spring tine harrows. These harrows activate the soil, break up and disperse lumps of soil and muck, and stimulate new grass growth.
Also on the stand will be the FLAME WeedControl Greenhouse weed burner. This environmentally conscious method of weed control prevents the ingress of undesirable vegetation, crop residues, teases, and moulds in large glasshouses or for burning crop rotations. The tractor-mounted unit is also perfect for thermal disinfection on concrete floors and the removal of large weed areas around outbuildings and car parks.
These machines will be joined on stand by the JC Machinery team, who are all looking forward to returning to LAMMA after a year away from the NEC.
For further information or a demonstration please contact J C Machinery Tel: 01260 224568 or email info@jcmachinery.co.uk
www.jcmachinery.co.uk