04 Jan 2023
Harper Adams staff and students prepare for LAMMA 2023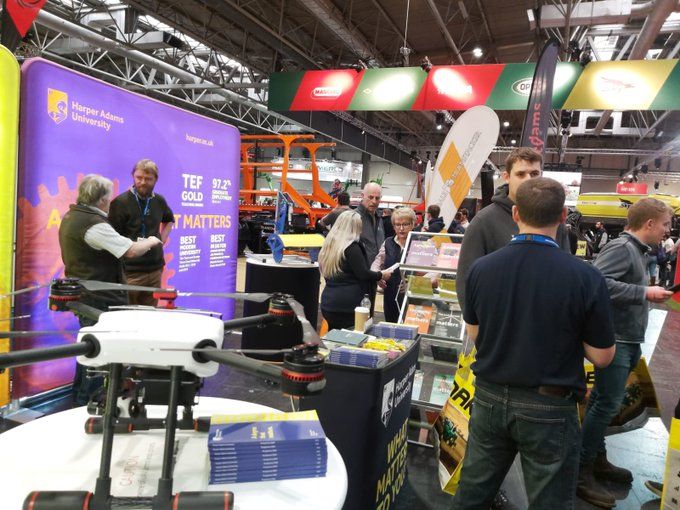 Staff, students and industry partners from Harper Adams University are preparing for the return of the UK's leading farm machinery show this month.
The LAMMA 2023 show takes place at the NEC in Birmingham on January 10 and 11. With more than 600 exhibitors taking part, the show aims to link farmers across the country with the companies and organisations who provide the latest machinery, technology and equipment for the industry - and Harper Adams is set to be represented.
Senior Engineering Lecturer Graham Higginson will be on hand to answer questions on all things engineering from prospective students, alumni and industry representatives, and some of the latest technology from Auto Spray Systems – who have worked with experts on the University's Hands Free Farm and other projects – will also be on display.
As with all events attended by the University, members of staff from the University's recruitment team will also be available – and Shows and Events lead Sarah Swinnerton is looking to kick off her 2023 with a packed two days.
She said: "With LAMMA returning to its regular place in the calendar after the past few years, it's a great way to get back into our external shows and events after the festive season.
"As the premier machinery show in the country, LAMMA attracts visitors from across the UK – so it's always a good place to catch up with our alumni who are forging careers in industry, to hear what they are doing now – and to discuss ways in which our research and expertise can help.
"It's also a great place to speak to people – of any age and at any stage in life, from sixth-form students to veteran industry professionals looking to take the next step in their careers – and discuss what our courses can offer."
The Harper Adams University stand can be found at stall 380 in Hall 18 at the show.