17 Mar 2022
#GoElectric now – an exciting new range of electric UTVs from HiSun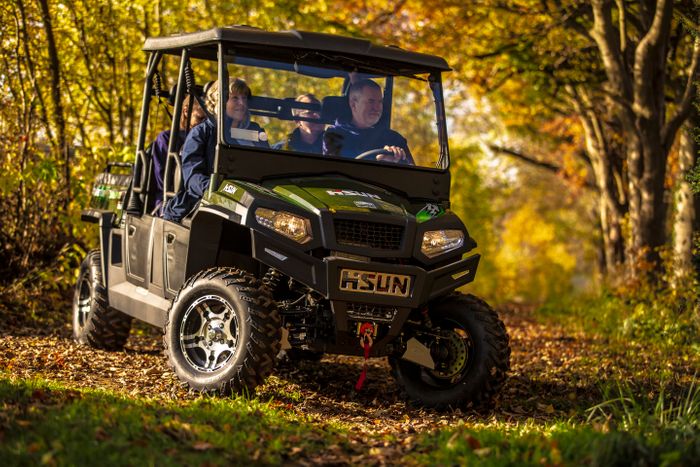 Barrus has introduced the all-new HiSun lithium-ion powered electric UTVs into the UK, a range of four innovative models designed to raise the bar.
Barrus has introduced the all-new HiSun lithium-ion powered electric UTVs into the UK, a range of four innovative models designed to raise the bar.
The four power options are the HiSun 5 kW, 7.5 kW, 15 kW and a 4-seater 15 kW. All are designed to work just as hard, if not harder, than traditional fuel-powered machines.
The top of the range Sector 15 kW is a real everyday workhorse with more power and torque to tackle the most challenging of terrains. With the ability to climb steep slopes, the Sector 15 easily handles 30 degrees plus inclines in forward and reverse.
The 4-seater version of the 15 kW UTV can transport up to four passengers, carry machinery and equipment and tow heavy loads with ease. The lithium-ion technology batteries that power both models are designed for longer run times and a single charge will keep the UTV working for a full day. The versatility of this vehicle makes it ideal for multiple uses in agricultural applications, on large estates, local authorities, sport and recreation and by conservationists.
Like its bigger brother, the Sector 7.5 kW is a reliable, everyday machine with the capability to tackle a multitude of tasks whatever the weather. The open cargo bed will carry up to 280 kg/ 67 lbs ideal for carrying everything from logs, bales of hay, tools and equipment.
The smallest of the lithium-ion powered models, the 5 kW UTV still has the power and torque to climb slopes over 30 degrees. The longer run times of the lithium-ion batteries will keep this reliable worker going for up to 44* miles on a single charge.
All models have the option of the DFK fully enclosed cab kit that includes a glass windscreen with wash/wipe, rear screen, metal roof, and lockable doors so the UTVs can be customised depending on the customer's requirements.
HiSun UTVs are true multi-functional vehicles. Featuring a winch, tow hitch and cargo bed they have the versatility to recover, carry equipment and tow powered machinery.
The move to electric UTVs offers many benefits over petrol powered machines. There is no compromise on power with these latest lithium-ion UTVs providing all the power needed for use in challenging off-road conditions. They are free from harmful carbon emissions which supports the shift to a virtually zero-carbon economy in the drive to tackle climate change and reduce global warming.
Choosing electric power offers huge savings in fuel costs with an overnight charge costing around £1*. There is also the bonus of no road tax as electric UTVs can be used both on and off-road. With no engine and fewer parts to service, electric UTVs are usually cheaper to service and maintain.
The quiet electric motor is a key attribute making it ideal for driving near to animals or in areas where noise needs to be kept to a minimum. An electric UTV has no gearbox which means that acceleration is smoother making for a more comfortable ride.
Roger Suckling, Sales Manager for the Vehicle Division at Barrus explains, "In response to the growth in demand for our HiSun electric vehicles and to offer the very best service and support to our HiSun dealers, Barrus has expanded its engineering and production facilities with the introduction of a brand new UTV and ATV assembly centre at their head office in Bicester, Oxfordshire. Vehicles are fully assembled in the new facility and delivered by Barrus Transport to the dealer ready for final checks before registering and handing over to the customer."
*Figures quoted are intended as a guide only. Cost/mileage would be dependent on usage and conditions.
https://www.barrus.co.uk/divisions/vehicle/hisun/media-centre/videos/