16 Dec 2021
Fendt Full Line @ Lamma 2022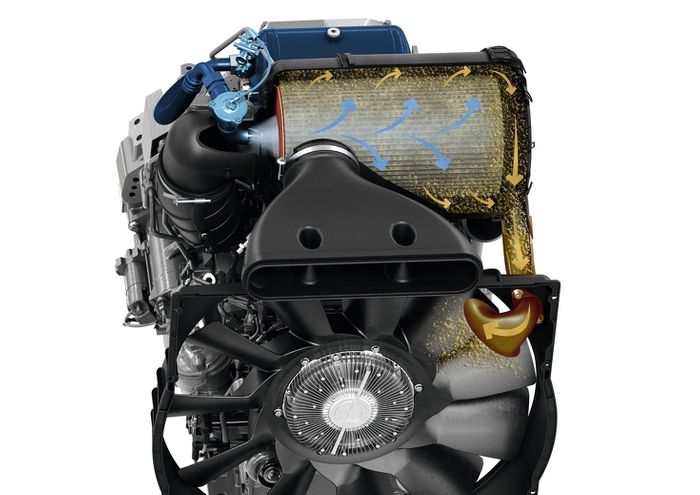 The Fendt UK team is excited to be exhibiting at LAMMA 2022 when the show returns to the NEC, Birmingham in January.
As a full-line manufacturer, visitors to the Fendt display area can expect to see new and updated models in all Fendt's product ranges including tractors, combines, balers, green harvest machinery, forage harvesters, forage wagons, telehandlers and sprayers with models to suit all sizes and types of professional farming or contracting businesses.
FendtONE
FendtONE is a simple solution to help maximise productivity and working efficiency for machine operators as well as owners and managers. The new operator platform encompasses onboard and offboard task management and brings them together as one, linking the operator and his machine with the farm office or any location with an internet connection and a smart device. Job planning, work monitoring and accurate record keeping are all made easier.
The FendtONE display appearance and layout is similar whether it is viewed in the tractor cab or the farm office - simplifying operator training and helping avoid confusion and errors. Since its launch two years ago, the FendtONE control concept has been rolled out across the range as series are updated, and new 500 and 900 Vario models, which are the latest to gain FendtONE cabs, will be shown at LAMMA for the first time.
For 2022 all models will share a similar 10-inch digital dashboard display, and the new FendtONE armrest and multi-function control joystick. Specification levels from Power Plus upwards also have GPS guidance and additional functions available through the armrest-mounted 12-inch terminal. For complex field tasks and demanding operations, an additional 12-inch roof-mounted display terminal can be added.
Although the FendtONE onboard control concept is new, experienced Fendt users will feel immediately at home with the new cab layout and controls as they retain a familiar appearance and feel. For those new to the brand, the intuitive, user-friendly layout will quickly become familiar.
The Fendt stand at LAMMA provides an excellent opportunity to inspect the latest models with FendtONE controls while specialists will be on-hand to explain how bringing together the onboard and offboard worlds so easily will provide benefits for any farm or contracting business.
Ideal combine
Also on the stand will be Fendt's Ideal 10 combine. The Ideal range consists of four models with single or dual highly-efficient Helix rotors and the unique IdealBalance cleaning system.
High work rates, an excellent grain sample and low losses are achieved, and users can easily switch between chopping and spreading the straw or leaving it in great condition for baling.
Upgrades for 2022 include lane guidance allowing the farm fleet to follow the same wheel tracks without any need for offsetting. VarioGuide automatic steering with RTK ensures compatibility with Control Traffic Farming (CTF) regimes.
Balers and Wrappers
Fendt large square balers and Rotana variable and fixed chamber round balers will also be displayed. New options for the Rotana include onboard film wrapping while users can conveniently and quickly switch between net and film when making silage and straw bales in a short time window.
Grass Harvest Machinery
A large display of Fendt's grass harvesting machinery will include mowers, rakes, tedders and bale wrappers. New generation Fendt Slicer front and rear mowers and mower-conditioners have been redesigned with a significant weight reduction, allowing use on smaller, lighter tractors. Additional improvements include greater convenience for road travel, increased working efficiency reducing the power requirement and fuel consumption, and adjustable conditioning that can be tailored to precisely suit the conditions.
Fendt's Former grass rakes have also been updated and, like all other models in the grass harvesting range, they feature new styling and an even better paint finish.
Tigo Loader Wagons
Fendt increased its range of loader wagons in 2021, as the new VR all-in-one loading wagon joined existing PR and XR models. Optimum feed quality, high capacity and rapid unloading are achieved by all Tigo models which come in capacities from 31– 54 m³, and latest versions will be available to view on the stand.
Katana Forage Harvester
Fendt's Katana forage harvester is also expected to attract considerable attention when it is displayed. Recent upgrades for the Katana 650 include extra power, increased working efficiency and 4wd as standard.
Rogator Sprayers The Fendt Rogator sprayer range includes self-propelled and trailed models with capacities starting at 3,300 litres and a range of specifications. Sprayer specialists will be on-hand to talk visitors through the models and options available, and they expect to be busy as more farms are upgrading their machines to improve timeliness and accuracy of applications.
Cargo Telehandler
The innovative Fendt Cargo T955 telehandler with its unique lifting cab will also be present on the stand.
Self-cleaning air filter from Fendt wins DLG silver medal
Also, on the stand will be the Self-cleaning air filter system for the high horsepower Tractors, which has won the Agritechnica Silver Medal.
Explore Fendt's range
For those attending the UK's leading machinery show, time spent visiting the Fendt stand will provide an exciting opportunity to view and find out about all the latest products and innovations from this full-line manufacturer. For all detail information, please contact Richard Miller or review on the website https://www.fendt.com/uk/ Fendt is in Hall 9, Stand 9.220.