09 Jan 2023
Emlid Reach RS2+ Multi-band RTK GNSS Receiver with cm precision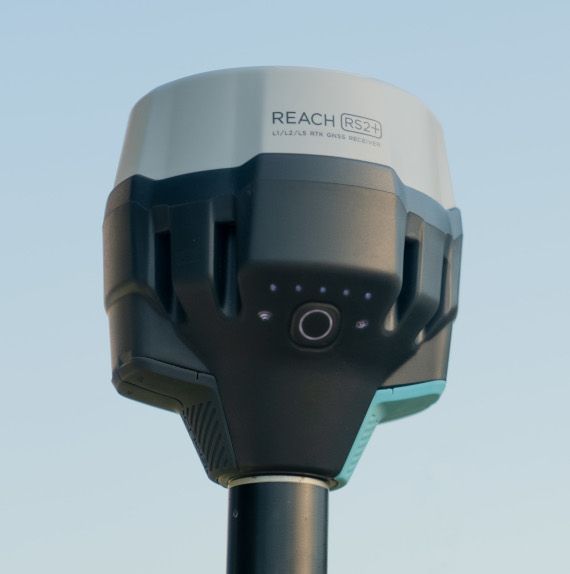 Reach RS2+ Multi-band RTK GNSS Receiver with LTE Modem
Emlid's New Reach RS2+ offers a Lower Cost alternative to centimetre (CM) level RTK solution.
Emlid's Reach receivers come with a constantly evolving Emlid Flow app for data management which is compatible with any Android or iOS device.
The beauty of Emlid's Reach RS2+ is its simplicity. Reach RS2+ can either be used in a two-unit (Base/Rover) setup or provided with NTRIP (Internet corrections) to provide cm accurate results.
The Reach RS2+ provides a position output in NMEA, LLH and XYZ, supplied via Bluetooth or hard wired via a cabled connection.
Emlid's Reach RS2+ can be used to provide a position for a simple light bar app or to provide precise position information to machinery. Either solution providing a level of accuracy to tasks such as seed sowing and fertilising crops.
Emlid's Reach products are extremely cost effective compared to comparable solutions on the market today. Giving centimetre precision, the Reach RS2+ units are enabling farmers to carefully plan their route across a field ensuring a greater reduction in overlapping and missing some areas of the field entirely. Aiding in a greater yield of crop, while reducing the associated costs with applying products to provide this.
Emlid products are supplied safe in the knowledge that they are provided with free support, designed to provide a more in-depth view of the Emlid products and their interoperability. Some basic knowledge is required in order to integrate them into a specific equipment.