01 Apr 2022
BDC Systems Ltd and Nash Grain Services successfully meet J A & D Cottrell's requirements for new grain drying and storage plant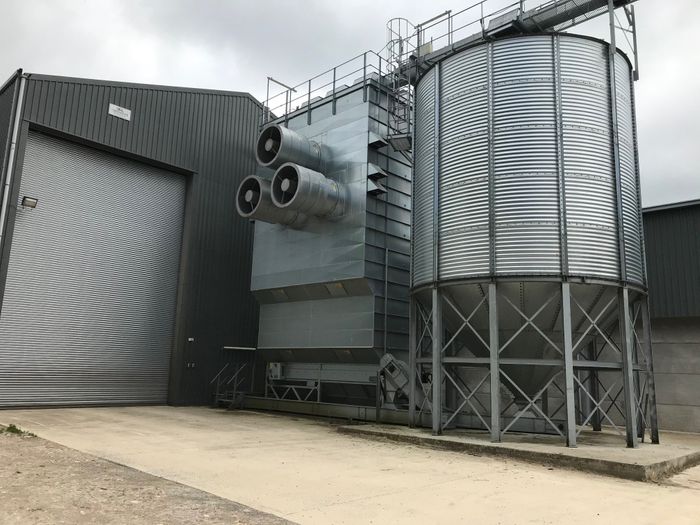 Knowing that its existing grain drying and storage plant was outdated and would halt plans for future expansion, J A & D Cottrell worked closely with Nash Grain Services and BDC Systems Ltd, to design a state-of-the-art plant.
The new plant, with an increased capacity of nearly 16,000t, enables the Cottrells to store their own grain and contract store for Frontier Agriculture.
"Trevor Nash suggested that we talk to BDC as he knew it had a proven track record of successfully designing new plants and delivering high-quality and reliable grain handling equipment," explained Alan Cottrell of J A & D Cottrell, which farms 866ha at Priors Court Farm, near Wantage in Oxfordshire.
"With an eye on continued expansion, it was important that the first phase of development enabled us to increase our drying capacity to 60tph," continued Mr Cottrell. "We needed to store our own grain plus have the capacity to dry and store grain for large grain merchants, such as Frontier, to provide us with an additional revenue stream."
The first phase consisted of the machinery building which holds a large volume intake pit, a Skandia Elevator 120tph intake conveyor with self-regulating inlets, additional Skandia conveyors and elevators, and an Aagaard 120tph heavy duty aspiration pre-cleaner, linked to an outside located Svegma SVC9/6 60tph continuous flow grain dryer.
"Skandia conveyors are the only conveyors with self-regulating inlets. With other conveyors you have to regulate the amount of grain entering the conveyor, Skandia's conveyors have been designed so that whatever amount of grain comes through, they can handle it!" said Andrew Head, BDC's MD.
A 120tph Skandia belt and bucket elevator and 120tph chain and flight top conveyor transport the incoming grain into a 160t capacity hopper bottom wet holding silo.
From the silo, the grain is transported on demand through the Aagaard aspiration pre-cleaner, to remove any light impurities, into the Svegma continuous flow grain dryer. If the grain comes in dry there is an option to bypass the dryer. From the drier outlet the grain can then be transported to various storage areas or bunkers.
"All of the machinery is easily accessible and blockage sensors has been fitted so if there is a problem, everything shuts down until it's fixed," said Mr Cottrell.
"An important reason for suggesting that the Cottrells talked to BDC was that it is has an extremely well stocked warehouse so, if necessary, we can quickly and easily obtain spares to keep all of our customers up and running during harvest," added Mr Nash.
The first phase also included a floor store which is linked via Skandia conveyors to the machinery building.
"To reduce the initial build cost, we chose to install above floor BDC corraduct laterals with mobile ventilation fans," added Mr Cottrell.
The second phase of development allowed additional grain storage and was designed with bunkers to enable the storage of different varieties of crops. This grain store houses Skandia 120tph belt conveyors and Skandia 120tph chain and flight store levelling conveyors to ensure maximum fill of the building.
"Listening to advice from BDC and after weighing up the advantages of significantly improving the ventilation of the stored crop against the increased cost, we took the decision to install below floor aeration laterals," explained Mr Cottrell. "There is no question that below floor aeration laterals provide a much more even ventilation across each bunker, helping to ensure that grain remains in the best possible condition.
"Plus, there is the added advantage that a below floor solution makes it much easier to transfer the crop from the bunkers using a telescopic fork lift fitted with a bucket onto the lorry when it leaves the plant – there are no above floor obstructions which the vehicle can damage!" added Mr Cottrell.
The levelling conveyors are suspended on steel rails in the roof of the building and automatically move along the building as it's being loaded with grain from the belt conveyor to fill the storage bunkers.
The third phase of development provides additional large floor storage with two equal sized bunkers, and is fitted with below floor aeration laterals.
Currently, the stored grain's moisture content (mc) and temperature are monitored manually and the fans are turned off and on as necessary.
"We are now taking a close look at BDC's Moisture Monitoring Systems (MMS) which takes grain samples from both the incoming and outcoming elevators. If the pre-defined temperature falls or rises a text message alert is sent, allowing us to remotely change the control on the dryer," said Mr Cottrell. "There would be no need for anyone to be on hand at the plant to manually check levels and make any necessary adjustments."
The Cottrells have future proofed the new plant, in the event that the Environmental Land Management Scheme (ELMS) reduces the amount of grain being grown by ensuring that the plants' buildings, subject to the necessary planning consent, could be converted into industrial units.
Working closely with Nash Grain Services and BDC the grain handling equipment supplied remained within budget.
"You can't ask for anything more than that can you?" said Mr Cottrell. "The new plant does exactly what we want. We can tip at 100tph, the turn-around is very quick and efficient and importantly, the plant is TASCC and Red Tractor compliant so not only meets our drying and storage requirements, but those of Frontier."
About BDC Systems Ltd:
BDC Systems, renowned for its superior customer support and comprehensive technical service ability, offers an extensive range of grain drying, cleaning, storage, handling, ventilation, milling and mixing equipment, together with other specialised solutions. In the UK, the company represents a number of world leading manufacturers and suppliers (incl: Skandia Elevator, Svegma, Zanin, and BM Silo) providing outstanding technology, quality, durability and value for money.
For more info visit: https://bdcsystems.com/ or call: +44 (0) 1672 810851.
Media contact:
Sarah Chidgey, ChidgeyPR, tel: +44 (0) 7795 288302 | email: sarah@chidgeypr.co.uk