02 Apr 2022
BDC Systems and McArthur Agriculture continue to deliver cost-effective, future-proofed grain drying and handling solutions to improve productivity and efficiency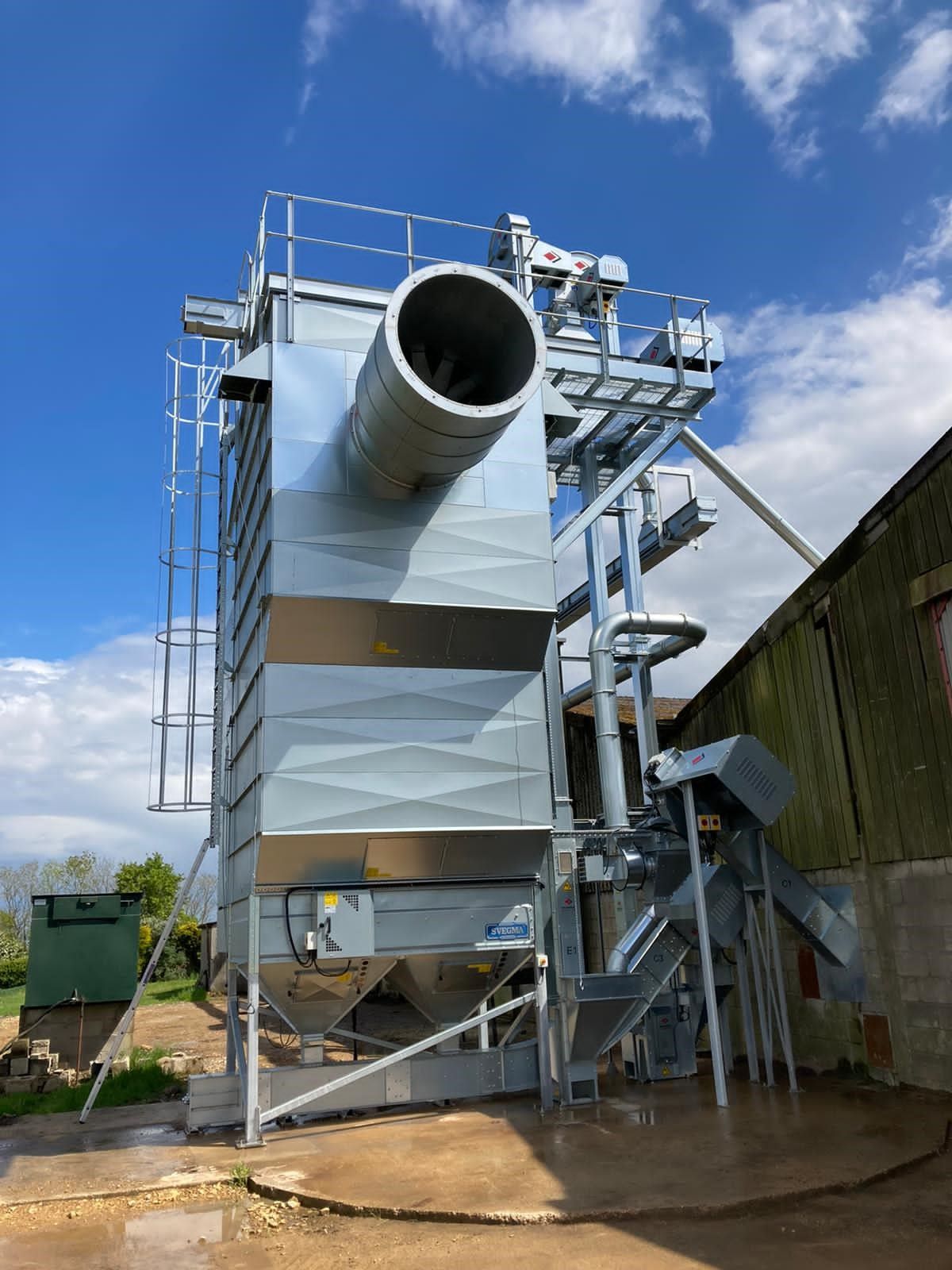 Working closely with BDC Systems Ltd and its partner, McArthur Agriculture, enabled W E Foers & Son Ltd to replace its ageing grain drier and grain handling system with a state of the art solution that successfully met the challenging conditions around harvest 2021 and will continue to meet the challenges of harvests to come.
"The previous system had been in service since the mid-eighties and was unable to handle the quantity of grain or the speed at which it needed to be processed," said William Foers of W E Foers & Son Ltd, who farms 1,400 acres of arable: winter wheat, oil seed rape, spring beans and sugar beet, in the Doncaster, South Yorkshire area.
"We had to tip trailers into the wet grain shed and use a telehandler to feed the grain into the old drier through a small hopper, causing a bottleneck which significantly slowed us up," explained Mr Foers.
The old drier was also beginning to show signs of age and could not be left running for any period of time without someone constantly monitoring that it was operating correctly.
"An upgrade became a necessity and we approached McArthur Agriculture, who worked closely with us to design our new grain processing plant," explained Mr Foers.
"Scott McArthur introduced us to BDC Systems Ltd, the sole UK agent for both Svegma and Skandia Elevator and on his recommendation, we took the decision to install a Svegma continuous flow drier and grain handling equipment from Skandia Elevator," added Mr Foers.
Mr Foers did consider an under-floor drying solution as one of his three storage sheds already had an under-floor system capability which could have been modernised. New drying floors could also have been added to the other two sheds.
"We looked at the overall figures and the Svegma drier was the most cost-effective solution," said Mr Foers.
The new plant has both simplified and speeded up the intake of grain by installing an 8m long Skandia KTIG trench intake conveyor incorporated into an in-floor precast trough system, designed by McArthur Agriculture, in the corner of the wet grain shed.
Larger trailers can now tip up to 150t of wet grain directly into the shed over and around the Skandia conveyor. The telehandler is only occasionally required to push up wet grain or to tidy up.
The Skandia trench conveyor feeds a Skandia dust and chaff extractor which removes unwanted material, improving bushel weights and the efficiency of the drier.
The grain is then fed through the Svegma SVC 4/3 18tph drier. Skandia SE1 35/14 feed and discharge elevators are positioned to one side of the drier with a large side platform providing easy and safe access for service and maintenance of the drive ends.
A Skandia KTIF 20/40 chain and flight conveyor is used to transport the grain from the drier to the grain stores, with each grain store fed by its own multi-outlet Skandia conveyor.
Work on dismantling the old plant began in January and everything was up and running for harvest 2021.
"The inclement weather meant that the Svegma drier quickly started to deliver a return on investment - without the need for someone to sit and watch it!" added Mr Foers. "The Skandia handling equipment has improved our efficiency and productivity. Together McArthur Agriculture and BDC Systems have delivered a future-proofed plant that will allow W E Foers & Son Ltd to quickly and easily process our grain for many more harvests to come."
About BDC Systems Ltd:
BDC SYSTEMS Systems, renowned for its superior customer support and comprehensive technical service ability, offers an extensive range of grain drying, cleaning, storage, handling, ventilation, milling and mixing equipment, together with other specialised solutions. In the UK, the company represents a number of world leading manufacturers and suppliers (incl: Skandia Elevator, Svegma, Zanin, and BM Silo) providing outstanding technology, quality, durability and value for money.
For more info visit: https://BDC SystemsSystems.com/ or call: +44 (0) 1672 810851
About McArthur Agriculture:
McArthur Agriculture is a specialist engineering firm which designs and installs grain processing and storage systems. The company develops, builds and maintains the food and feed processing systems that are a critical step in the food supply chain and works closely with its customers to deliver equipment and turnkey projects that strengthen their businesses and ensures peace of mind. McArthur Agriculture has been a BDC Systems Ltd partner for over 10 years.
For more information visit: https://www.mcarthuragriculture.co.uk/ or call +44 (0) 1724 747110
Media contact:
Sarah Chidgey, ChidgeyPR, tel: +44 (0) 7795 288302 | email: sarah@chidgeypr.co.uk