31 Oct 2022
Agricultural Tyre Brand goes from strength to strength in the UK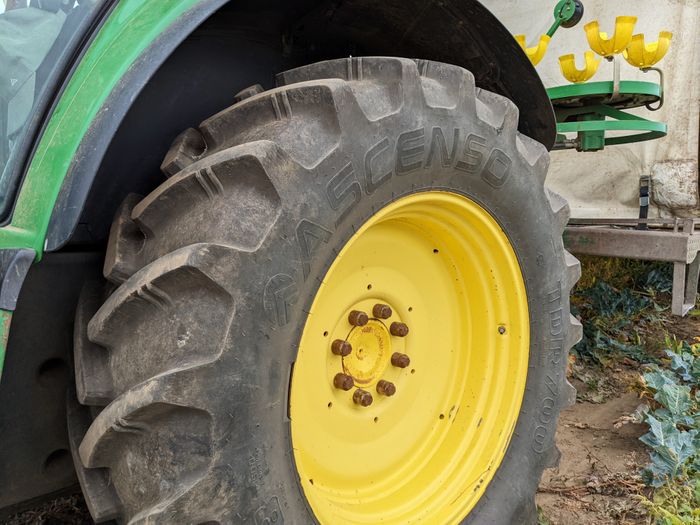 Since launching in the UK in early 2021, Ascenso Tyres has gone from strength to strength in the UK tyre market. Ascenso Tyres were brought into the country by BA Bush and Son through their wholesale sector BAB Distribution and the brand now covers the whole of the UK, available as far North as the Shetland Islands all the way down to the South West in Devon and Cornwall.
The Ascenso factory in Panoli, Gujarat, India has an enormous stock of tyres ready to send with very short lead times as well as the best container ordering programme of any manufacturer. The factory produces over 350 tyre patterns across their range of agricultural, industrial, construction, earthmover and forestry tyres, with 326 of these patterns already stocked in the UK or on order to the UK in coming weeks. On average, Ascenso releases over fourteen new sizes each month with their Rowcrop range recently released and VF technology planned for 2023.
BAB Distribution currently have over 5000 Ascenso tyres in stock or on order to the UK and have offered reduced pricing on Ascenso tyres throughout 2022, something which has benefitted many consumers financially with the recent price increases we have seen across the agricultural tyre industry, with further reductions on key sizes in September. Ascenso offers market leading pricing as well as quality, offering incredible warranties on their tyres - 7 years warranty on radial tyres and 5 years on crossply – which just shows the confidence Ascenso have in their tyres.
The team at BA Bush and Ascenso Tyres UK officially launched the brand through their stand at LAMMA 2022, where they received a great response from farmers, contractors and dealers. Since the event Ascenso has seen an uplift in awareness and popularity of the brand in the UK, gaining positive feedback from customers.
"As a large farming company which runs 150+ tractors, we tested leading makes of tyres on our tractors to see which came out best on hours to save money on our fleet. In August 2021 we fitted two 420/70R28 Ascenso on a John Deere leading in tractor used for all road work. We checked these again in January 2022, having done 842 hours on them and they still had 31mm of tread left. This means these tyres have already outperformed other premium tyre brands by a good number of hours and will lead to fantastic savings on our fleet tractors. As a result, we had a meeting regarding which tyre make to fit in 2022 and agreed to fit Ascenso."
Lee Burrell, Staples Vegetables
Ascenso tyres are now stocked across the UK by a growing network of Ascenso tyre dealers, a network which continues to grow. Current Ascenso dealers include:
The British Rubber Co. – North West of England
Braewick Agri Services – Shetland Islands
G & J Pecks LTD – Cambridgeshire & Lincolnshire
Bush Tyres – East of England
Newtown Tyres – Wales
Amber Tyre & Auto Centre Ltd – Darbyshire
Midnight Tyres – Scotland
Holderness Tyres Services – Hull
North Devon Tyres – Devon, Cornwall and Somerset
As well as supplying tyre dealers, Ascenso Tyres now supply original equipment (OE) tyres to Bailey Trailers, Fliegl, KTwo Trailers, Warwich Trailers, Kubota and Househam Sprayers to name but a few, with more on the horizon.
Ascenso's mission is to contribute towards a sustainable, inclusive, and compassionate society. With this in mind, Ascenso Tyres UK also have several sponsorship initiatives including the sponsorship of Champion Clay Pigeon Shooter Kallum Burrell, a young up and coming talent in the Shooting world who recently competed in the home internationals as a part of the England juniors, and also Farmers Weekly's Britain's Fittest Farmer which aims to get all farmers thinking and talking about their health, both physical and mental.
Ascenso will return to LAMMA 2023 in January and look forward to meeting both new and existing customers.