03 Nov 2023
Increasing Herd Health and Efficiency with smaXtec TruAdviceTM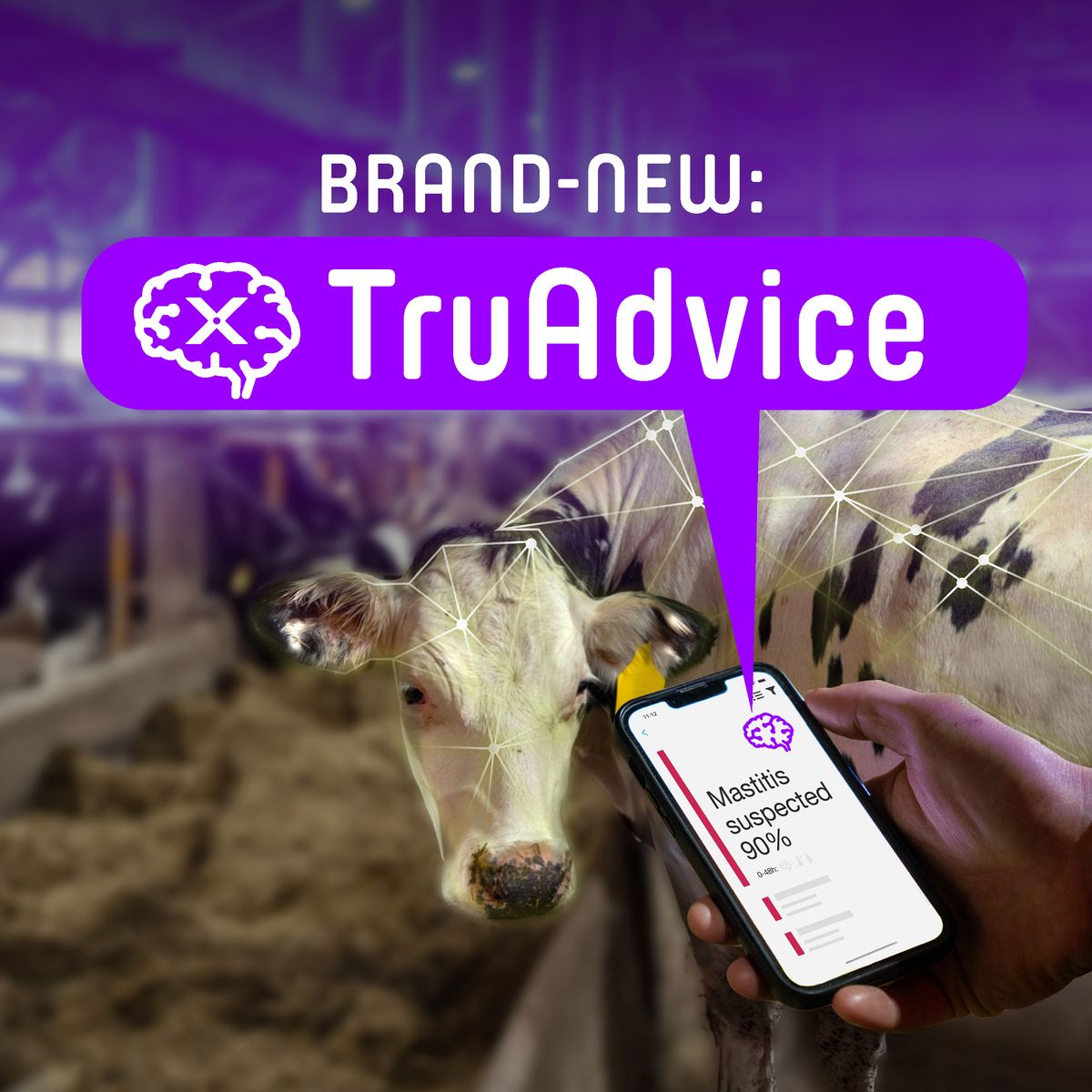 Advancements in technology and artificial intelligence have conquered agriculture. A groundbreaking innovation in the dairy industry that exemplifies this development is smaXtec's new TruAdviceTM* technology: A technology that indicates diseases with a high probability and alleviates strain on dairy farmers.
smaXtec, the most advanced health system preventing diseases in dairy cows launched their new artificial intelligence capabilities with the introduction of the TruAdvice technology. Powered by artificial intelligence, TruAdvice enables dairy farmers to harness the full power of data, thanks to high-quality statistics and extensive analysis from research institutions, veterinarians and industry experts. Based on the learnings from hundreds of thousands of cows and cases worldwide, TruAdvice provides a highly accurate probability measurement of mastitis to the farmer.
The TruAdvice technology from smaXtec represents a revolution in early disease indication in dairy cows. By combining measurements using bolus technology inside the cow and artificial intelligence, TruAdvice not only enables early disease indication, but also the precise identification of suspected mastitis cases. The interaction of highly accurate data and artificial intelligence empowers farmers to respond quicker and in a more targeted manner.
"We are excited to take advantage of smaXtec's new artificial intelligence features to act even more proactively. smaXtec was already great in providing real-time health monitoring, but with their TruAdvice technology, I get an alert that identifies mastitis as the suspected problem for a specific cow."
Amber Horn,
manager of over 1,800 milking cows at Hornstead Dairy in Wisconsin.
The cutting-edge technology was launched at the World Dairy Expo under lively media interest. Amongst the attendants were also several existing smaXtec customers that already experienced the capabilities of TruAdvice. This enabled an intensive exchange between media representatives and farmers, providing an authentic insight into the close cooperation between smaXtec and farmers.
TruAdvice utilizes a highly intelligent system that autonomously learns and adapts over time, helping farmers interpret data more efficiently to ­increase the indication and treatment of mastitis in dairy cows. Mastitis is one of the most common and costliest diseases on dairy farms and the first available to be indicated with TruAdvice. Depending on the pathogen, the mastitis detection rate is around 90%.
Earlier this year, smaXtec introduced "Level Zero," a significant breakthrough in veterinary medicine helping farmers detect mastitis in cows earlier and more accurately. Due to the highly precise measurement of inner body temperature by the smaXtec bolus, smaXtec discovered a temperature pattern that directly correlates to the emergence of mastitis. With TruAdvice­­, smaXtec once again demonstrates what early detection means in animal health and reinforces smaXtec's position as a technology leader.
"With the addition of the smaXtec system, we've been relying on the temperature alerts to strategically implement supportive therapies like anti-inflammatories and drenches to support the recovery process and reduce the use of antibiotics. We can't wait to use smaXtec's latest artificial intelligence capabilities to enhance our farm's productivity."
Eric Weaver,
dairy farmer and influencer from the popular YouTube channel,
10th Generation Dairyman
TruAdvice will add value in aiding less experienced staff to maintain optimal care of cows, and therefore a faster recovery, by delivering actionable recommendations for addressing mastitis cases. This further supports the challenge many farming operations face with finding experienced labor.
By offering a solution that streamlines data management and empowers dairy farmers to take charge of their herd's health, smaXtec is pushing the boundaries of what is possible with artificial intelligence-driven innovation in dairy operations.
---
*The services offered by smaXtec do not replace medical diagnoses, medical examinations or treatments of animals. smaXtec does not assume any liability for the detection of diseases or the health management of the herd. Furthermore, smaXtec assumes no liability for the accuracy or interpretation of the measurement results obtained. The user is solely liable for any actions or measures taken as a result of the measurement results. smaXtec excludes all and any liability that could arise in connection with the herd management.