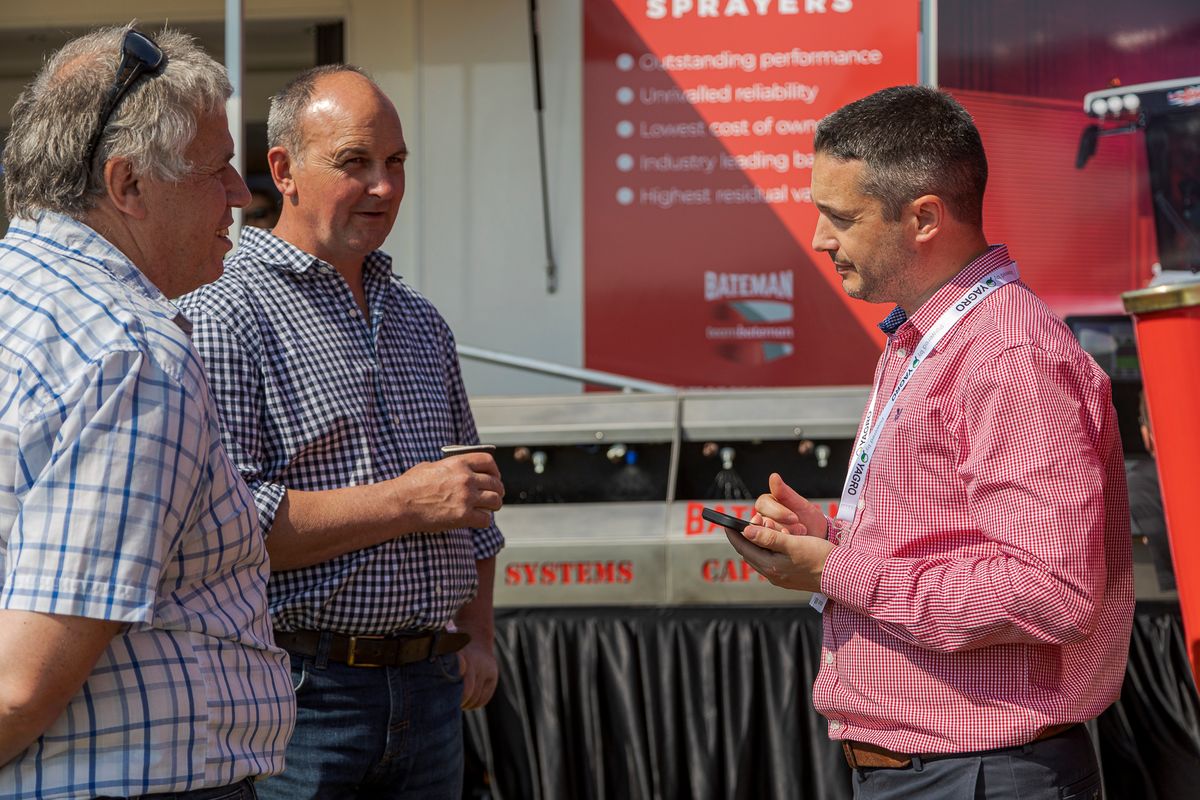 Out and about
It was great to see so many of you at Cereals. During both days of what turned out to be our Summer, the stand was buzzing with current customers and an increased number of potential customers. It's sometimes difficult to speak to everyone, I think we managed it and some very encouraging conversations were started. Our new 'Slow Fill' tank system, leather seat and Apple/Android car play stereo options were talking points.
We demonstrated all 3 Bateman models available for 2023 at Cereals. Our RB35 demonstrator is fitted with our upgraded in-house Boom Levelling system featuring a twin tramline set up for this year, this system moves things on considerably. PWM is never far from any conversation, this year Brian Finstrom from our partners at Capstan joined us on stand, our PWM demo rig was a popular feature.
Following a very successful Cereals we ventured across the Irish Sea to join our approved agents F Jenkinson for Ireland's largest agricultural event the Farm tractor and Machinery Trade Association show. As soon as the stand was packed up we were off again, still in Ireland but demonstrating on a number of farms across the West and Southern areas, on some very undulating ground which allowed us to put our new boom levelling through its paces.
Staying with the theme of demos, we recently traversed the North and South of England fulfilling on farm requests in between our hectic events schedule. We don't mind putting the hours in, long days and weekends are fine by us, particularly just before Harvest 2023 got underway (of sorts thanks to the weather). In-cab feedback was very positive; we always encourage feedback as anyone who knows us will testify, it's how effective change begins.
Pulse width modulation
PWM is becoming increasingly popular in our conversations with farmers and even contractors, who had originally dismissed the system or struggled to justify the extra cost.
The benefits are far outweighing the purchase cost for most users, especially on Liquid Fertiliser applications as the decrease in volume used equates to huge savings.
Customers are experiencing extended spraying windows due to the drift control of the PWM system and the choice of nozzle. In certain circumstances this could be the difference between standard and premium values for certain crops. The increased uptake in crops other than Cereals, such as Onions, Carrots and Potatoes is providing us with more knowledge and understanding of the different nozzle choices available through Wilger, the 'preferred' nozzle partner for the PWM system, but not exclusive.
It's never easy
Farming is a difficult industry to work in, particularly when you factor in Mother Nature and fluctuating pricing, of which we have no control over. This year has certainly been a challenge for everyone involved, therefore, our backup and support throughout a difficult period has never been more important and has made a real difference to our customers.
Spraying continues for our Root & Veg customers. The benefit of our lightweight machines means they can continue working throughout the wet and difficult conditions that this season is throwing at them.
Once a Bateman…
Pre-owned Bateman sprayers are still very much in demand and offer an alternative route into Bateman. Our machines are still commanding a premium over other makes of sprayer; however, our overall cost of ownership is still the lowest in the industry for a self-propelled sprayer.
Because pre-owned Bateman machines are marketed and sold directly off farm, customers are receiving the benefit of the highest price for their machine, rather than accepting a lower trade valuation. This has definitely helped some of our customers in making the decision to purchase new rather than another used machine.
Bateman down under
We've recently taken on a new dealer in Tasmania, just off the south coast of Australia. Their first machine was delivered at the end of 2022, a new RB35 26m sprayer, which was put straight to work and created a huge amount of interest for the dealer. New enquiries have led to further orders and a demonstrator machine is now in progress. Watch this space…
Carl Goff is Technical Sales Manager South.
Tel: 01769 618650
Mob: 07977 279809
Email: carl.goff@batemansprayers.com